White Center community rallies to help businesses victimized by fire
White Center community rallies to help businesses victimized by fire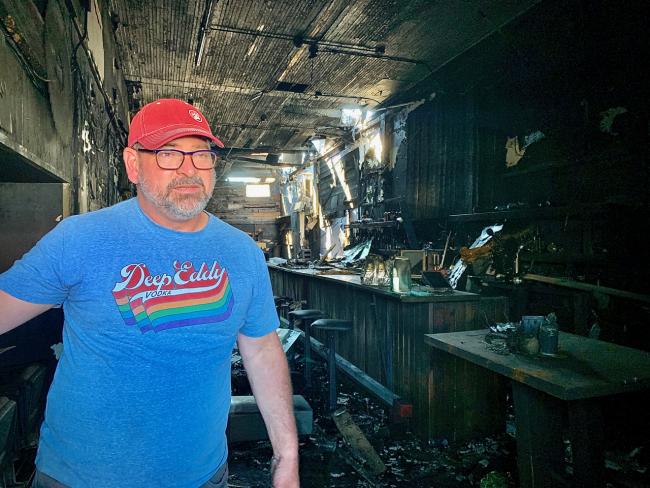 Tue, 07/06/2021
By Patrick Robinson
The fire that swept through at least five businesses in White Center and damaged others on the morning of July 5, destroyed not only businesses but the people who worked there. But it's a resilient community and on July 6 as the owners were still assessing the damage, they proved it.
The fire started, Lumberyard Bar co-owner Nathan Adams said, when an electrical connection in the basement, sparked after the power came back on, sometime in the evening of the 4th of July. He and partner Michale Farrar were amazingly enough upbeat despite the total destruction of what was the only LGBQT bar in White Center. "I'll probably get really mad in a couple of weeks but right now there's so much to do," Adams said. Things like making sure mail gets redirected and bills still get paid. But higher on the list is looking for a new location. The damage is so severe inside that essentially nothing can be salvaged. "We'd like to find another spot in the White Center area so we are working on that." 
As a measure of the goodwill the business has earned since it opened in 2017, the GoFundMe page set up to help them has already raised over $100,000. Some have asked if they had insurance. "Yes we do, and I learned some time ago you don't cheap out on plumbing, wiring or insurance," Adams said. But while that will help them get back some of what they lost, so much more is required for them to actually re-establish the business that is as they put it, "the only south end LGBTQ bar outside of Capitol Hill in Seattle."
Next door to Lumberyard, was Boxing Gym Westside which also heavy suffered damages. They state on their GoFundMe page: "We are saddened by a fire that destroyed a place we hold dear to our hearts. From day 1, this community has shown a level of heart, grit and resilience that is worth mentioning. Lee has provided us with a space that is welcoming and safe to all walks in life and has offered us support in ways more than just boxing. We've been homeless before and we've survived a pandemic! Let's keep our hands up and chins down and get through this too. 
Please consider donating to help The Boxing Gym Westside repair what was lost. All donations will go to Lee Torres." So far they've raised more than $31,584.
Just adjacent is Rat City Tattoo which was destroyed as well. The owners write on their GoFundMe page, "Rat City Tat2 and neighboring businesses suffered a devastating loss 7/5/2021. Fire had broke out do to an electrical issue. Many businesses were lost or suffered severe damage. White Center is home to not only us here at Rat City Tat2 but also to the Lumberyard, The BoxingGym,as well Dotties Double Wide. Everyone has shown so much interest in helping us were needed and expressing there condolences as we start to rebuild our lively hood. We here at Rat City Tat2 pride ourselves in being true to who we are ,Dedicated, motivated, and driven. We have started this gofundme to help cover cost, rebuild and thrive once again in White Center and to keep this legend alive.  We appreciated all the love and support of our community and we will be back up and running again. 

Thank You from Jason, Catherine,Veggie, and Penz"
They have risen to about $1655 of their $20,000 goal.
Next to them is John's Hair and Nail Salon owned by Anh Nguyen and his wife Kim. It's a family run operation but they are forced to move as well. They state on their GoFundMe, "My name is Anh Nguyen (owner, barber) my wife is Kim Nguyen (nails tech) also my Dad (barber), my sister Jenny ( nails tech) and my mom.
           We are family business and working at John's hair and nails beauty salon at 9611 16th ave SW. Seattle Wa 98106 (White Center)
           This morning (July 5th 2021) my business was on fire and got damage from fire. From this loss, we all lost our income, jobs from the business.   
           This salon has been our main source of income for years in White Center. So, this is a very big loss to my family life savings. Additionally, We suffered loss of income from covid-19 pandemic.
            We think we could overcome this big difficulties ahead with your great support.
             We have no choice other than moving out of the current location and look for another location to set up new business
I highly appreciate your help and supportThank you very much
Anh & Kim."
So far they've only raised around $4,168.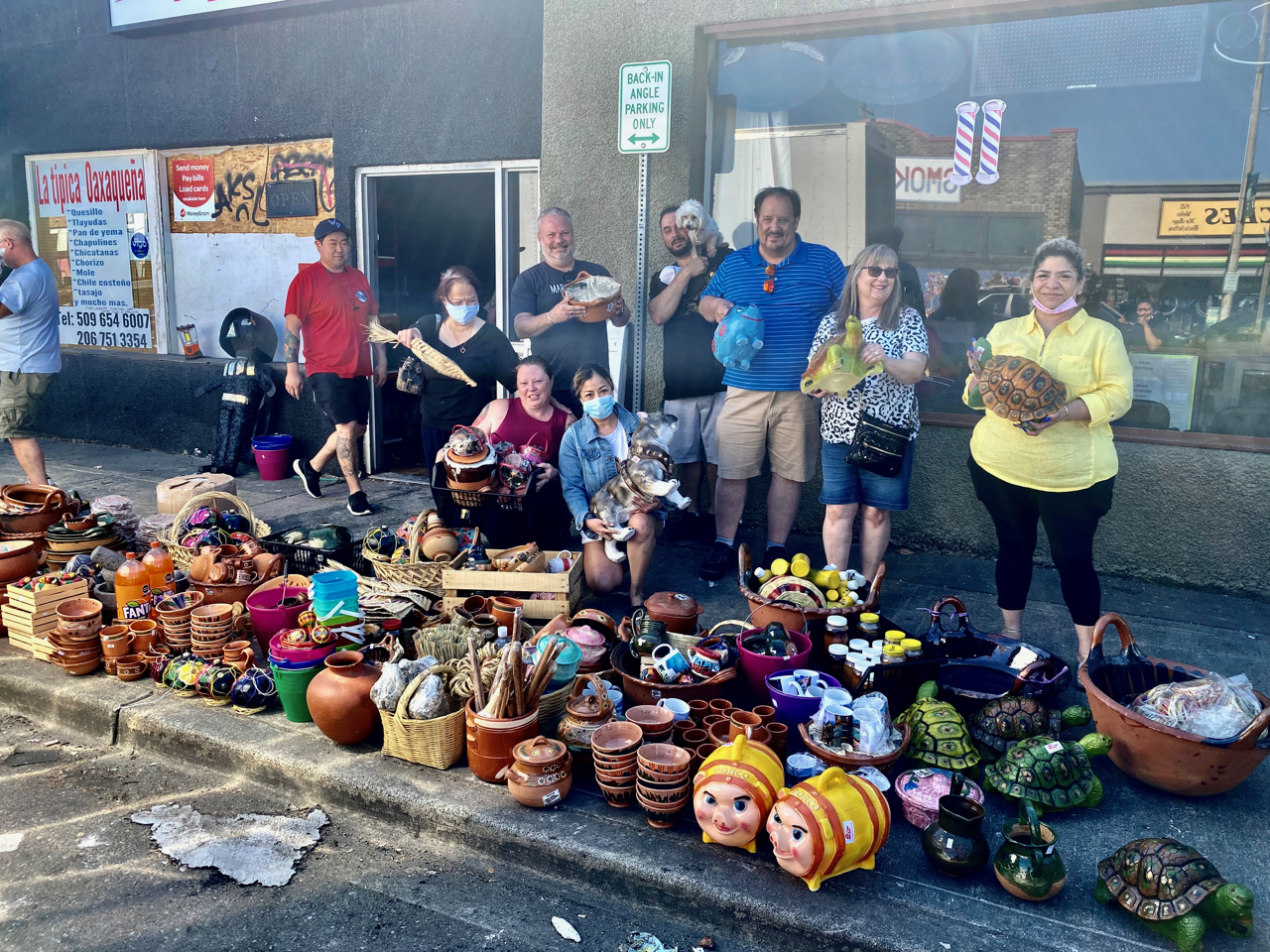 Next on the block is La Tipica Oaxaquena, a Latina owned hispanic market selling food, pottery, clothing, and more. They say on their GoFundMe page,"  We are a small store run by myself and my mom, my brother, and my cousin. We offer imported food, art, clothing, and clay pottery. My brother and sister-in-law travel all over Oaxaca handpicking, purchasing, and packing every single item we had at our store. We take pride in mostly offering items that are handmade by women and indigenous communities in Oaxaca. And the white center area and surrounding cities responded so well to us and supported us so much. 

 Overnight we lost everything we have worked to build up from nothing. Immediately my family started working to save what we could but we can tell from the damage that we will have to start all over. I have received so many messages of support and knowing that the community wants to support us we have decided to start a fundraiser. We hope to raise enough funds so that we can stay in the white center area, replace the lost inventory, and the damaged equipment. 

Thank you much if you are able to donate or share our link. 

- Yesica  & family"
Their GoFundMe page has only raised $6,091 of a $50,000 goal.
On Tuesday they were told they had one hour to clear out all their merchandise before the property was locked by the Fire Marshall, due to damage, for safety reasons. The entire block of business owners showed up immediately to help them bring out all their merchandise and put it on the sidewalk to be later loaded on a truck and taken to their location in SeaTac. Young Cho, owner of Phorale Way and co-owner of the Boba Tea shop Nuggi that was set to open later this month offered some storage space to them too.
Magali Reyes said they would be open in SeaTac but that customers would need to call them at 509-654-6007 to arrange to buy some of their products.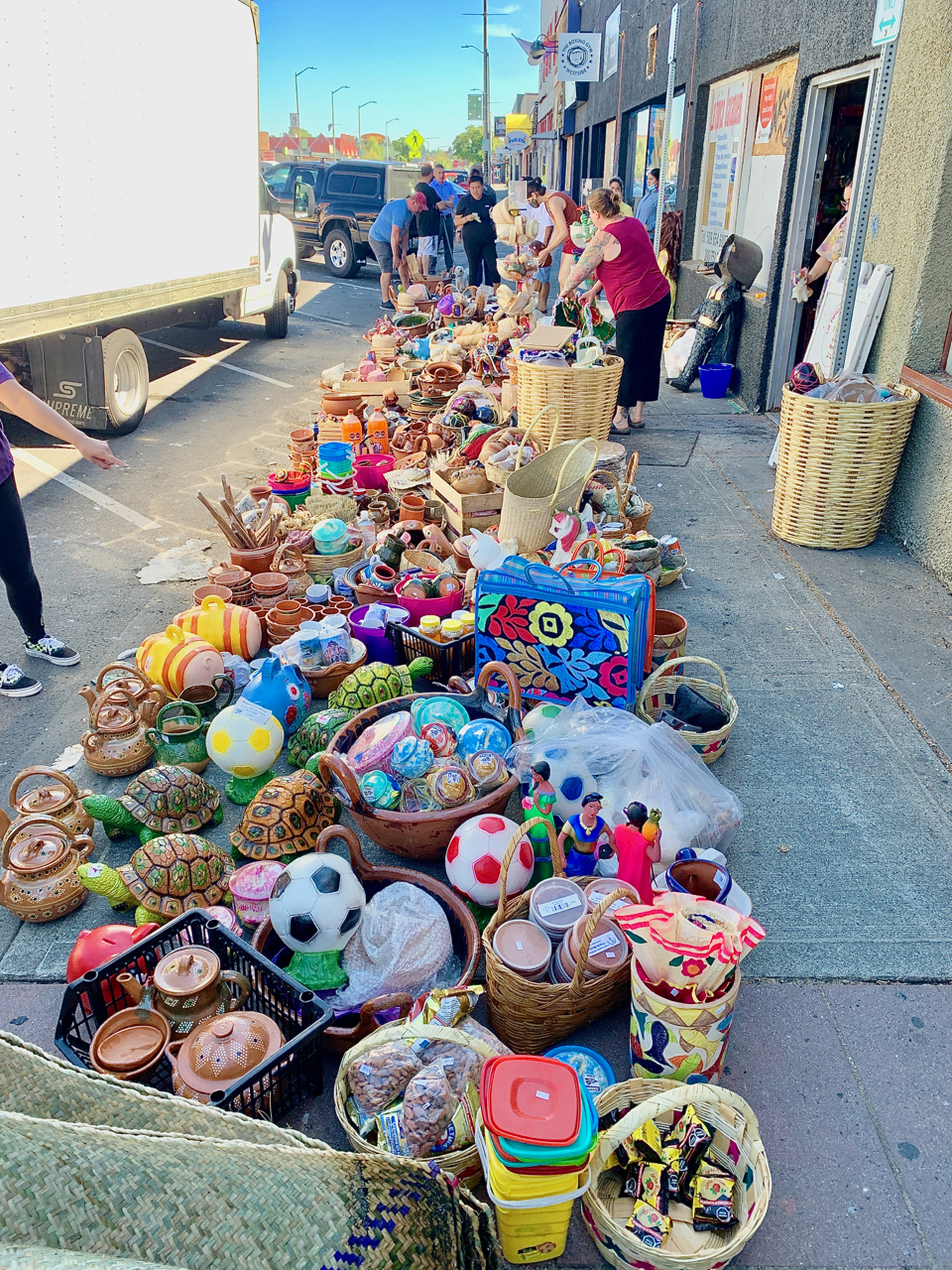 The Boba Tea store, Nuggi that under constrution, was essentially destroyed, likely by water damage as it poured in through the roof. They write on their GoFundMe page: "We have been working tirelessly for months to bring the community of White Center something special to add to the multitude of other great locally owned businesses. We knew opening a new business during these times would be an uphill battle but we believed in our vision, our concept, and our community.
Unfortunately late last night our boba business was burned down alongside four other businesses on our strip, and looks like our battle has just begun. The shop is a complete loss, and it is heartbreaking to see everything disappear into ash and rubble.
The thought of You and the community played a huge role of the conception of Nuggi to provide the best quali-"tea" ingredients at a fair and transparent price for White Center. 

The love for food and to serve is what makes us happy and we wanted to create a safe space for all to come and be a part of, as our lives move forward from the pandemic. 

Hopefully, with your help we will be able to rebuild, count our blessings and move forward with a community space to share our laughs and enjoy each other.
Thankfully, no one was injured and with the quick response of the Seattle Fire Department, they were able to contain the destruction. We ask for your help, to turn our dreams into fruition, so we can be apart of a thriving, community oriented neighborhood.
-Sharon & Young" 
So far their page has raised over $18,786.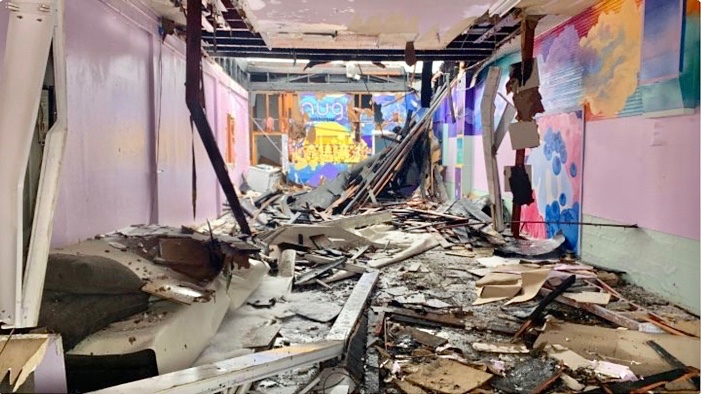 And finally down the block at the end of the building is Dottie's Doublewide, a bar and restaurant themed after a trailer. It had just been sold to the former bartender there and was set to reopen. Their GoFundMe states, "Dotties Double Wide in White Center has new owners & are set to open on July 16th. Previous bartender at Dotties, Sole and his partner bought the bar LAST WEEK!!! They invested their savings into bringing Dotties back to life since the CV19 closure. Now since the fire last night that took out the Lumberyard bar and 6 other businesses, all of their hard work is in jeopardy. The SMOKE & WATER DAMAGE has ruined the back of the house,  the wood flooring, the roof, bathrooms, the chairs, couches, and booths most importantly all of the  awesome paintings and art work. Let's help them to get back on track and get them opened ASAP and celebrate the fact that nothing can hold us down!!!" They are just shy of $3900 on their page.
Matt Wendland has started yet another GoFundMe page in recognition of the fact that all the employees of these businesses are now out of work and need support to. He writes, "
While the details of the fire and how many folks will ultimately be impacted is all still unclear, many of our community members who worked in those businesses will not be returning to work any time soon. In a time where many of them just returned to work following the removal of restrictions put in place as a result of the COVID-19 pandemic, this couldn't have happened at a worse time. 
While the businesses work through the details of what happened and what to do next, we're launching this Gofundme to ensure that the teams that make up the many wonderful local businesses that have been impacted will be fully supported is quickly as possible. 
As the details of who was impacted and the long term results emerge this information will be impacted. We've set an initial goal of raising $25,000 to give directly to the staff of the businesses impacted. Anything above that goal will be directed to the victims of the fire."
Thus far that fundraising effort has gone over $10,516.
Beyond even those efforts, the owners of Macadon's are hoping to stage a benefit event, in which the street would be closed and live music show would be staged as a benefit for all the businesses and employees affected. No dates or further details on this event were as yet determined.
Comments
Amazing that the business that caused the fire has already met gofundme goal and the other businesses are struggling. Fucking shame.
Bill, The business itself did not CAUSE the fire. The fire started there but your comment suggests intent or malfeasance which are clearly not shown to be the case. The full results of the investigation have not yet been released. They funding effort success is reflective of the fact that the business itself and the owners were and are well liked, and that it was the first to establish the GoFundMe effort among other potential reasons. 
Bill,
It's my experience that the gay community itself is extremely supportive of its members. Understandable since they have been shunned and persecuted for most of recorded history. It makes for empathy. I would guess, if you went through the list of conributors on the GoFundMe page for the bar you'd see a few larger contributors. They have 904 contributors. RA King gave $5000, Harry Hoglin gave $3000, Travis Osborne gave $3000, There were seven contributors who gave $1000. When you see those kinds of contributions you see it adds up quickly. The Lumberyard was also the very FIRST to have a page up, and since it now looks more likely that this was a hate crime directed at them... an overwhelming rejection of that kind of evil is not only called for but demanded. Are you suggesting that the Lumberyard redirect some of the money to the other businesses? There are plans in the works to create and stage other fundraisers for the other businesses and the community at large. Other efforts are also being set in motion that will come to the aid of the other local businesses. Some may move elsewhere, some will seek a new location in White Center. But obviously it will be likely 2 years or more before a new building will go up on that piece of land.. AND it's worth noting that there is a 30 foot height restriction in the two block stretch of the White Center business district. So.. whatever takes the place of the old building WON'T be a giant mixed use building, standing 70 feet tall.