THEM takes the stage in first performance since lockdown
THEM takes the stage in first performance since lockdown
West Seattle Teenage band started at Mode Studios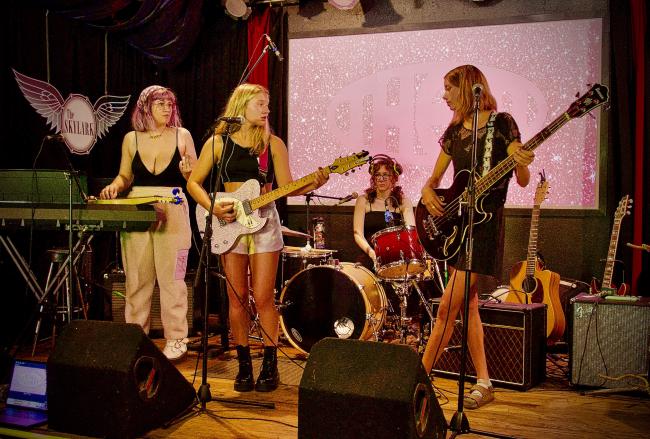 Patrick Robinson
Wed, 07/14/2021
By Olivia Palmer
A set of never-before-heard songs flooded the Skylark Cafe and Club in West Seattle Sunday night as a band of  four teenage members took to the stage, bringing with them a sparkly guitar, years of hard work and the perfect balance of passion and attitude. 
THEM, a Seattle-based band of 16 to 19-year-old girls, first met next door to the Skylark at Mode Music Studios on Delridge Way Southwest. When Mode Owner Erin Rubin saw the girls' potential, she grouped them together for a Sunday night rock class, where they received mentorship from artist Eva Walker of The Black Tones.
The group initially formed in 2017, doing some of its first live performances for the West Seattle Summerfest and at open mics at the Skylark. Now, THEM has released its first single, BAD 4 U, which was featured live on KING 5 last month. 
THEM stands for the first names of its members. There's Thompson, a 16-year-old West Seattle High School junior, who Walker describes as a talented vocalist that reminds her of Neko Case. There's Hudson, also a 16-year-old junior at West Seattle High School, whose voice takes the lead on the group's single. There's Ellie, a 19-year-old West Seattle High School graduate, who manages the band's social media, website and bookings, along with her musical contributions to the group. Finally, there's Maia, a 19-year-old Seattle Lutheran High School graduate. Maia is a "top-notch drummer," in the words of Walker, who does a little bit of everything.
Rubin said each band member had different strengths and interests that brought them together.
"Hudson had an interest in playing music with other people; Thompson was ready for that next step; Ellie was thirsty for band leadership, and building something for sure. And they needed a drummer and Maia was the obvious choice there," Rubin said. "So I brought them all together, dumped them on Eva and then she kind of worked her magic."
Along with the magic came hard work. Walker said she was there to support and guide the girls, but their skillsets and self-organization got them far.
"I like to tell people all I did was unlock the door for them and lock it back after class," Walker wrote in an email. "These ladies have natural talent, especially together."
Just before the pandemic, THEM was beginning to ramp things up. The band had plans to perform at The Moore Theatre the day before lockdown- but the pandemic forced them to rethink rehearsals and performances. When Mode Music Studios temporarily stopped in-person lessons, the group began practicing in Hudson's basement. 
"The pandemic forced us to be more creative; we no longer depended on Mode for a practice space," Hudson said.  "And I think that was kind of our major growth point."
Another point of growth for the band members was their transition from doing covers to writing original songs. As members of the group began to become more independent near the start of the pandemic, they were able to take skills they had learned at Mode and use them to come into their own. 
"It was really kind of a test, being forced out of Mode because of COVID… to adapt those skills and apply it to being a band on our own," Ellie said. "And we were finally like, the perfect age to be able to drive to one another's house and actually have that responsibility for ourselves and book our own shows and stuff like that."
Over a year ago, THEM was making plans to play at the Skylark. Now, the band has come full circle and finally made it happen. Sunday's show featured a mix of songs about friendship, relationships and identity, the majority of which THEM had never played for a live audience before. 
Early in the show was a cover of Harry Styles' "Falling," a song the group had initially prepared to perform for season 16 of America's Got Talent. The members said they had their bags packed and tickets booked when they were canceled due to complications surrounding the pandemic. 
Ellie said the news was sad, but the experience helped propel them forward.
"We were so ready to be on the show and everything, but we took all that momentum and applied it to releasing Bad 4 U, which ended up being a really big success," Ellie said. "I feel like we still have that momentum from AGT and we're applying it to everything else and it's really working. And we're doing it ourselves, which feels a lot better than blowing up from a TV show that's doing it for you."
Other highlights of the night included "Bad 4 U" and "In Ur Line," a song Ellie wrote for her boyfriend and the band's producer, Destin Mai, who she met in a checkout line at Trader Joe's. The song was accompanied by a series of cute short videos of the couple, projected on the wall behind the band.
If there's one thing the night revealed about THEM, it's that everyone in the group plays everything. Between nearly every song, the girls would shuffle on stage, switching from bass to guitar to piano. Ellie said the members' multi-instrumentalism is one of the things she loves the most about the band.
"There's no one head of the band. It's all of us," Ellie said. "We're all contributing to every song in different ways on different levels. … That's like the second meaning behind THEM."
THEM is now gaining traction in the Seattle music scene. The girls' single has been in the top 10 most-played songs of the Northwest on KEXP since its release. They're looking forward to playing in Leavenworth later this month, and at a handful of other performances later in the year. But these successes haven't come without the support of countless mentors in the community. 
Rubin said it's important to her to have performing artists teaching at Mode. Many of the studio's instructors are artists she knows and trusts from her own experience in the industry. Now, as THEM begins to take its work outside of Mode, it has that foundation of connections with artists to come back to.
"They have shown us pretty much everything that we're doing now," Ellie said. "We're able to send them our song and ask their advice on it. And I don't know anybody else who would do that anywhere but Seattle, it's so crazy."
Walker has made herself available to give advice and guidance to THEM even after leaving Mode. She said watching the band's growth makes her feel like a proud mom.
"These ladies love music, they have a REAL love for it, they know what they want to create, they work on it constantly," Walker wrote. "It has been wonderful to see them organizing, working and staying motivated."
Rubin expressed a similar excitement for the group.
"I love watching them take ownership of their journey," Rubin said. 
Members of THEM all agreed that their time together has been full of learning experiences. For Ellie, working on Spotify playlists, booking shows and interviews, and managing outreach has provided hands-on music business experience that she wouldn't get in school.
The support and community of THEM has also made a huge impact on the members' experiences.
"My favorite thing is stepping on stage with my bandmates, just because I'm never scared because I have them," Thompson said. "When I bring in a new song or somebody brings in a new song, the space that we are in, it's like no judgment. If there is criticism, it's constructive."
As THEM looks to the future, nothing is set in stone. With Ellie moving to Los Angeles for school later this month, Maia starting college and Hudson and Thompson finishing up high school, the band will have new obstacles to navigate. But that isn't stopping them.
The band members said they're set on releasing another single in the near future, and at least one album further down the road. Ellie is hopeful that THEM will perform many more shows and be together for years to come; this first performance at the Skylark is just the beginning.
"We've been practicing every day for the past two weeks for the show. And it doesn't feel like a hassle or like something we have to do at all," Ellie said. "It's exciting every night." 
Those interested in learning more about THEM can check out their website, Facebook (@th3bandthem) and Instagram (@theband.them).