Rising out of the ashes, Rat City Tat 2 is back
Rising out of the ashes, Rat City Tat 2 is back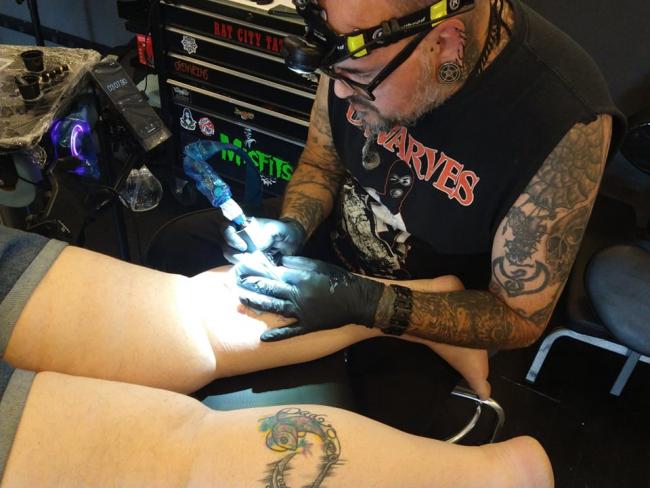 Sun, 07/25/2021
By Ruby Tuesday Romero
I started with nothing and still have most of it left. 
Echoes of those words remain in the charred beams and trashed floor of the shop located at 9617B 16th Ave S. RatCity Tat2 was between the Lumber Yard Bar- their door now reads ARSON in bold red font- and the Boxing Gym, who's sporting a 'we are still in business' sign. 
And still, the whole situation feels surreal. Seven businesses destroyed (possibly more like nine if you include those using a community kitchen also damaged by the arson) and countless other livelihoods halted. Spectators continue to stop and stare in disbelief and as the investigation presumably continues into what exactly happened, Rat City Tat2 reopened swiftly-just 15 days after the fifth of July. 
The scorched heads of the bathroom indicators and some familiar now-warped signs adorn the walls. The few salvaged tattoo machines still work, although not ideal to use. One in particular sits in front of fresh bottles of ink donated to the shop owner, Jason Hobbs.
The machine had been given to him by long time friend, Angel Murieta. 
Murieta had passed just weeks before the fire, in June.
Rat City was the first business to secure a new storefront, in this case, a back alley entrance. Being as the new location sits on top of Lucky Cannabis, you can see the old shop from the windows. Sharing the building is White Center's only yoga studio, The Heart Center, and below them is a Mexican bistro Buho-another display of diversity here. The construction team was Jason, his wife Cathy, resident artist/piercer VegeTable, and artist Penz- with a little extra detail work from the kids. The square footage is substantially larger than the previous, three-four times the size, leaving for a lot more elbow room and with back-to-back walk-ins, it getting put to good use. 
Being this resilient isn't a new feature for Jason, his wife, and the Rat City crew. Although still adding the final touches, the shop is now functionally open. Somewhere between a manic episode and pure necessity, Jason felt a duty to provide his artists with a place to make a living, instead of getting knocked down by tragedy, they hit the ground running. Show your support by getting that tattoo you've been putting off for years. So what! Do it! 
Rat City Tat2 is now located at 9640 16th Ave SW Suite C Seattle, WA 98106. Entrance through alleyway, signs visible from both 16th and 15th avenues. Walk-ins are welcome any time between 1-10pm. Call 253-273-5935 for availability or to schedule with an artist- Jason Hobbs, Veg E Table, and Jeff Penz. 
To keep them afloat you can still help by donating to their GoFundMe page here.