White Center businesses banding together to support fire victims
White Center businesses banding together to support fire victims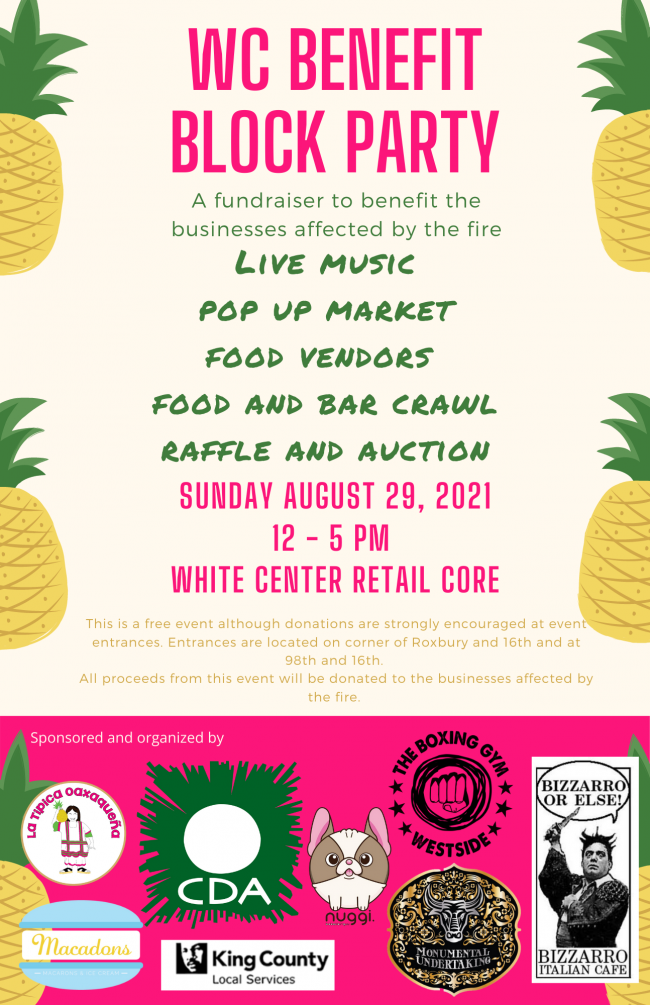 Fri, 07/30/2021
Pending permits, the White Center business community is throwing a block party to benefit the eight businesses whose livelihoods were lost in the fire that took place on July 5. That fire is being investigated as an arson. Of those, only Rat City Tat2 has reopened. while The Lumberyard Bar has found a new location across the street it will take several months for the build out. 
On Sunday, Aug. 29, the plan is to shut down the block between Roxbury Street and 98th Street SW for a party featuring local vendors in booths, food, a raffle, a bar and food crawl, live music at Drunky Two Shoes BBQ, and an auction. The hours would be 12 Noon to 5pm.
The organizers are asking for raffle items to be donated, and food and beverage offers to be finalized by Aug. 15. They are also seeking volunteers to help run the event. La Tipica Oaxaqueña moved all their merchandise that was not damaged to a location in SeaTac and are recruiting suppliers and volunteers to sell at their booth at the event through THIS FORM (en spanol)
To donate to the raffle contact via email whitecenter@macadons.com
The event is being organized by local White Center businesses,  with the support of King County Local Services, and  the White Center Community Development Association.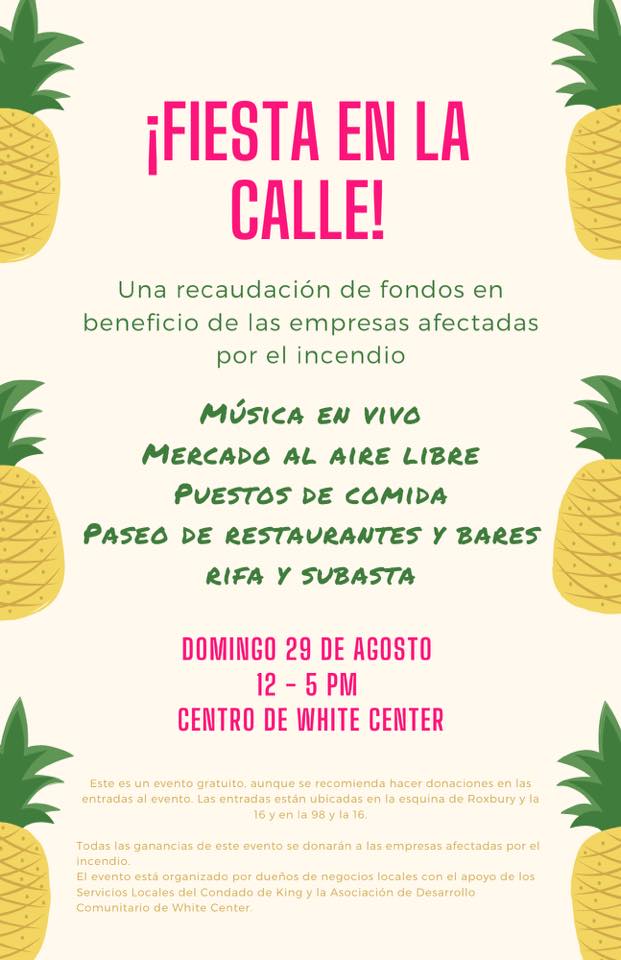 Comments
Nice event that is going to happen, but I don't think that there needs to be a bar crawl ( personally I don't like the idea of supporting drunks going from one bar to the next and then the possibility of a person getting in a car accident who is drunk, but maybe that's just a term used bar crawl and is just a term people use these days in advertisements and how they talk now days). I think people need to be aware that most businesses have insurance and are probably getting money from their insurance company, but sometimes insurance doesn't cover all the costs of what was lost and so this event will help cover the cost of what insurance don't cover. I hope that some one is responsible who is going to divide the proceeds from this event so that the money made is going to help everyone who is effectively by the fire.