West Seattle Chamber Love Boat "Cruise for Commerce" sets sail Aug. 19
West Seattle Chamber Love Boat "Cruise for Commerce" sets sail Aug. 19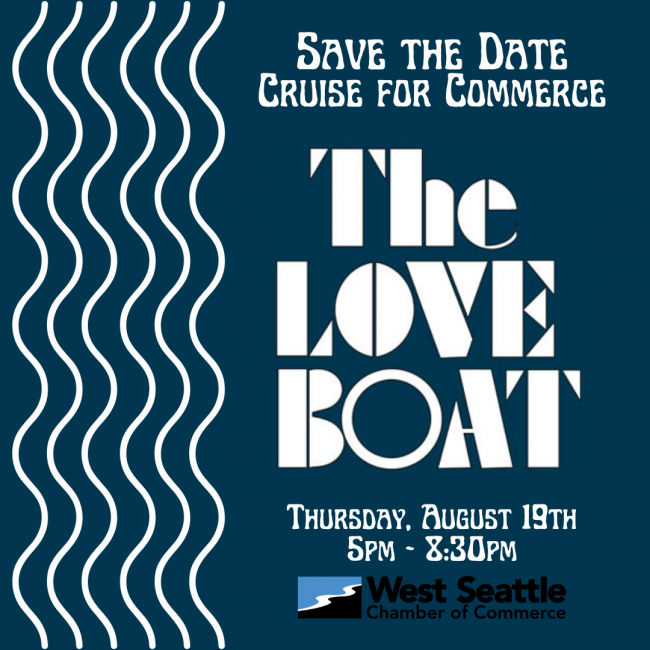 Sat, 07/31/2021
The Love Boat will be making another run, The Love Boat promises something for everyone! We're expecting you and your fellow community members aboard The Love Boat with Captain Jack Miller to celebrate the waxing gibbous moon!
 
Where: Aboard The Love Boat (aka the Baltic Sea — Captain Jack's classic fishing boat).
What: Tour West Seattle by sea for a three-hour cruise from the Duwamish to Lincoln Park, Elliott Bay to Puget Sound.
Plus: You will enjoy an exclusive and unique adventure limited to only 50 guests. Heavy appetizers and complimentary cocktails will be served.
Cost: Tickets are $100 per person. Purchase chances to plunder the treasure chest in advance or on board!

🛥️ Space is limited and tickets will sell out fast so book your cruise now!

🛥️ Promote your business with a Sponsorship or Donate to the Treasure Chest.

🛥️ Purchase a Sponsorship:  Click "Register" button, login as a member and select the sponsorship of your choice. Sponsorships include event tickets. 

🛥️ Donate a Valuable to the Treasure Chest: Contact Whitney at (206) 751-6839 or by email whitney@wschamber.com 
 

Date: August 19, 2021
Time: 06:00 PM - 09:00 PM PDT
Location: Launch Point @ Harbor Island Marina
1001 SW Klickitat Way, Gate C
Boat Loads 5:30PM - 6:00PM
Fees/Admission: Ticket:  $100.00
Limited to 50 Guests
Click Here for More Information