Easy Street Records remakes their restroom in unique style
Easy Street Records remakes their restroom in unique style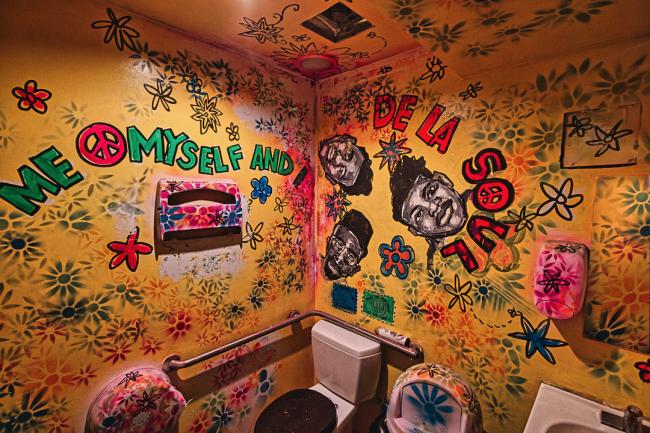 Wed, 08/04/2021
By Ruby Tuesday Romero
Son Doung has been a mixed media artist for years now, but only in the past decade has he begun to work with paint. Offering high contrast in his realistic portraits, the final products always seem effortless, natural, and demand attention from the viewers. The influence from his professional background in graphic design shines through in his vividly colored backgrounds and heavy black overlays.
Specializing in portraits, Duong has the ability to take a subject and add an ominous tone, almost creating mythical creatures. In his iconic rendition of Soundgarden's Chris Cornell (on the outdoor south wall of Easy Street), Duong evokes pain and glory-with the use of just four colors. Periodically on that wall album art will be brought to life by muralists and then painted over for the next new release, but Son Duong's portrait of Cornell has remained, no matter what album is coming soon.
When Easy Street Records owner, Matt Vaughan, needed artists to give the shop's restrooms a complete paint-over, Son was a no-brainer. WIth one restroom paying tribute to rock legends, it has a more edgy vibe for a more loud crowd (the boys), the other would be a softer, more bright ambiance. Few groups could provide that sweet, light-hearted vibe other than De La Soul and there's no better time than now to pay tribute to the 'Daisy Age'. Decked out with flowers and peace signs, the bright orange and golden walls see splashes of blue, green, and fuschia accents. Girls love to bring a friend to the powder room, so the painted trio are strategically placed to watch your back while at the office.
The lyrics on the door emphasize a trend many of us can relate to- anxiety of inadequacy. However, with so many bright colors and bubbly imagery, it will be quite a task to focus on anything other than how awesome the mural is. 
Find more art and book Son Duong through Instagram @son_of_a_gun1969