Online meeting set for Nov. 4 on 8 story, 87 unit apartment bldg. proposed for Avalon Way
Online meeting set for Nov. 4 on 8 story, 87 unit apartment bldg. proposed for Avalon Way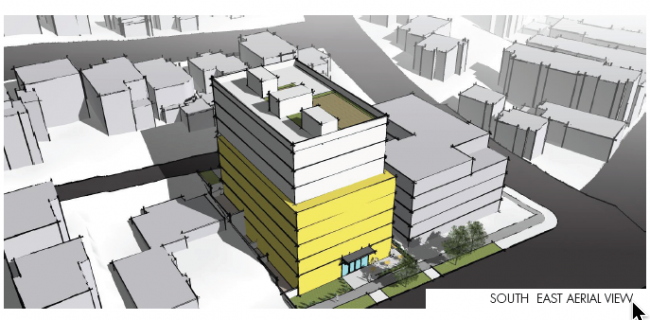 Mon, 10/18/2021
An online meeting is set for Nov. 4 at 7pm to learn more about the 8 story, 87 apartment building proposed for 3010 Avalon Way SW. The project will have parking for four cars. It was under Administrative Review as Westside Seattle reported in August.
More details and the full design review packet can be found here.
This meeting will be held online. See Online Meeting Information section below for the meeting link. For more information, please see the last page of this notice. 
Date: 

 

 Thursday, November 04, 2021 

 

 Time: 

 

 7:00 PM 

 
All meeting facilities are ADA compliant. Translators/interpreters provided upon request. 

Contact the Public Resource Center at PRC@seattle.gov or (206) 684-8467 at least five business days prior to the meeting to request this service. 

 
Area: 

 

 West Seattle 

 

 Address: 

 

 3010 SW AVALON WAY 

 
Project: 

 

 3036362-EG 

 

 Zone: 

 

 MR (M) 

 
Applicant Contact: 

 

 JEFF WALLS - 206-466-1225 

 
SDCI Planner: 

 

 Theresa Neylon - (206) 615-0179 

 
OPPORTUNITY FOR COMMENT 

During the early design guidance (EDG) phase of review, SDCI accepts written comments through November 03, 2021 on the site planning and design issues of this project. Submit all comments and requests to be made party of record to PRC@seattle.gov or City of Seattle – SDCI – PRC, 700 5th Avenue, Suite 2000, PO Box 34019, Seattle, WA 98124-4019. 

 
PROCESS 

A Design Review application for future development of this site has been submitted to the Seattle Department of Construction and Inspections (SDCI). The first phase of Design Review includes the (EDG) meeting. The following occurs at the meeting: 

1. Presentation by the applicant about the site, vicinity and early massing design concepts. 

2. Comments by the public regarding the design of the new development.* 

3. Deliberation by the Design Review Board providing design guidance and identifying significant Design 

Guidelines applicable to the design as it moves forward towards Master Use Permit (MUP) application. 

*Please note that public comment at this meeting is limited to design considerations. (If environmental review is  triggered, comments related to environmental impacts, such as traffic, parking, noise, etc. may be sent to SDCI  following notice of that review.)