SDOT: Upgrading the detour route: planned construction this weekend on 16th SW
SDOT: Upgrading the detour route: planned construction this weekend on 16th SW
Fri, 10/29/2021
information from Seattle Department of Transportation
This weekend, we'll be completing the concrete street panel work started a few weeks ago on 16th Ave SW and SW Austin St in the northbound direction. This work is anticipated to begin as early as 7 AM Saturday and is expected to be completed by 5 PM. You can expect to see some travel lane closures throughout the day on Saturday, October 30, but traffic will be maintained in both directions. After completing the work, we will place steel plates Saturday evening to allow the concrete to fully harden. You can expect minor traffic impacts on Sunday afternoon, October 31 as concrete crews remove the steel plates.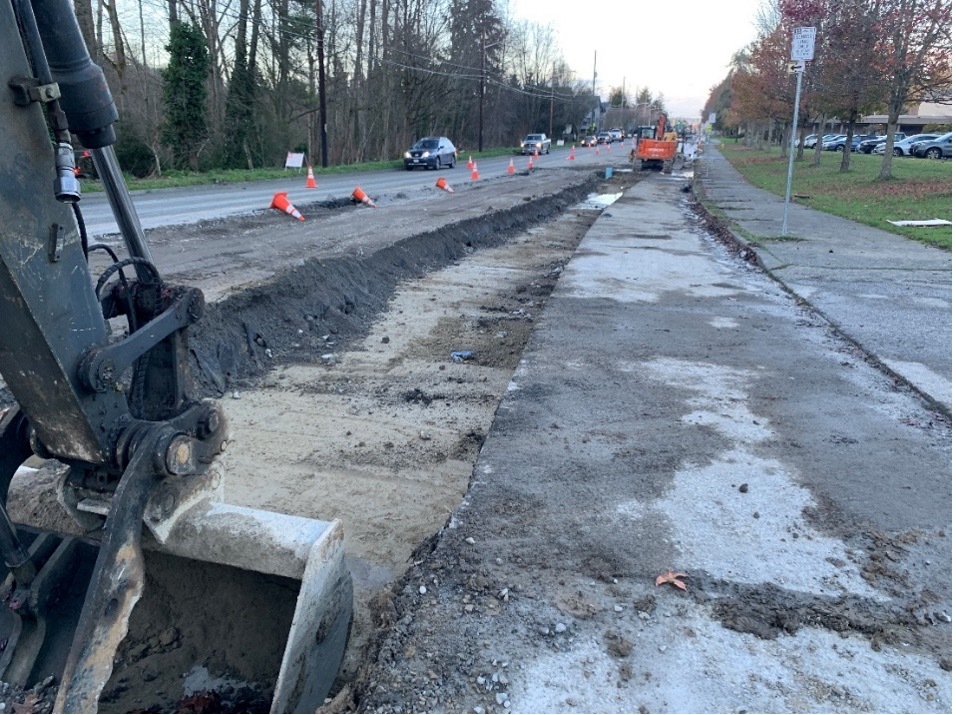 An example of concrete panel replacement. Please navigate the area with caution as concrete crews work in the area to complete these upgrades.
We'll also be working on updating the painted street layout at the intersection of Corson Ave S and S Michigan St in Georgetown. We'll be removing some of the paint and painting a slightly different street layout that will make driving through this intersection a little easier. This work is anticipated to last from 6 AM to 11 AM on Saturday, October 30. The left turn lane will be affected north of S Michigan St and the southbound through lanes will be affected south of S Michigan St.
In South Park this weekend, we'll also be completing some minor street pavement repairs in various locations on Saturday from approximately 7 AM to 5 PM. We do not anticipate any major closures or detours for travelers.
For all planned construction, please drive slowly, obey signs, and use caution in work zones. Thank you for your patience as we work to complete these upgrades.
Minor impact to mariners on the Duwamish Waterway for Spokane St Swing Bridge (low bridge) construction 
For up to 12 hours on Tuesday, November 9, 2021, we'll be replacing a hydraulic pump on Pier 6, the pier on the west side of the Spokane St Swing Bridge (low bridge). The pump is part of the system that allows the low bridge to open and close to maritime traffic.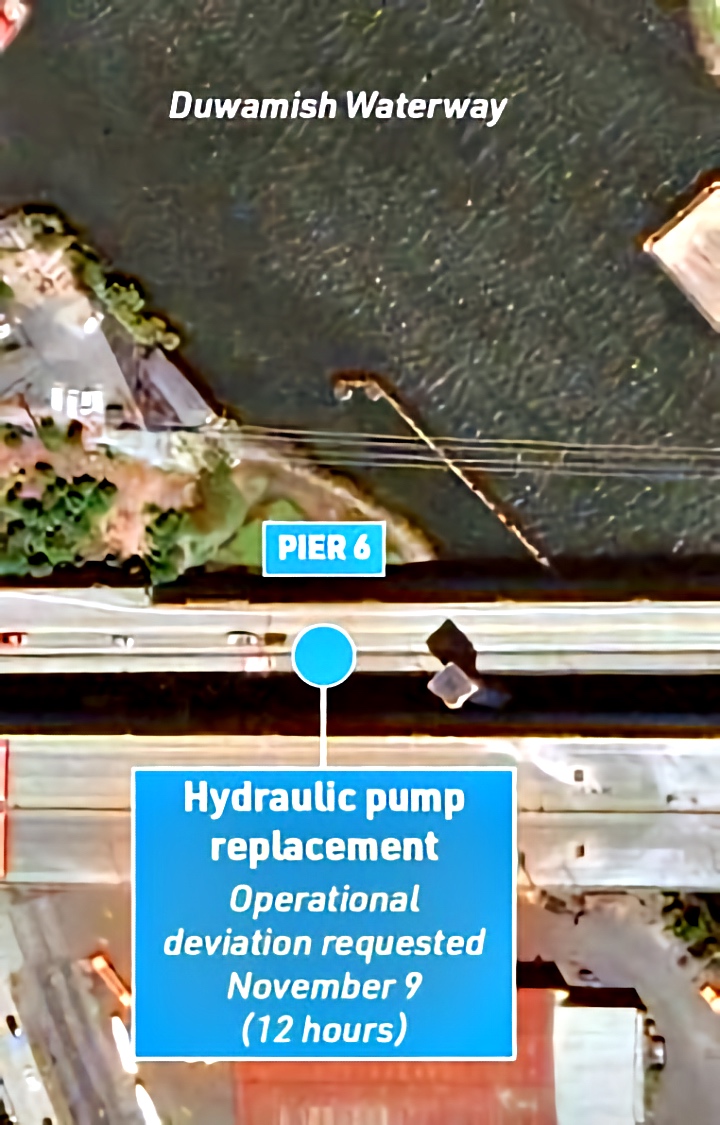 From 8 AM to 8 PM on November 9, mariners will have limited access under the low bridge to navigate the Duwamish waterway. During this time, the low bridge will have what's called "single-leaf openings," when only the east half of the bridge will be able to open for marine vessels.  
People walking, biking, rolling or driving on the low bridge will not be affected, and authorized users will still be able to access the bridge at all hours.  
This work is part of the Low Bridge Improvements Projects. Due to traffic demand on the low bridge since the closure of the West Seattle High-Rise Bridge (high bridge), we are proactively taking measures to preserve the low bridge through a series of projects.