Zeek's Pizza taking over Southside Pizza location in White Center
Zeek's Pizza taking over Southside Pizza location in White Center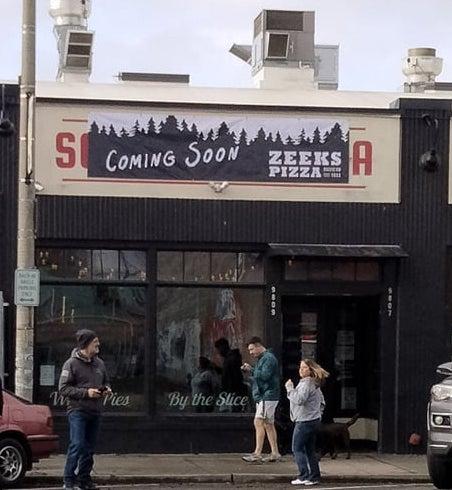 Mon, 11/22/2021
By Ruby Tuesday Romero
Zeek's Pizza has definitely seen expansion over the past year and planning to go further in the country. Established in 1993, a northwest duo started the beer and pizza company with delivery by skateboard only-DUH! In 2004, it became a franchise- offering opportunities to own a business, including some of their own employees. 
Since January there's been a barrage of social media updates highlighting new prospective Zeek's Pizza franchise owners and developments soon to house new locations. 
Luckily for White Center, that includes us! 
A smiling duo posed for a photo in front of what was previously Southside Pizza, adjacent to Lil Woody's in the Beer Star building. A 'Coming Soon! Zeeks Pizza' banner was placed over the old pizzeria sign and there is minimal construction plans. However, a wall will need to be installed to separate Zeek's from Lil Woody's to stay in compliance with WSLCB license regulations. 
Zeek's White Center will join the 16th avenue business district in mid to late January 2022.