ArtsWest is back with live, in-person performances; 'We've Battled Monsters' starts Nov. 26
ArtsWest is back with live, in-person performances; 'We've Battled Monsters' starts Nov. 26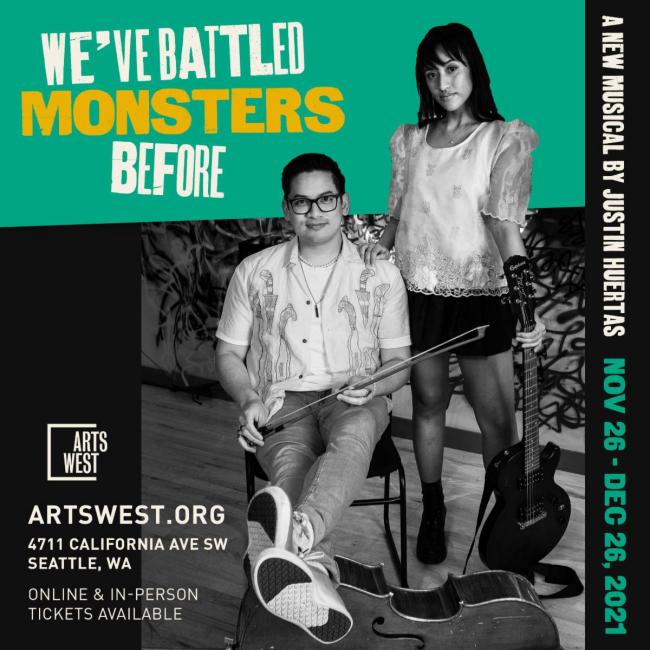 Tue, 11/23/2021
information from West Seattle Chamber of Commerce
'We've Battled Monsters Before' is a heartwarming family tale told by 2 storyteller musicians. Inspired by the 16th century Filipino epic "Ibong Adarna". The show centers on Filipino identity, food, family, confronting the past and building the future.
When you're the youngest sibling in a family of secret warriors who for generations have protected Seattle from monsters and demons, living up to your Lola's expectations is, in a word, daunting. Adarna's mistakes were cute at first, but when they begin to cost her family more than she ever imagined, she must decide what she would sacrifice to save them. Loosely adapted from the 16th century Filipino epic poem Ibong Adarna, playwright-composer-lyricist Justin Huertas returns to his Lizard Boy roots with a sweet and intimate actor-musician musical adventure.
Click here to preview a song from the show! 
Bring the ones you love this holiday season. 'We've Battled Monsters Before' opens November 26th and runs through December 26th! With ArtsWest's accessible pricing, tickets start at $15. Get your tickets at ArtsWest.org!