West of Chicago Pizza has plans bigger than their pies, and their pies are huge
West of Chicago Pizza has plans bigger than their pies, and their pies are huge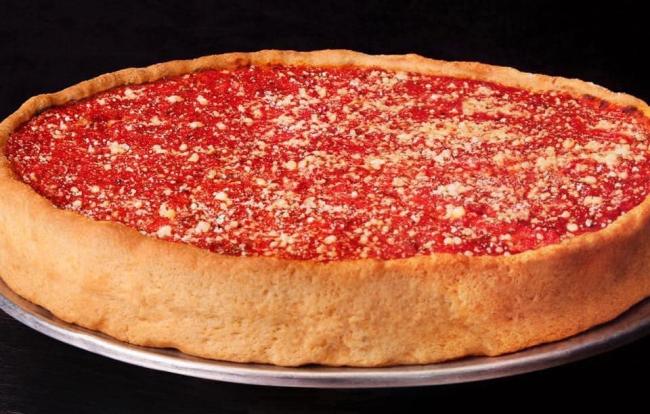 Sat, 12/04/2021
Shawn Millard knows pizza. That's a claim made by many but what he means by it is very different. 
Specifically he knows a kind of pizza normally only found in a place where you can hear the cheers of baseball fans dreaming of another win by the White Sox. That would be Chicago and the pizza found there is deep dish.
He has been providing the unique character of that style through his "West of Chicago Pizza Company" since 2019 out of a commissary kitchen on Delridge Way. Making a go of it that way is hard enough, but then the pandemic hit and people turned to both comfort food and food to go. He was ready.
Now he's ready for the next chapter. Aiming at a March 1 opening West of Chicago Pizza will open in the former Chaco Canyon location at 3770 SW Alaska Street. 
The space seats 75 people but he knows his to-go business will remain a large component 
In addition to his signature pizzas (see below for more about that) for the past year or so he's been featuring limited runs on his Italian beef sandwiches as pop up items. These will become regular menu items.
Also on the menu will be appetizers, salads, and entrees, and a Husky Deli powered ice cream sandwich.
The coolest (hottest?) change for both Millard and pizza lovers is the sheer volume of product he will be able to provide in the new space. He will go from 40 pizzas a night to 40 per hour running at top speed. This is all thanks to the new gear he's getting that will also enable the production of a tavern style pizza.
Also music to West Seattle pizza lovers will be being able to get his pies delivered for the first time. There will be a $5 fee for it, which he said he will split with the driver. That's in addition to their wages and insurance. 
if you live west of Highland Park Way and north of Roxbury you are in the zone so get your taste buds ready.
In the meantime check them out on Instagram, or enjoy their takeout  via online orders and pick it up at 5604 SW Delridge Way.
About Deep Dish Pizza
The primary difference between deep-dish pizza and most other forms of pizza is that, as the name suggests, the crust is very deep, creating a very thick pizza that resembles a pie more than a flatbread. Although the entire pizza is very thick, in traditional Chicago-style deep-dish pizzas the crust itself is thin to medium in thickness.
Deep-dish pizza is baked in an iron skillet or a round, steel pan that is more similar to a cake or pie pan than a typical pizza pan. The pan is oiled to allow for easy removal as well as to create a fried effect on the outside of the crust. In addition to ordinary wheat flour, the pizza dough may contain cornmeal, semolina, or food coloring, giving the crust a distinctly yellowish tone. The dough is pressed up onto the sides of the pan, forming a bowl for a very thick layer of toppings.
The thick layer of toppings used in deep-dish pizza requires a longer baking time (typically 30-45 minutes), which could burn cheese or other toppings if they were used as the top layer of the pizza. 
Because of this, the toppings are assembled "upside-down" from their usual order on a pizza. The crust is covered with cheese (generally sliced mozzarella), followed by various meat options such as pepperoni or sausage, the latter of which sometimes is in a solid patty-like layer. Other toppings such as onions, mushrooms, and bell peppers are then also used. 
An uncooked sauce, typically made from crushed canned tomatoes, is added as the finishing layer; though sometimes, a sprinkling of parmesan cheese is added for extra flavor.
It is typical that when ordered for carry-out or delivery, the pizza is uncut, as this prevents moisture from the sauce and toppings from soaking into the crust, causing the pie to become soggy.