Dumplings of Fury is open in expanded location in West Seattle Junction
Dumplings of Fury is open in expanded location in West Seattle Junction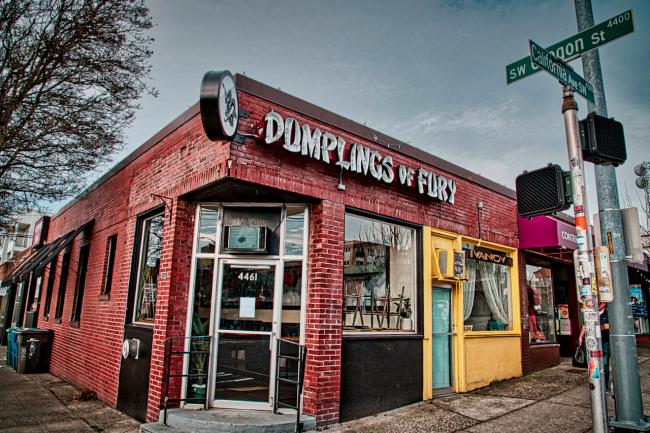 Sat, 01/29/2022
After delays due to COVID and permitting, Dumplings of Fury (DoF) has finally opened in their newly expanded location at 4461 California Ave SW. The official grand opening is Sunday Jan. 30.
They had previously opened a second location, in of all places Hilliard, Ohio (a suburb of Columbus in May of last year). That space has a lot more room and a larger menu too, something the upgraded West Seattle location now shares.
They added around 30 seats inside and 12 more outside. And the menu is expanded too including potstickers, fried rices, spicy green beans with "Fury Sauce" (it has habanero peppers in it). Also new are cocktails and beer. The featured cocktail is the Tokyo Iced Tea on draft has Midori, Vodka, Triple Sec and Rum. Also on draft are Sapporo and Bodhizafa IPA and Two Towns Cider.
They made their name of course on their dumplings which include Shrimp and Pork Wonton, Beef Jiaozi, Garlic and Mushroom,  Pan Seared Potstickers, Shrimp and Chive and Jumbo Kimchi Mandu.  Bao (steamed buns) are prominently featured and include Fried Chicken, Pork Belly, Kalbi Beef, and Tofu varieties.  DoF offers five rice bowls, and some innovative small plates including BBQ Hum Bao, a Korean Scallion Pankake, Avocado Egg Rolls, and even Japanese Potato Salad Rice. Salt and Pepper and Sweet and Spicy Wings round out the menu.
DoF is open 11 to 9 Tuesday through Sunday. All the usual food delivery companies are on board so feel free to order online through UberEats, GrubHub or DoorDash. Call them at 206-257-0695