Yen Wor Village is working hard to re-invent itself as two sons step up
Yen Wor Village is working hard to re-invent itself as two sons step up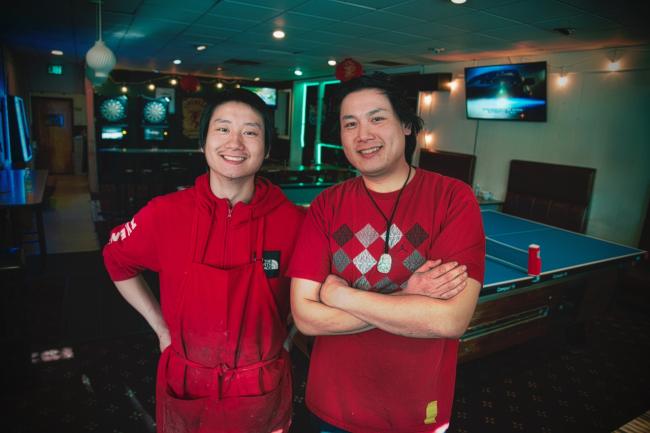 Tue, 04/12/2022
The Yen Wor Village restaurant in the Admiral District of West Seattle has been a fixture on the corner of California Ave SW and College Street for more than three decades. In the time when families went out to a big Chinese food dinner, they thrived.
But over time tastes changed and for owners Gary and Wendy Wong it became harder to make changes on the slim profits.
The Yen Wor still had it's traditional Chinese restaurant decor but over the last decade with no improvements or renovations it slipped into Karaoke dive bar status which, along with take out has kept them afloat. Their two sons Issac and Larry grew up in the business with Issac becoming a chef, while Larry who had worked at the restaurant previously had left some time before to work for Verizon.
Then the pandemic arrived in early 2020 and since they were doing reasonably well with take out already for a while they got by. The bar business was gone, and there was no indoor dining, no karaoke nights. They were struggling. But it was about to get worse.
In November of  2020 Gary went in for a routine flu shot and tested positive for Covid and was hospitalized, He went into the ICU, and was put into an induced coma, then put on a ventilator and given a tracheotomy. While fighting Covid, Gary had a stroke and lost 90% mobility on his right side.
He was sent to a rehabilitation facility in Shelton, Wa. in Feb 2021 after a month long stay in ICU.
As if Gary's illness were not serious enough, co-owner and Gary's wife Wendy Wong had an accident while walking the dog, hit her head, and broke the bones in the top of her spine and bottom of her neck requiring extensive surgery, spinal cord surgery and vertebrae fusion w/ pins in her neck.
She still suffers nerve damage and it's hard for her to walk and her fine motor skills are gone and she has a loss of head/neck mobility.
Gary will likely stay in a wheelchair; he needs ongoing care. Both Gary and Wendy are still in physical and occupational therapy, cannot drive, and require ongoing medication.
When the elder Wong's fell ill, they were both unable to communicate in part due to the pandemic so Larry and Issac jumped in to save the family business. The business was falling behind on lease payments. It was easier for Issac who was a chef already. But for Larry, it was a much bigger ask. Both sons live in the same home with their parents, and came in to help when they became unable to work. .
"Without my parents here, you learn everything on the fly," Larry said, "I know the ins and outs but for me it was more the operational things, the back office stuff which they didn't shed too much light on when they were here. I learned that mostly on my own."
Larry explained how he came back, "A few months ago they spoke to us, all teary eyed and told us to prepare to shut down everything. I told them, 'OK, I've tried it for a year with your business model. But at this point since nothing is set in stone, let me try to revamp our business model.' Larry went on, "Twenty years ago dine-in was huge with whole families sitting down for a meal but now it's more grab and go, it's more to go and takeout especially with the pandemic. So we had to change. We have all this space and for many years my parents never wanted to utilize this space for the bar. When the kitchen closes you have four hours of the space not being utilized." Since then he has taken down some walls, expanding the footprint of the bar, brought in two pool tables, and a table top ping pong surface. Two dart machines are on the back wall and a pinball machine is planned. They are doing a bingo event soon and others are being planned. They still serve the classic "Chinese Restaurant" food from Almond Chicken to Egg Foo Young and yes they have "Combination Dinners". This is food many people around West Seattle grew up on from Chicken Chow Mein to Mu Shu Pork.
A few menu changes are in the works, like Salt & Pepper Wings now on the menu and on the weekends they will serve an infused BBQ Pork Queso Fry and soon some unique Chicken Strips. Their take out business is still working reasonably well. 
But the Yen Wor is known for its karaoke status and that's still a strong draw for them. In fact on May 18 they are holding qualifications for the Karaoke World Championships which culminates in July near Oslo Norway. 
Helping them get back to meeting their financial needs is still required. Admiral District insurance man and now nationally known musician Brent Amaker is doing what he can too. His band, Brent Amaker and the Rodeo will do a benefit concert on May 17. Learn more about the community effort to save the Yen Wor at their Go Fund Me page.  The family has been struggling too since they are not making enough to support their parents since they no longer work. There are disability payments and Wendy gets Social Security. But Gary was denied since the company business is under his name.
The building itself has been there since 1908 and was once a Post Office. Then the Pioneer Grocery. Then the Thompson Electric Company in 1944. After that it was divided into spaces that included the Admiral Tavern, then renamed The Shire, suffered an arson fire in 1981 by the owner at the time, then the bar space became T.R. Garrity's rock and comedy club in 1983, changing to the Rainy City Sports Bar in 1990, then the Rock City Sports bar in 1991. The Yen Wor has been what it is now since the 1980's. (Thanks to Clay Eals for the historical background).
Larry has bigger dreams too. If he could find a financial partner he'd like to remodel the entire bar, modernizing it for a new age, catering to take out and delivery (which by the way they do locally for free on orders over $25).
The meaning of the Chinese words Yen Wor is "craving more".
With a little help from the community they might get just that.
Open Thursday through Monday from 12pm to 8:30pm for pickup and 5pm till 9:00 for delivery.

Call them at (206) 932-1455