Morgan Junction Community Festival is back June 18
Morgan Junction Community Festival is back June 18
Bubbleman, Gary Benson, live entertainment. community partners and more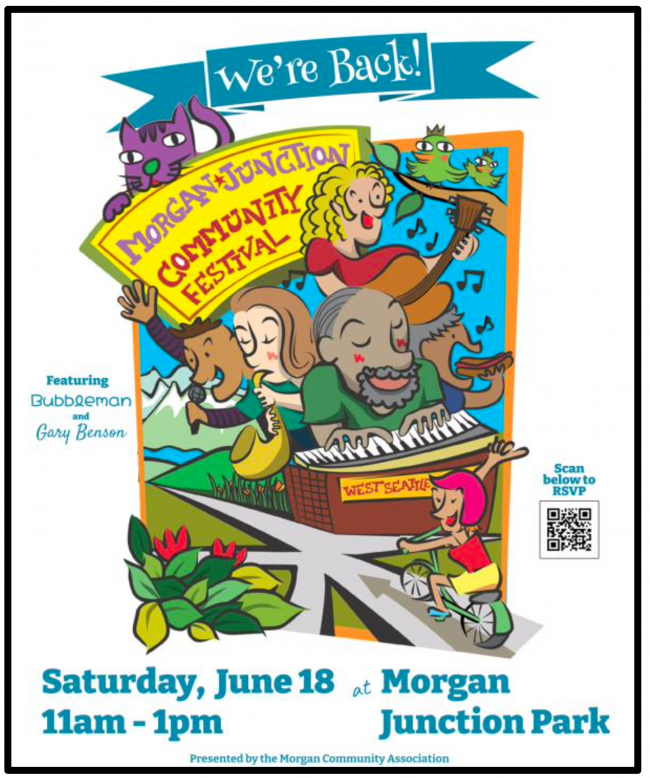 Sun, 05/22/2022
The Morgan Community Association is thrilled to announce that the Morgan Junction Community Festival will return to Morgan Junction Park on Saturday, June 18, 2022. We're easing back into things with a smaller-scale family friendly event with live entertainment and community partners only in Morgan Junction Park from 11am to 1pm.
The Bubbleman kicks off the Festival at 11:00am. A Morgan Community Festival favorite, the Bubbleman will share bubblesongs and dispense bubblelogue while making gargantuan bubbles for his delighted audience. It's just good clean fun.
Gary Benson, a local folkrock favorite at many Morgan Community Festivals will perform starting at Noon. A solo performer in the style of Beatles, Shawn Colvin, James Taylor and other folk singers, Gary sings "the music I grew up with and the current songs I love."
Everyone is invited to come celebrate the return of the Morgan Junction Community Festival, hosted annually by the Morgan Community Association (MoCA). With limited space, we're dedicating all of the table/booth spaces to our local non-profits, and we'll be sure to let everyone know what other events are happening in Morgan Junction that day, via our Facebook page: https://www.facebook.com/MorganCommunity Association
And contact us at mocacnc@gmail.com
We hope you can join us on Saturday June 18th for a short and ever so sweet
Morgan Junction Community Festival in Morgan Junction Park.