SDOT: West Seattle Bridge weekly update and paving near low bridge this weekend
SDOT: West Seattle Bridge weekly update and paving near low bridge this weekend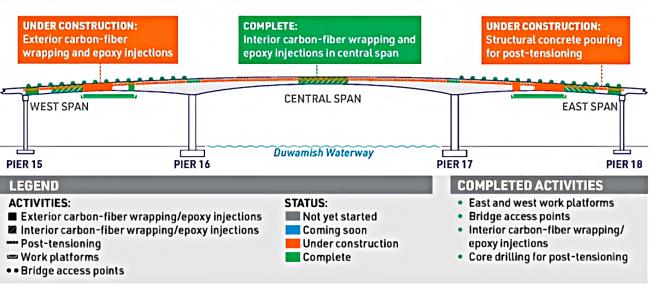 Fri, 05/27/2022
SDOT completed the final structural concrete pours for the new post-tensioning system inside the bridge this week but more work lies ahead. A timeline announcement on the final stages and potentially a re-opening date is expected on June 9. 
Concrete work was originally scheduled to begin in February and was delayed by a concrete strike that affected practically every transportation and construction project in the Puget Sound region. This week's deliveries involved concrete trucks making back-to-back pours. The construction contractor poured 15 truckloads of concrete in two days, more than half of the 245 cubic yards of structural concreted needed for the entire project. 
With the foundation of the new post-tensioning system completely poured and curing, SDOT is beginning the next step in the tensioning process.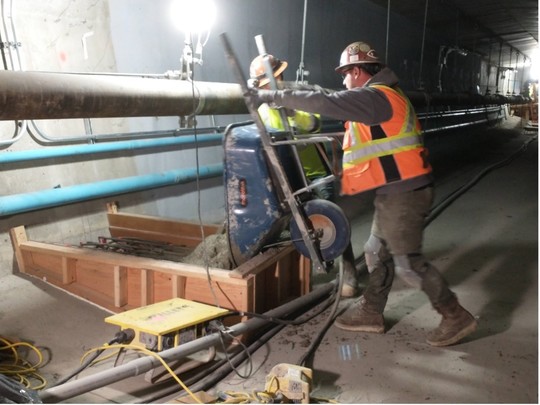 As part of this next step, they began installing ducts inside the bridge this week. These ducts act as a protective casing for the post-tensioning cables and will span the length of the bridge. Over the coming weeks, they will install about11,000 feet of ducts inside of the bridge. Soon, they will begin threading cables through the ducts and the openings in the new concrete structures.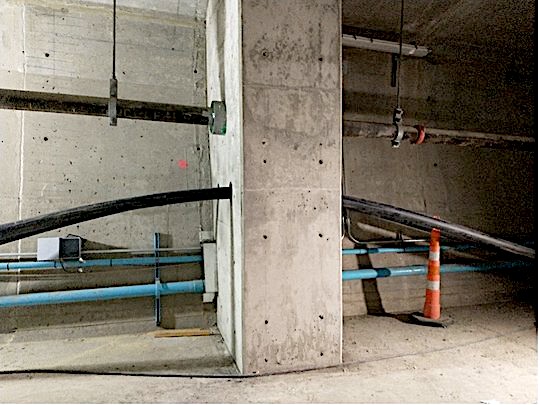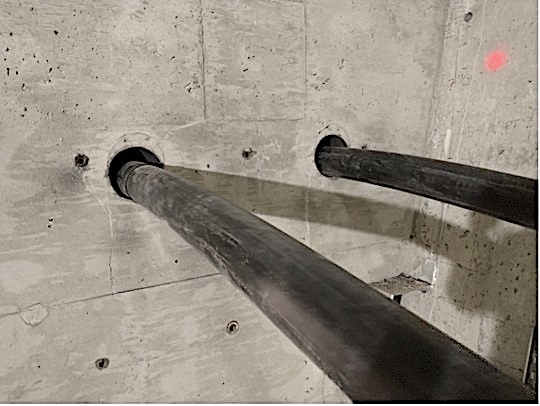 They also continued maintenance work on the bridge this week as they made more progress removing overhead signage structures that will be replaced with brand new structures. 
Paving near the low bridge: plan ahead this holiday weekend and expect delays near the Chelan 5-way intersection 
This Saturday and Sunday, SDOT is paving SW Spokane St between the Chelan 5-way intersection and the Terminal 5 access bridge. This is near the eastbound entrance to the low bridge and the access bridge to Terminals 5 and 7. The pavement at this location has been rapidly deteriorating due to the increase of heavier vehicles since the closure of the West Seattle Bridge.  
The work will start around 4 AM and they expect to be done by 6 PM each day. During this work, they need to reduce the two travel lanes to a single lane. They plan to have someone directing traffic at the work location to keep traffic moving efficiently.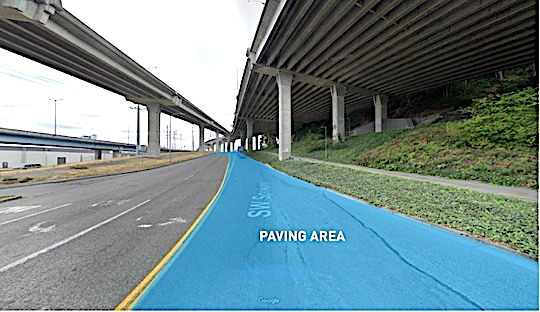 The paving area, shaded in blue. On Saturday, May 28 and Sunday, May 29, they are paving near the eastbound entrance to the low bridge and access bridge to Terminals 5 and 7.
If you plan to drive on the low bridge this weekend, please leave early and expect delays. As always, drive slowly and carefully in work zones and follow directions from signs and flaggers.