Class of 2022 bids farewell to Chief Sealth at graduation June 13
Class of 2022 bids farewell to Chief Sealth at graduation June 13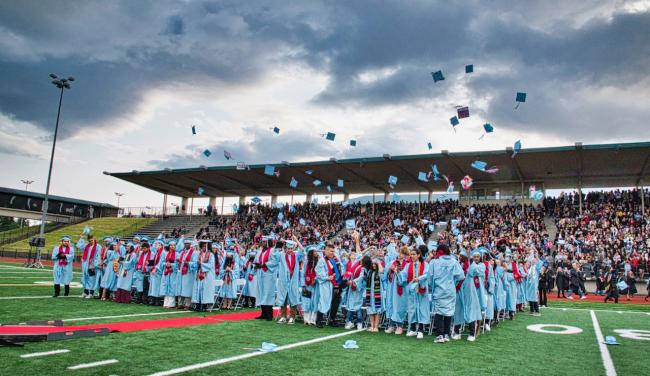 Mon, 06/13/2022
The 2022 Graduating Class of Chief Sealth International High School took to the field at the Southwest Athletic Center and the Ninu Cantu Memorial stadium on June 13, to bid farewell to the school that has been their educational home for the past few years.
After Senior Joselyn Panganiban spoke to the crowd and the assembled class and to the music provided by the CSIHS band the class carried out the long tradition that for the past two years has been disrupted by the pandemic. 
Only one glitch, the actual diplomas were not available but will be by tomorrow and students can come to the school and pick them up.
Here's who was who:
*Valedictorian - Gold Medal - Elena Jacobsma
+Salutatorian - Gold Medal - Kim Nguyen
Single Gold Cord - 3.2-3.49 GPA
Double Gold Cord - 3.5 or higher GPA
Above and Beyond Award - Medal with Light Blue Ribbon - Completing and documenting
120 or more hours of community service
Chinese Honor Society - Purple Cord - 2+ years Chinese and Enrolled in Chinese as a Senior
I Diploma and Career Student Candidate - White Stole
Key Club - Medal with Royal Blue Ribbon
Link Crew - Pink Cord
Music Department - Medal with Red. White and Blue Ribbon -2+ year Participant
Seal of Biliteracy - Gold medal with Red, White, and Blue Ribbon
§aqadib - Yellow Stole
CHIEF SEALTH INTERNATIONAL HIGH SCHOOL ADMINISTRATORS and ADVISORS
Ray Garcia-Morales  - Principal
Christa Ernst.- Assistant Principal
Erik Weiss - Assistant Principal
Rachel Evans - Academic Intervention Specialist
Sarah Martin - Activities Coordinator

.
CLASS OF 2022 OFFICERS
Joselyn Panganiban, Jessica Tran Hong, Michelle Nguyen, Aya Bezzaz,
Alexa Figueroa, Alex Daviscourt, Deborah Markos, Hamza Mohamed,
Nabbil Hassan, Alex Koch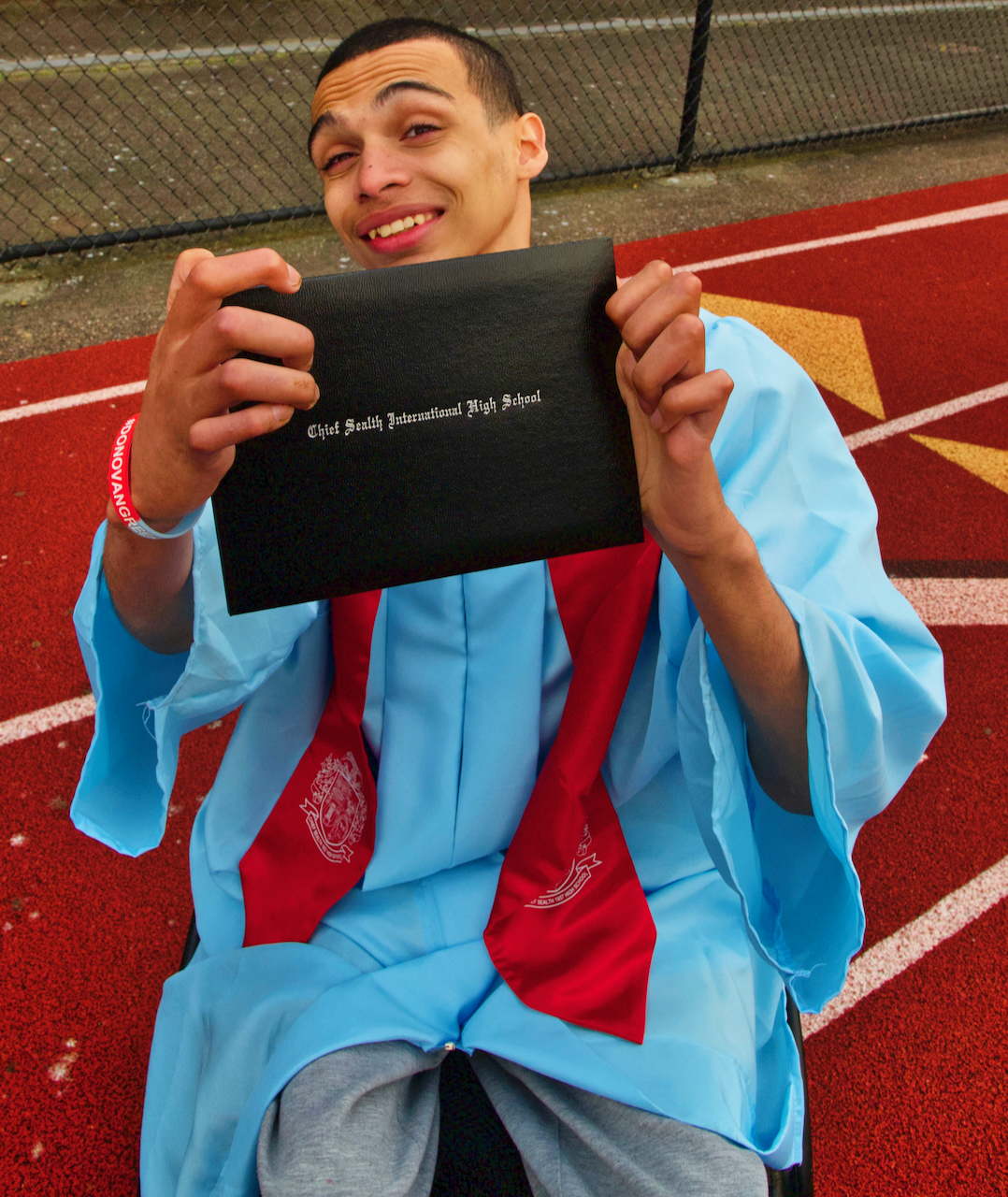 Senior Donovan Greenlea was extremely happy to graduate and the entire crowd cheered when his name was announced. Photo by Patrick Robinson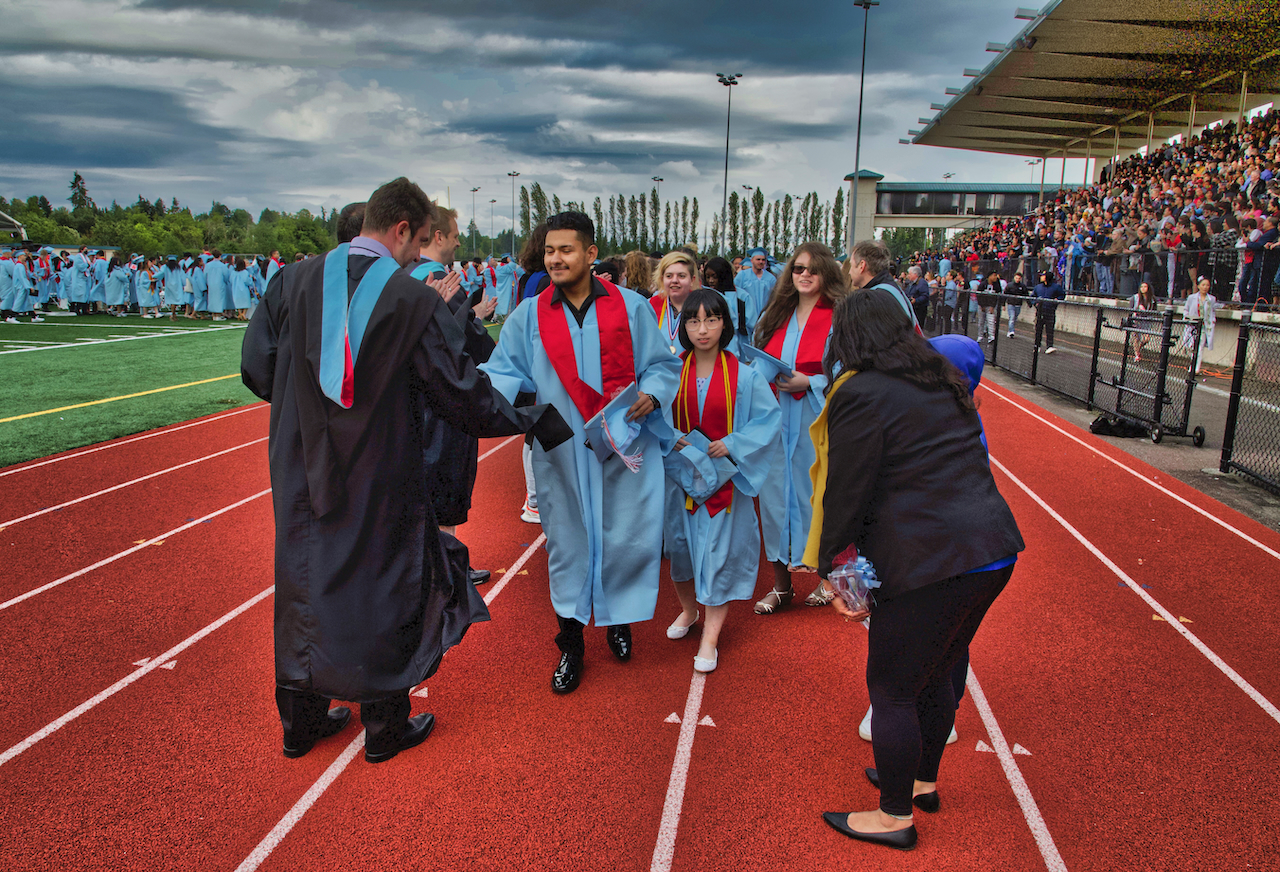 Students walked a gauntlet of congratulations formed by the faculty after graduation. Photo by Patrick Robinson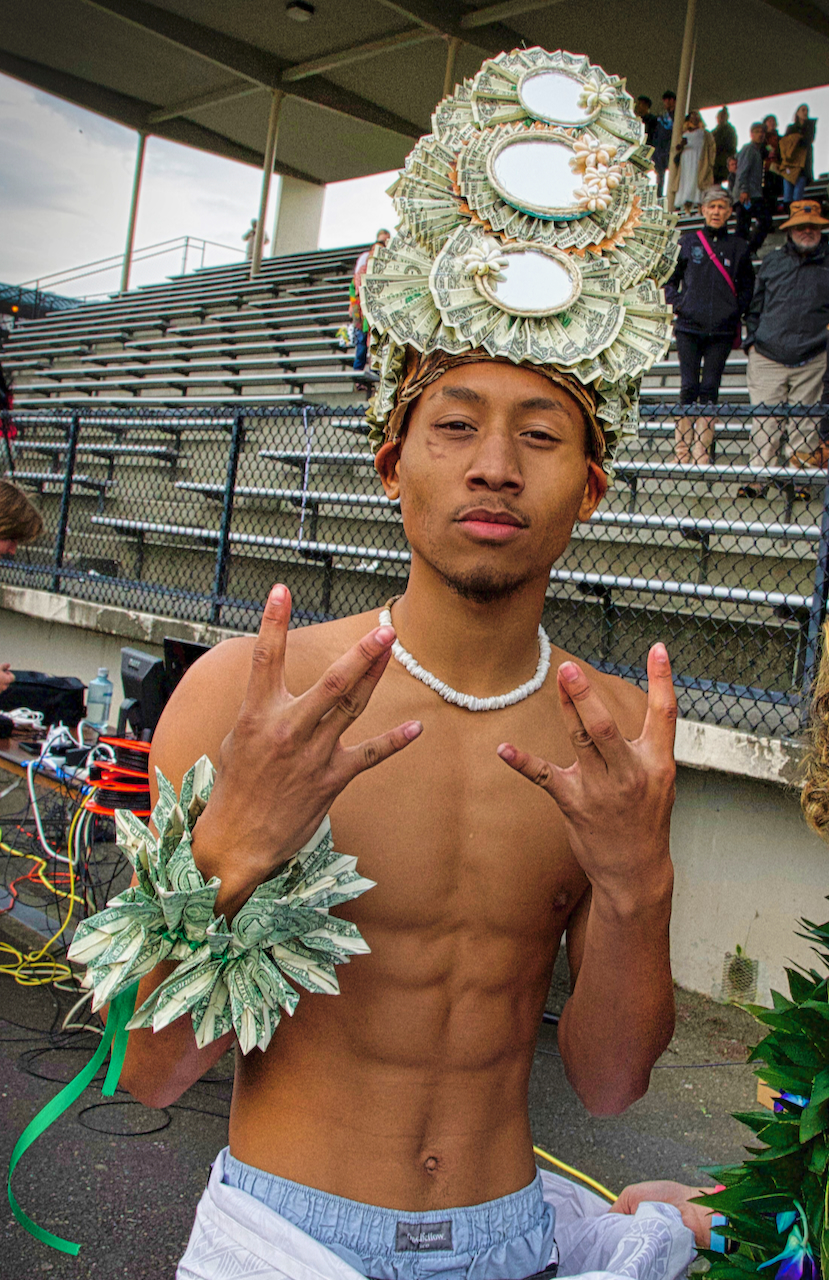 Messiah was very happy with his money head dress and bracelet. Photo by Patrick Robinson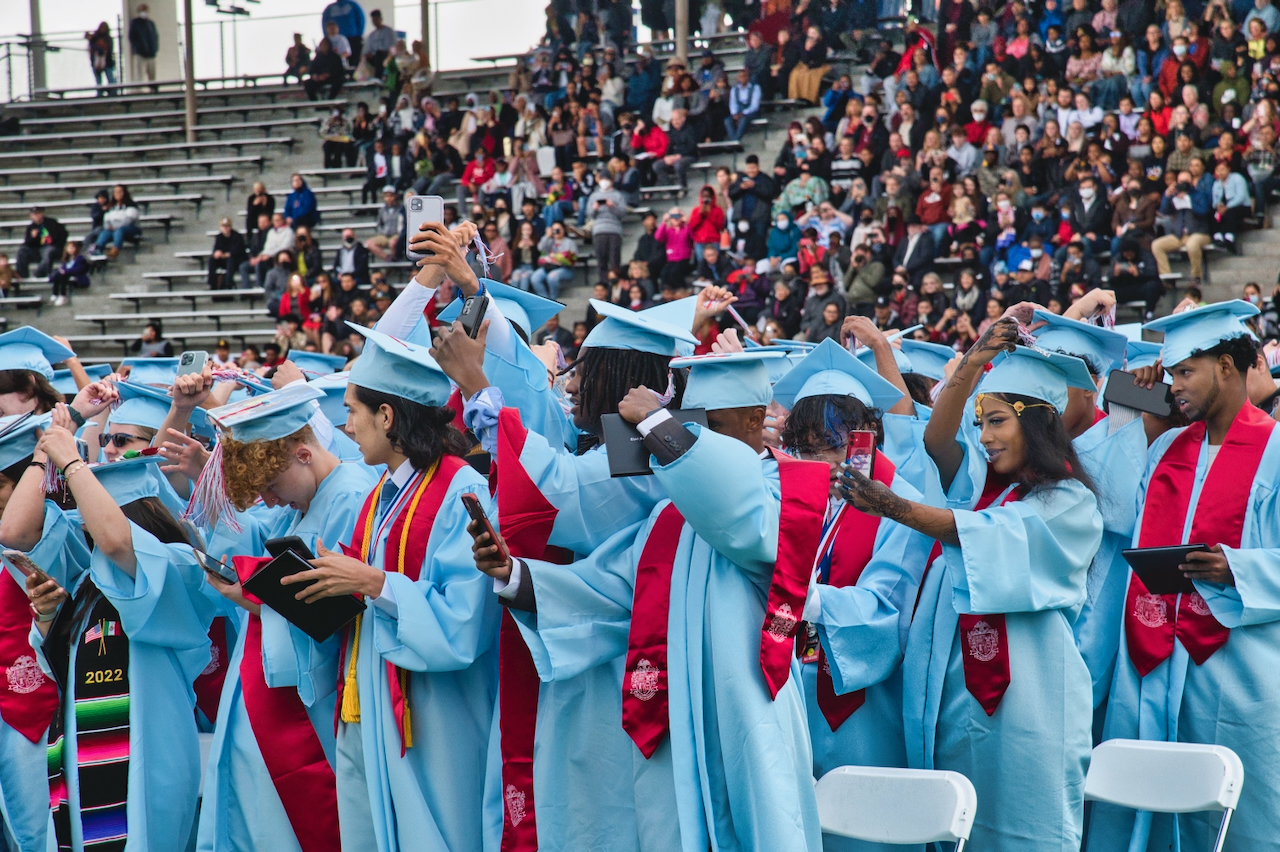 When you graduate it's important to preserve the moment yourself on your phone. Photo by Patrick Robinson
Graduating Class of 2022
Abdulbasit Safudin Abdalla
Khalid Hassan Abdi
Doa Khalid Abdin
Nabil R. Abdirahman
Abraham Gush Abdulkadir
Iman Mohamed Abdullahi
Omar K. Abdulmohsin
Matthew Fitzgerald Achelpohl
Leyla Sharif Adam
Yasmeen Adan
Arelit Aguilar Maldonado
Messiah Jeremiah Alefaio
Jacqueline Alejandre Garcia
Somar Alhussini
Yoel Amina
Kelani Savaii Apelu
Joaquin Carlo Ganiron Arceo
Bryan Arenas Jimenez
Jesus Armando Arevalos-Mendoza
Mauricio Arredondo
Angel Enrique Artiaga-Cruz
Abraham Abebaw Ashenafi
Faithi Abdi Aydiid
Mohamed Abdi Aydiid
Mei Li Ana Babuca
Steven Wiliam Bacon
Ja'Carey Barquet
Giulio Bausano
Aya Evelyn Bezzaz
Clenton Birks Jr
Nhu Thi Quynh Bui
Liam Albert Bunting
Francisco Cano Alvarez
Jack Nicholas Carman
Tirzah S. Carmona
Michelle Carranza Velasco
Robert Maxwell Chambers
Nayeli Lynn Chavez
Jessica Thuy Tran Chiem
Indy Sky Clarke
Griffin Combs
Emily G. Cruz-Mendoza
Andrea Rebecca Cubas Garcia
Samiyah Cudjoe
Sofia D'Agostino
Tina Dang
Sophia E. Daviscourt
Veronica Pauline Dempster
Jesus David Diaz Avila
Sarah E. N. Doerfler
Adelaide Leona Drury
Bilal Mahamed Duale
Kieran Christopher Dubuque
Umulker Edey
Amer Mohammed Edris
Kebron M. Elyas
Brian Alejandro Enriquez Araujo
Ahlam Ahmed Farah
Samira Ahmed Farah
Zoe Elizabeth Field
Alexa Nicole Figueroa Diaz
Sesina Fitsum
Azeneth Flores De Jesus
Jimminy Jeremy Flores
Katya Hope Fox
Juan Frias
Raul Frutis
Zeyad Eltayeb Fuad
Martin Taylor Furgason
Miguel Angel Garcia Rodriquez
Monique Isabella Garcia
Jennifer Garnica Avalos
Cienna Brooklyn Garrison
Trenton Lee Gerhard
Shea Margaux Gilbert
Josefina Joy Gonzalez
Delaney Hope Graves
Donovan Mcintyre Greelea
Ethan Lok-Yin Greger
Edzon Enrique Gutierrez-Perez
John James Hall
Heethe Ramzani Hamadi
Aalyiah Marie Harrell
Cole Akira Hartman
Nabbil B. Hassan
Rahama Hussein Hassan
Rayan Jama Hassan
Ethan Hale Heathershaw
Desiree' Jordan Hendrix
Joaquin Mateo Herrera
Mohammed Jasim Hilfi
Brandon Nhat Ho
Jason P. Hoang
Tran Buu Hong
Jonathan Dale Humphrey
Suheaf Salah Hussein
Katie Vi Huynh
Sophia Faith Hyde
Nurdin Mohamed Ibrahim
Hamza Mustafe Ismail
Taien Cyrus Jackson
* Elena Caroline Jacobsma
Simone Monique James
Sadie Savannah Janson
Javier Jeronimo Gotoo
Sabrina Jimenez Gonzalez
Samuel Cordinolli Jurenka
Ethan Cole Kaplan
Shell Kazemivan
Chanelle Sarika Keith
Amira Khalif
Lynn Kim
Kai Loren Kindem
Alexandria Yu Koch
Joseph Khen Lam
An Le
Kathy Nguyen Le
Raeya Zaverl Logue
Otto Guthrie Loidhamer
Joanne Gia-Han Ly
Leo Ly
Roxanne Lyall
Brandon James Machel
Kylie Micheala Mack
Samuel Robert Macray
Roman Magana
Naomy Easter Maldonado
Deborah Wosenachew Markos
Yaretzi Martinez Martinez
Jordan Thomas McGrath
Rinesa Mici
Farax Abdi Mire
Jude Moe
Hamza Abdulkadir Mohamed
Ira Ali Mohamed
Sacdiyo Bashir Mohamed
Zakariye Bashir Mohamed
Ilhan Yusuf Mohamud
Daniel Josh Morales
Diego Moreno
Kayden Christopher Morey
Loleisa Penisha Morgan
Clarissa Morninggun
Jessica Anne Moss
Sheila Mutchler
Jadie Ngo
Dan Quoc Nguyen
Ha-Tuan Thanh Nguyen
John Trung Nguyen
Kim Thien Nguyen
Martin Quo Nguyen
Michelle Huynh Trang Nguyen
Phuc Hong Nguyen
Tayler Malik Nguyen
Abyan Faiz Nour
Deysi Marlen Olivera Mendoza
Mohamed Abirash Omar
Adeel Abdulqadir Omer
Ariel Orellana-Castro
Abel Jesus Ortega-Machorro
Maria Brenda Ortiz Bautista
Alexander Ortiz-Cortez
Joselyn Anne Domingo Panganiban
Izaius Alexander Paschall
Stephen Niell Pascual
Brendalyn Hoyla Pastores
Sheyla Naomy Perez Ortega
Joel Elijah Perez
Jamaya Jean Perkins
Blake D. Petrich
Ly Hy Giah Pha
Anh Hoang Duy Pham
Xavier Earnest Phillips
Benjamin David Plummer
Julissa N. Ponce Ramos
Renne Christin Post
RosPhealy Prak-Theam
'Lonnie Bobby Le Pugh-Hayes
Jaylayah Jordan A Pugh-Hayes
Anthony Quach
Karen Veronica Quintero
Hazbije Ramadani
Jonathan Ramirez-Hernandez
Alexander A. Renz-Baroni
Raka Pradipta Respati
Walter Samuel Rodas
Josue Rodriguez
Evan James Roeun
Mauricio Roman Olvera
Reynaldo Enrique Rosario Cronin
Alyssa Rubi
Angelina Rubi
Tiago Perez Saeteurn
Americo Nicolas Sanchez Leon
Hannah Tagala Sarquilla
Danae C. Sarvis
Jerome Charles Schroeder
Ahlam S. Sheikh
Ashley Louise Short
Madline Riley Slota
Allina Sokha Srey
Liam W. Steele
Ernest Baci Stillman
Thomas Glenn Surber
Natalia Arestan Tabile
Isabella Carolina Tan
Jalen Leeryan Tatum
Malina Monh Tep
Justin Raphael Alipio Ternura
Randall Hamlin Thach Jr.
Cunningham Hamlin Thach
Terry Q. Thai
Leyda Champa Touch
Nathan Binh Tran
Binh Ngoc Truong
Marcus Bluehors Tupua-Tauiliili
Olivia Turner
Agnesa Uka
Albiona Uka
Ethan Un
Henna Vahora
Kechelle Kilaya Vanburen
Christian Michael Varenhorst
Angel Vazquez-Vidals
Dylan Lloyd Jose Villar
Brandon Vo
Katherine Vu
Salematu Waggeh
Riley Walls
Erijohnae Alyiah Ward
Mahad Abidiasis Warsame
Thea Rose Watson
Kenreal Williams
Daniel Wondie
Aden C. Wong
Javan Ruben Yochum
Alexander James Zanolli