The art of retirement: Beloved teacher Brian Gaynor goes out with flying colors
The art of retirement: Beloved teacher Brian Gaynor goes out with flying colors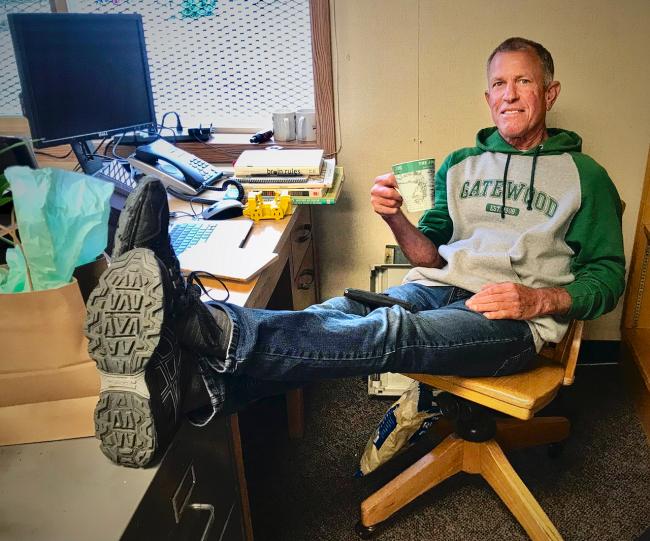 Sat, 06/18/2022
By Patrick Robinson
How do you become beloved? Constant caring about others is a good place to start and Brian Gaynor whose last day as a teacher was this past week should know. 
Gaynor spent 20 years at Highland Park Elementary, then the last six at Gatewood Elementary teaching fourth grade. Along the way he found time to enjoy the sport of paddle boarding. He has worked as a raft guide, scuba instructor, on dive boats, and grew up surfing in Claremont, California. 
Those skills came in handy when in 2019 he along with others performed a water rescue as written about on the Gatewood Elementary Facebook page:
On June 2, fourth grade Gatewood teacher Brian Gaynor had just returned ashore from his daily paddle off Lowman Beach, when something seemed amiss. "I saw two kayaks go out and didn't think anything of it," he said a few days later. "Then I heard a yell and saw what I thought was a head bobbing in the water near the buoy about a half mile out. At first I didn't know it was an emergency, but I could sense something was wrong."

Mr. Gaynor, who has extensive water rescue experience, ran into the water and paddled toward the distressed kayaker. Mr. Gaynor's friend and fellow daily visitor to Lowman Beach, Tomas, joined the rescue. They reached the kayaker and found him in the water, being towed slowly by another kayaker name Jill Mattern.

"The guy had fallen out of his boat and was holding onto Jill's kayak," Mr. Gaynor said. "I tried to get him up on my board, but it didn't work, as he was a big guy."

As time passed and the threat of hypothermia increased, Mr. Gaynor, Ms. Mattern and Tomas worked together to get the distressed kayaker onto Mr. Gaynor's paddleboard. Paddling the rescued man was difficult and it became clear another approach was necessary. "I hooked my paddle on the back of Tomas' kayak and he towed us to shore. Jill pulled the victim's kayak to Lowman," Mr. Gaynor said.

The rescuers paddled the struggling kayaker to Colman Pool, which was the nearest way to shore. After demonstrating some confusion, the rescued kayaker walked back to Lowman Beach. When he arrived, he was checked out by a Seattle Fire Department crew that was called to the scene.

"The water wasn't rough," Mr. Gaynor said. "The kayaker just tipped over and it can be hard to get back in. He had a life jacket, but didn't put it on. If that water was anything but glass-smooth we would have trouble saving that guy."
However when you teach fourth grade of course, you must become a master of many fields from history, to mathematics, to social studies to art. But it's that last one that figured most prominently these last few years.
Mr. Gaynor (that's what you call your fourth grade teacher), and his classes since 2019 were encouraged to paint. But not just art. Art about things they felt passionate about, things that mattered to them. Those paintings went on display outside his portable at Gatewood for all to see. But as the school year and his career in education approached it became obvious something bigger was appropriate.
So Mr.Gaynor's friend, Lee Kelly asked for permission to move the paintings to the still fenced off area at Lowman Beach Park, which is at the end of its makeover by Seattle Parks. He and others put them up along with some flags for decoration and then others put up flags to as the display morphed into a mutual celebration of Mr Gaynor's career and Pride Week.
See the paintings below
The paintings carry a primarily environmental theme, no surprise there since they want to grow up in a world that still has clean water, healthy wildlife, and human justice.
Mr. Gaynor said, "I loved the Gatewood experience; the spirit and enthusiasm." The principal there, Kyna Hogg, said Mr. Gaynor "Is the best I've ever worked with."
Is there a right way to retire from a life of service? 
Mr. Gaynor looks like an example to follow.
Isn't that what teaching is all about?