Backyard cottage lifted by crane into Gatewood backyard
Backyard cottage lifted by crane into Gatewood backyard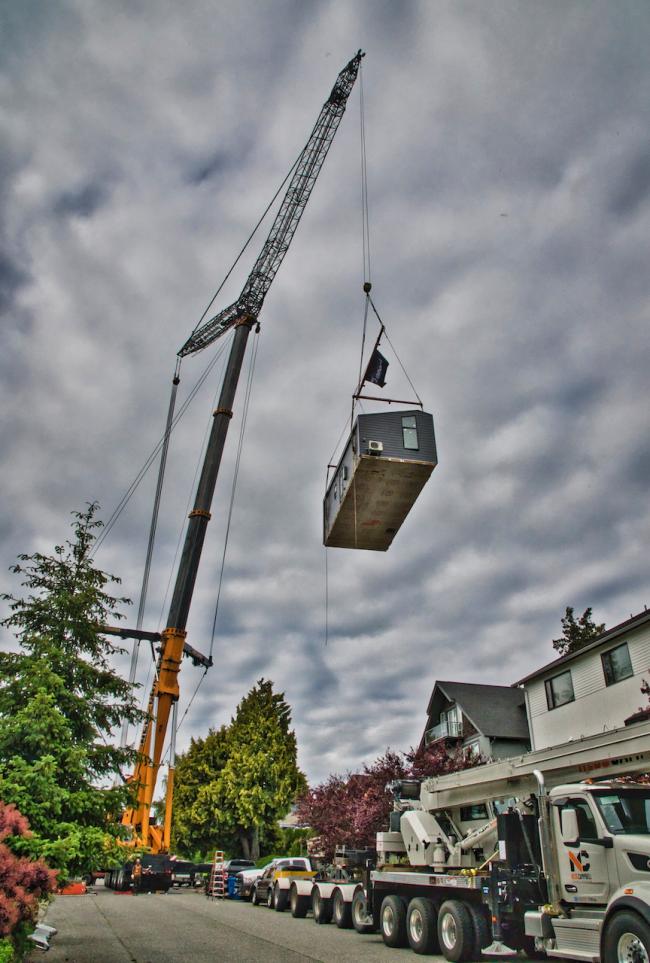 Wed, 06/22/2022
The City of Seattle Backyard Cottage ruling on July 1 2019 (see below) was meant to promote more density and add housing opportunities within the city. That ruling has meant many people with the room have indeed gone ahead to build their own.The trend continued on Wednesday June 22 when a company called Abodu that specializes in the construction and installation of what are called Accessory Dwelling Units put a studio sized dwelling into a backyard in the Gatewood neighborhood of West Seattle.
The company has a showroom in Redwood City, CA, and offices in Los Angeles and Seattle  and is now nearly four years old. They offer three primary sizes , a studio, and a one or two bedroom home. They serve the west coast at this point and are doing multiple installs a month.
The 28,000 pound, 500 square foot home was constructed in Spanish Fork Utah, and then trucked to Seattle for Kristin Beach family whose mother Joy moved here a year ago. Rather than build something from scratch they chose to use Abodu to fill the space in their ample backyard.
The base price of that studio unit is $268,000 but they can be customized with many specific details, Project Manager Zach Hill said that all tolled, with delivery and installation the final cost was less than $290,000. 
The lift in this case was done by Ness Cranes and it was challenging since it required the 550 ton crane to be placed on 41st Street (closing it for a few hours on two blocks), and then lift the home over other houses, past wires and then carefully guided and lowered into the pre made foundation in the backyard on Southern street SW.
The job took well over two hours but was completed without a problem.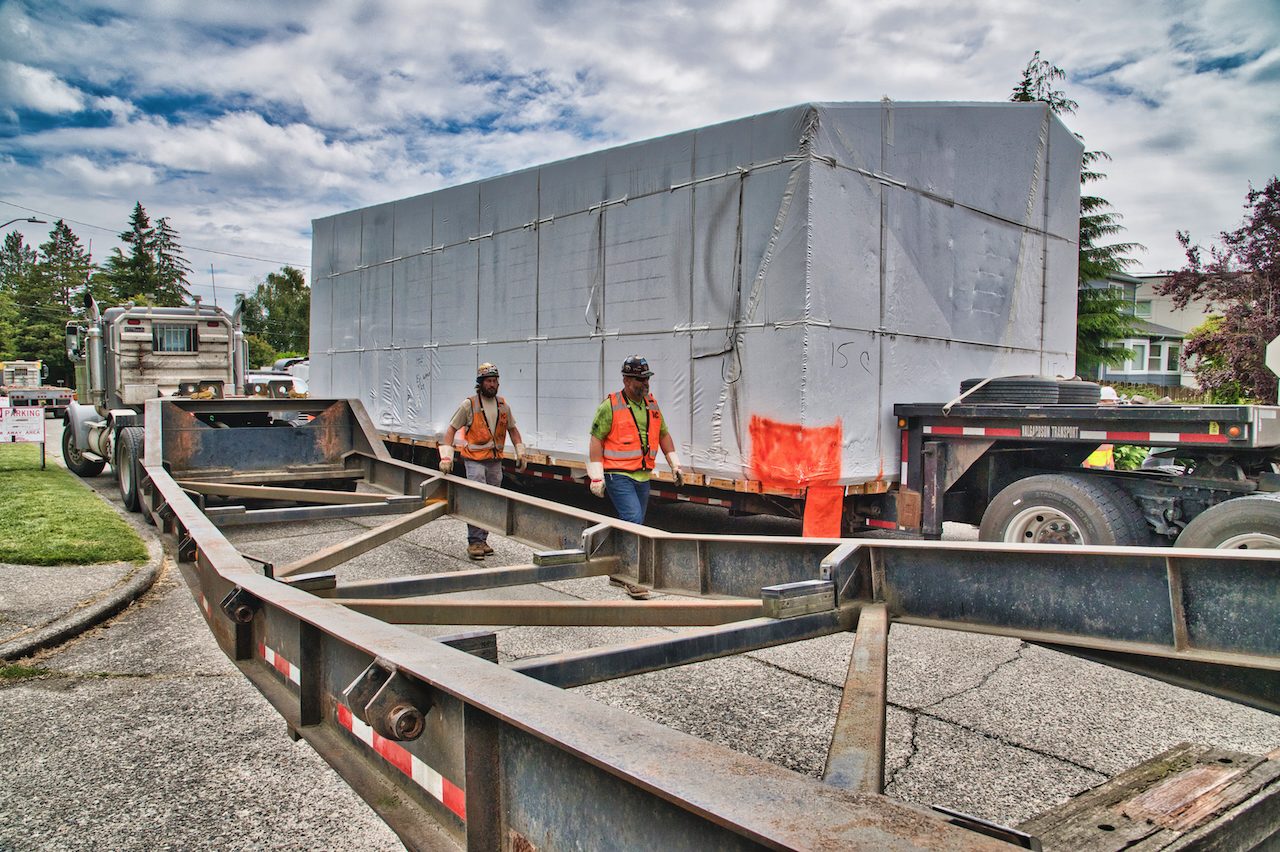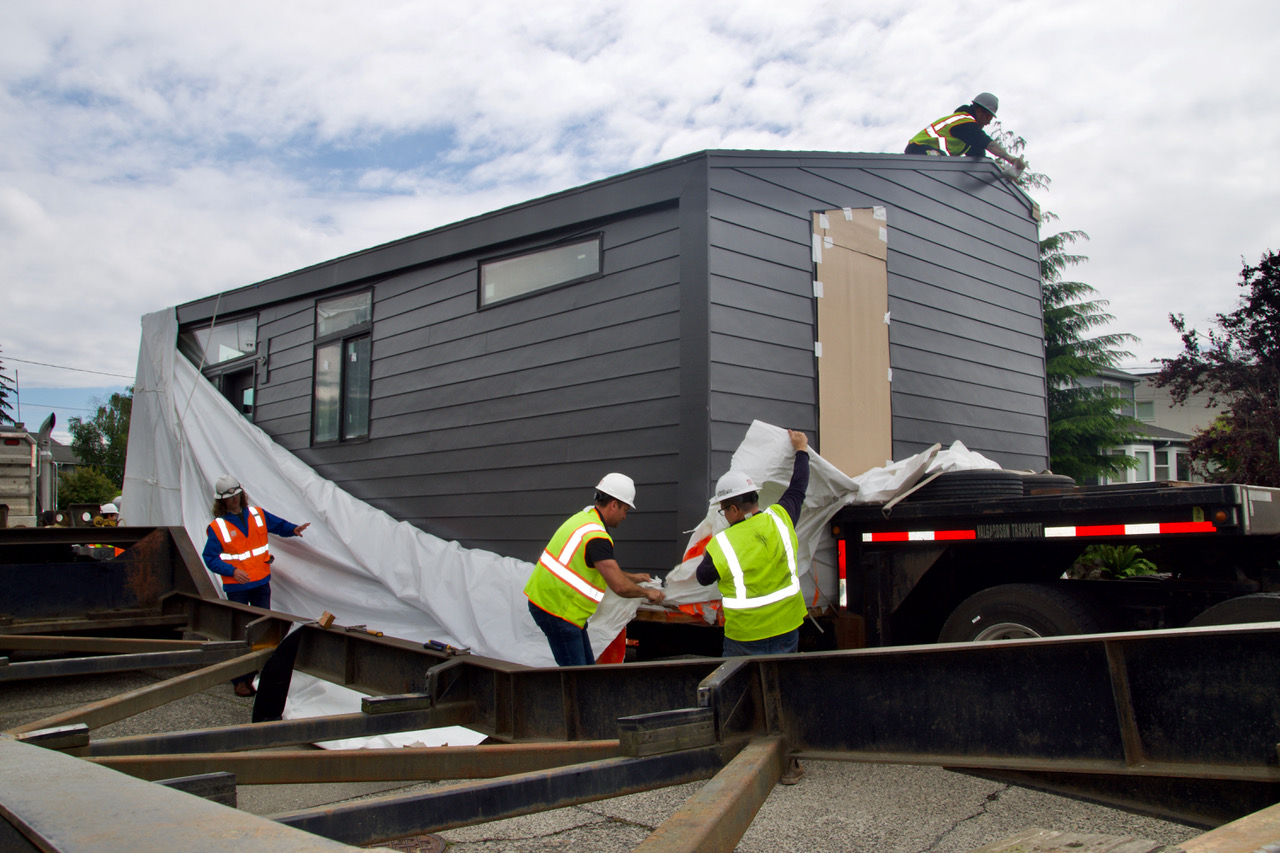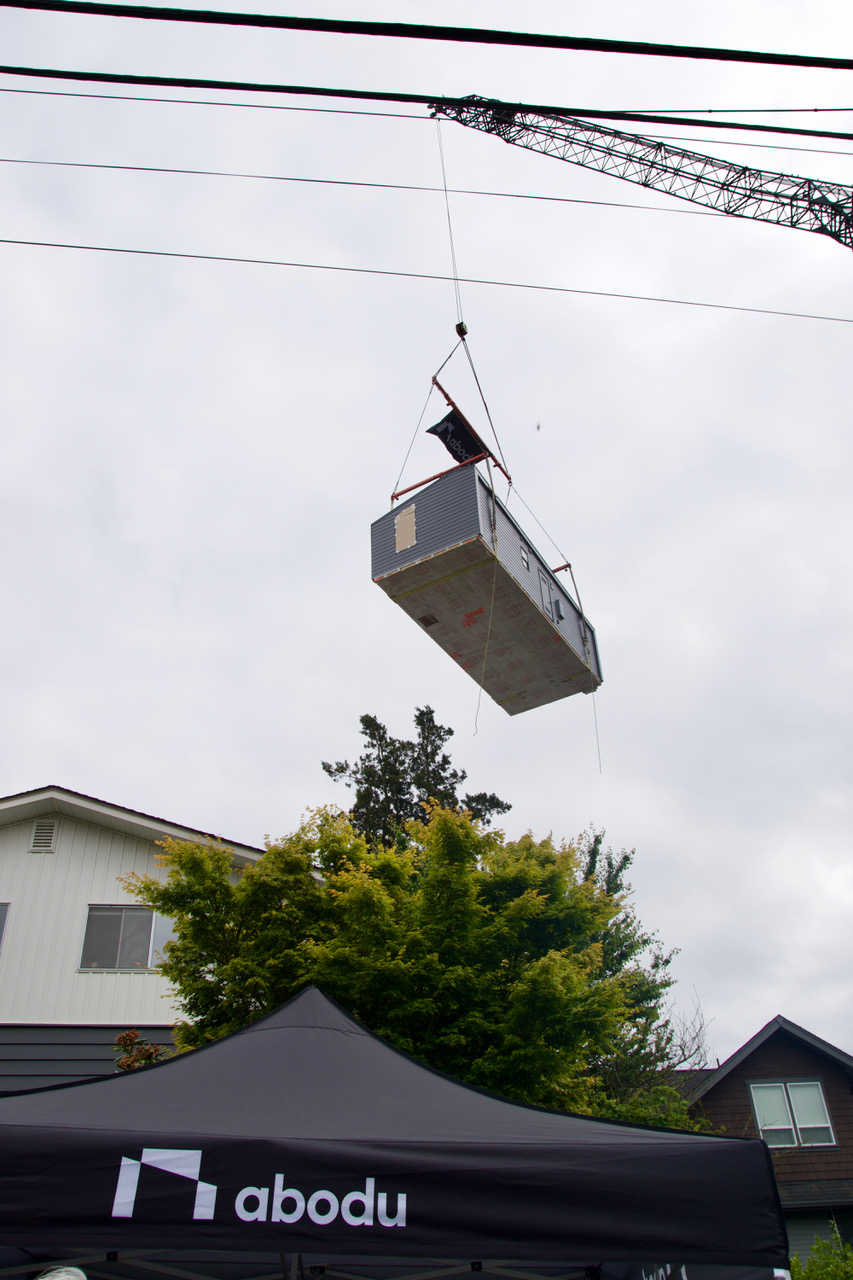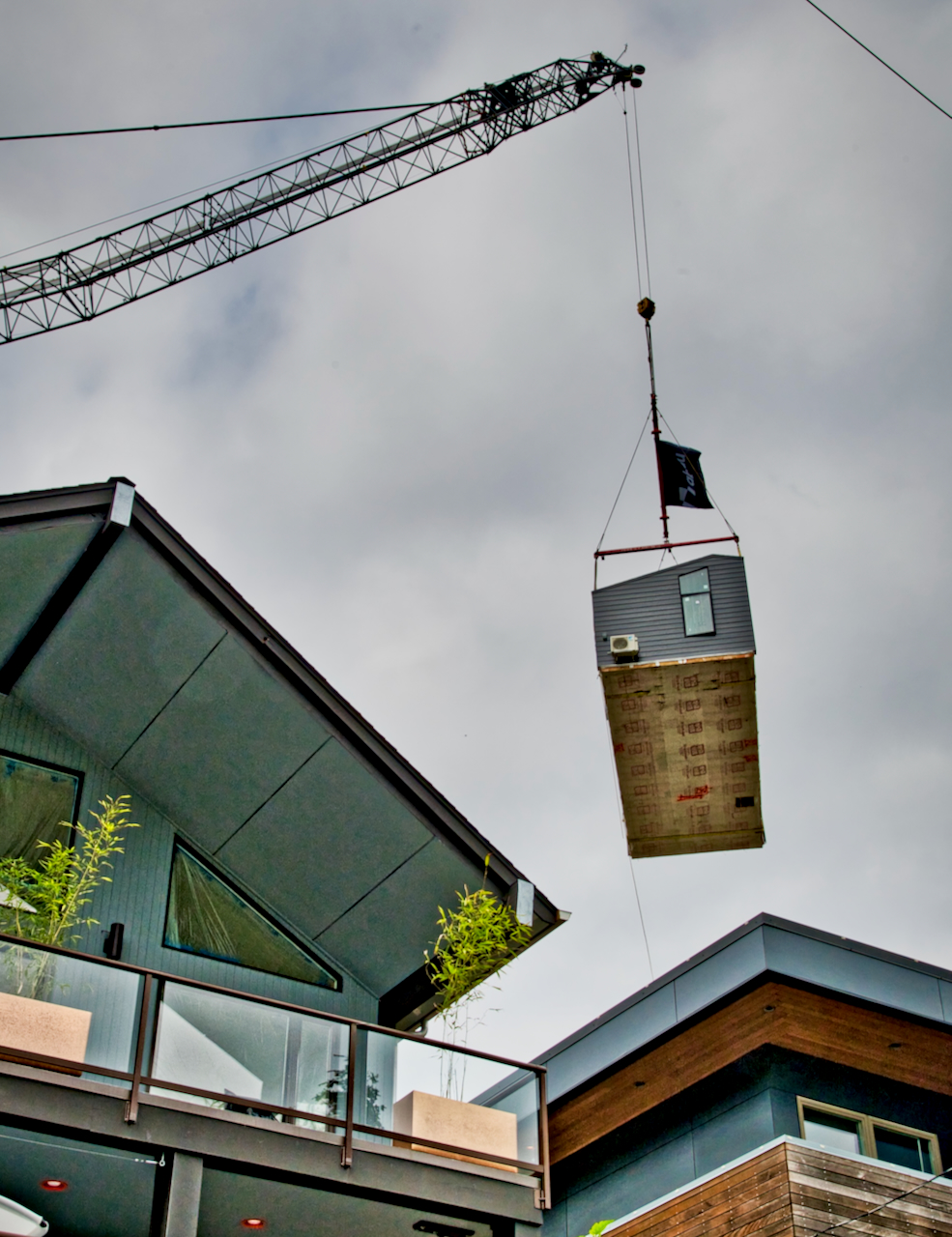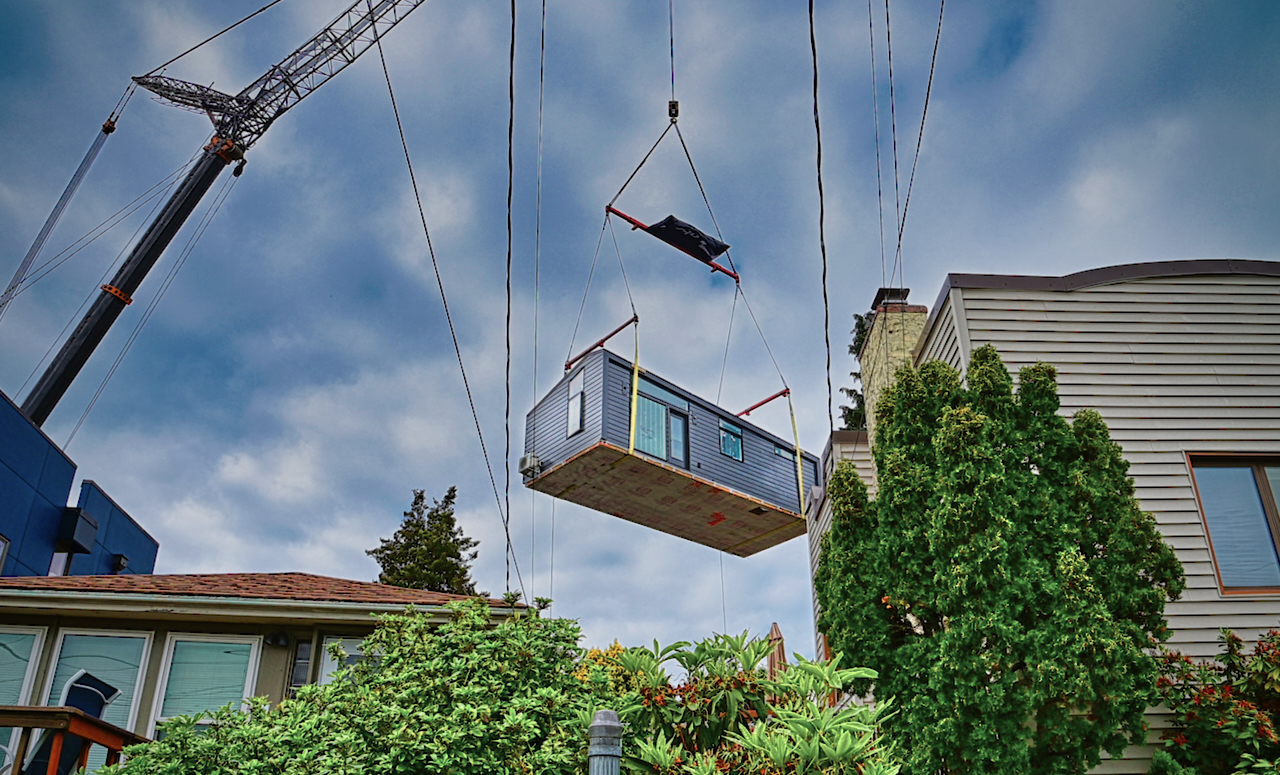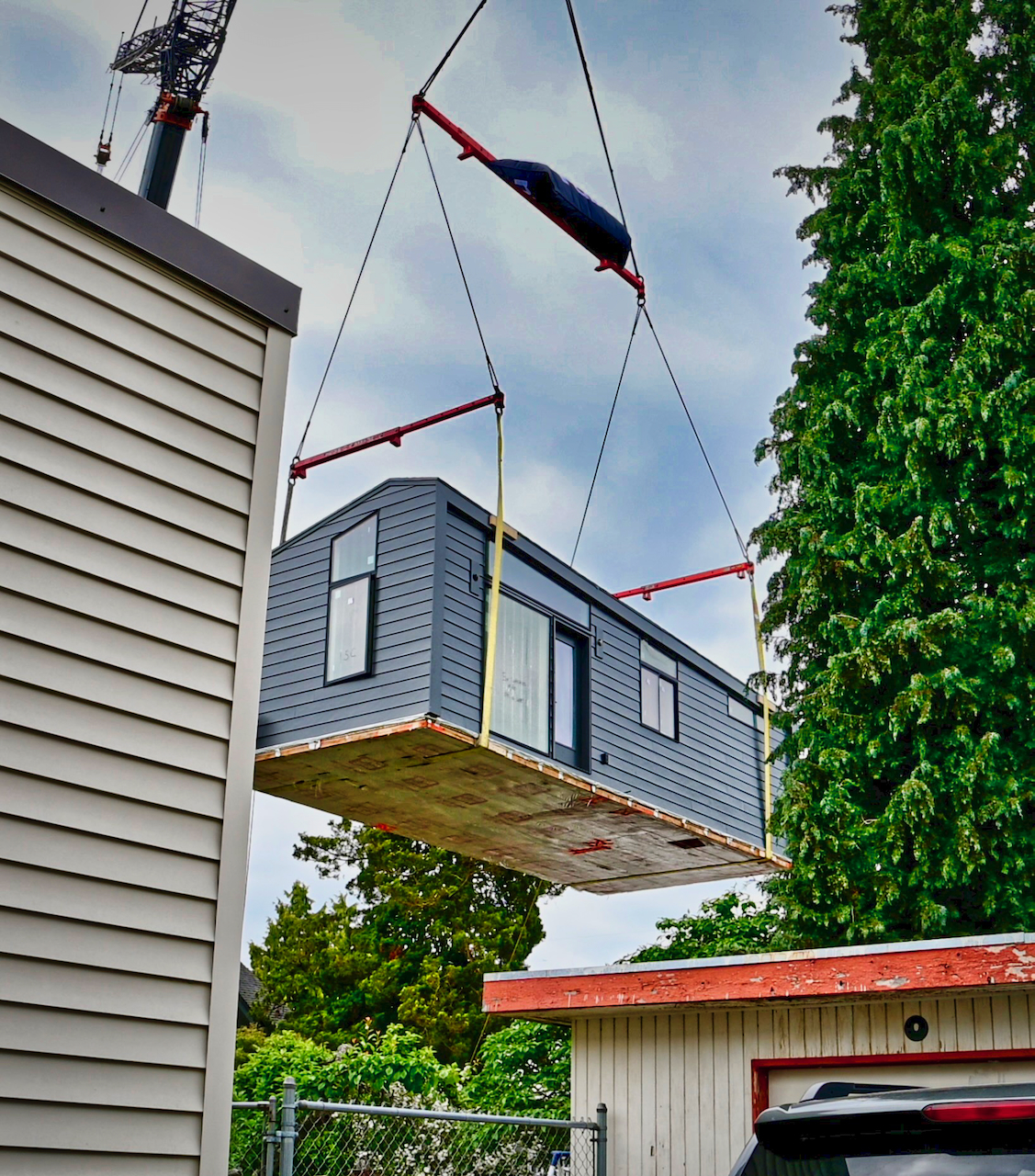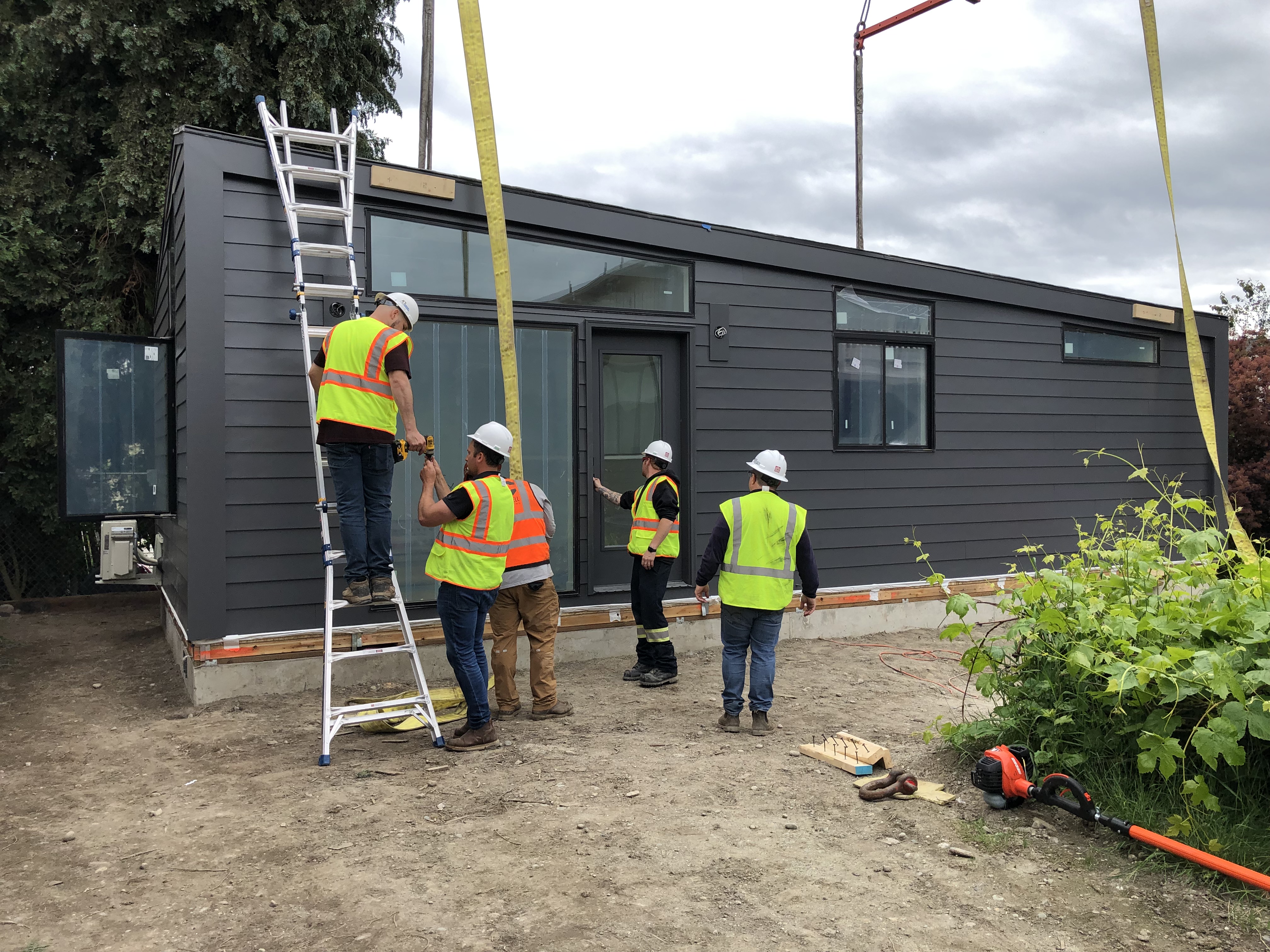 On July 1, 2019 the Council unanimously passed legislation (Council Bill 119544) that will make it easier for more property owners to build backyard cottages (detached accessory dwelling units or DADUs) and basement units (attached accessory dwelling units or AADUs) and therefore provide more housing options for people living in Seattle.

The legislation:

Reduces the minimum lot size required to build a DADU on a single-family lot from 4,000 square feet to 3,200 square feet;
Increase the maximum size of DADUs from 800 square feet to 1,000 square feet, excluding any parking or storage areas;
Removes the owner-occupancy requirement for ADUs;
Removes the off-street parking requirement for ADUs;
Allows two ADUs on one lot (either one attached and one detached, or two attached) if the second ADU meets a green building standard or will be affordable to households at or below 80% of area median income;
Increases the maximum household size permitted on a single-family lot from 8 to 12 unrelated people only if the lot includes two ADUs;
Increases DADU height limits by 1-3 feet, with flexibility for green building strategies;
Allows design flexibility to preserve existing trees and to convert existing accessory structures to a DADU;
Require annual reporting on ADU production and requires that the Office of Planning and Community Development and the Seattle Department of Construction and Inspections conduct a survey of ADU owners and occupants within 3 years.
Introduces a Floor Area Limit (FAR) for all new development in single-family zones with some exemptions (this regulation has a delayed effective date until March 1, 2020);