Benbow Room sets sail; Casual food and a pirate atmosphere
Benbow Room sets sail; Casual food and a pirate atmosphere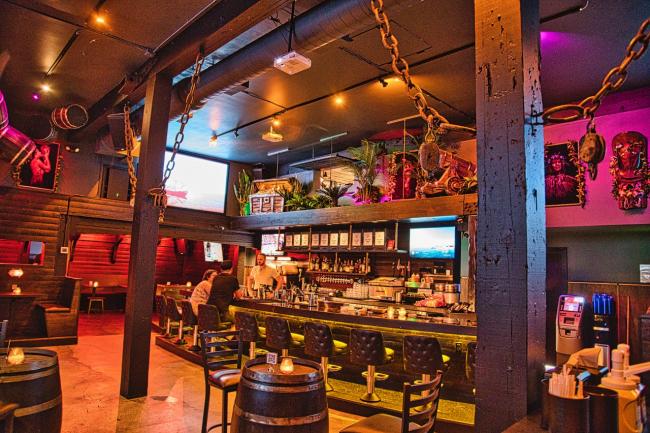 Wed, 07/13/2022
Mark Fuller is a restaurateur who gets it. As conditions in the world changed he understood to survive in the restaurant business you have to give people what they want and more importantly what is possible to sustain (and make a profit).
That thinking is what you find at the Benbow Room, the legendary West Seattle watering hole which began in 1950 as the Admiral Benbow. But times changed.
It went through a number of iterations as the Heartland Cafe, a video game parlor with drinks and more but now, a year after the lease was signed, a very simple but carefully curated and crafted space with a clear pirate theme is the result.
Above the bar are a treasure chest, a large cannon and other pirate regalia. Across the large space is a 12 foot tall skeletal pirate statue and embedded in the bar top is a bevy of treasure. Barrels are the tables (aside from some booths) and the former "ship" area of the old Benbow is still there and now available as a party area that can be reserved.
Fuller found, as many have, coming through the depths of the pandemic that it was impossible to hire staff at his large restaurant Ma' Ono so it's been permanently closed. He had previously reinvented the West Seattle famous New Luck Toy  and opened a pizza bar in the Junction called Supreme. The formula of simple foods, strong and well made drinks and a warm atmosphere made sense. Those ideas also propel the Benbow with a range of hot dogs (ranging from Cheesy Chili Dog to Kraut dogs, six in all) under $7.50 each, nachos, chips, and of course signature cocktails like the Pi Yi made of white rum, gold rum, orange bitters, honey syrup, passion Fruit, pineapple juice and lime juice for $10. Also featured are Slushies, "The POG Margarita is best seller so far," Fuller said. Shots, beers, ciders, and wines round out the drink menu.
Since the kitchen, which was completely remodeled too, will serve as a commissary too for Fuller's other restaurants (Rachel's Ginger Beer locations) they will offer their fried chicken sandwiches and chicken fingers for delivery only. They might show up at the Benbow in the future Fuller added.
Large video screens display pirate ships at sea but will also show sports when called for.
You can find The Benbow Room at 4210 SW Admiral Way.
Visit them online at https://benbowroom.bar