Mayor Harrell nominates Greg Spotts to be next Director of Seattle Department of Transportation
Mayor Harrell nominates Greg Spotts to be next Director of Seattle Department of Transportation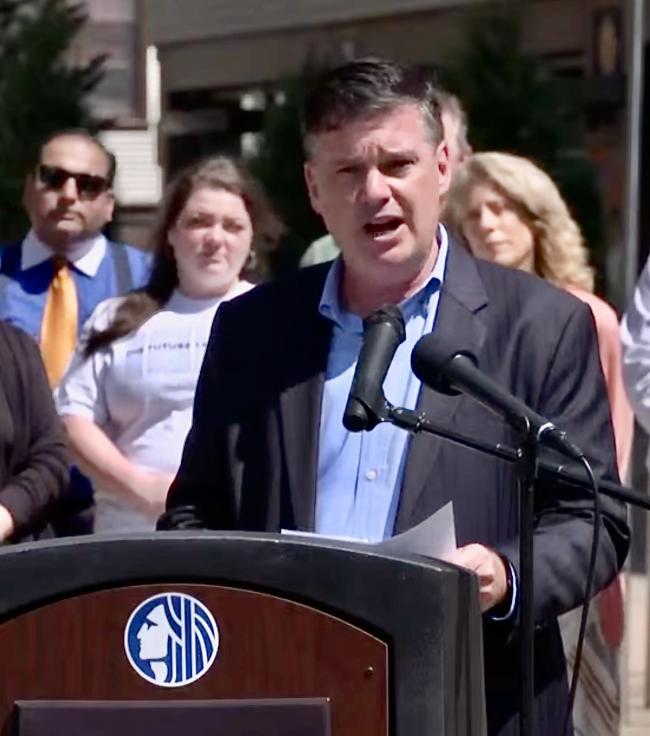 Wed, 07/27/2022
Information from City of Seattle
Today, Seattle Mayor Bruce Harrell announced that he will appoint Greg Spotts to be the next Director of the Seattle Department of Transportation (SDOT), pending confirmation by the Seattle City Council. Spotts currently serves as the Executive Officer and Chief Sustainability Officer at the Los Angeles Bureau of Street Services. 
"Seattle deserves a transportation system that is safe, reliable, and equitable, and our SDOT Director is instrumental in implementing that vision. Greg understands that we must embed safety across all projects, view every decision through a climate lens, and build a transportation system centered on equity, quality infrastructure, and multi-modal solutions," said Mayor Harrell. "Greg is a champion for innovative thinking, sustainable solutions, collaborative partnership building, and transparent public engagement. My sincere thanks to Interim Director Kristen Simpson for her tremendous leadership and willingness to step up to keep critical projects and priorities on track. I know she's excited to help the new director hit the ground running during this transition period." 
"I am honored and excited to have the opportunity to lead one of the most forward-thinking transportation departments in the nation," said Spotts. "I have visited Seattle several times in recent years and have been deeply inspired by the urban transformation taking place. I intend to draw upon my years of infrastructure experience to ensure that SDOT is an effective and responsible steward of Seattle's streets, sidewalks, bridges, and street trees. I'm inspired by Mayor Harrell's inclusive vision for One Seattle, and I will lead SDOT's skilled and motivated staff to continuously improve mobility, equity, sustainability, and safety."   
Spotts currently serves as the Executive Officer and Chief Sustainability Officer at the Los Angeles Bureau of Street Services, which oversees 1,500 staff positions, an annual budget of $230 million, and a capital program of more than $350 million. He has led the delivery of over $600 million in American Recovery and Reinvestment Act projects as well as efforts to make Los Angeles more walkable, bikeable, transit-friendly and sustainable. 
Spotts will begin at the department in early September as acting director until Council confirmation. Later today, he will join SDOT crews to tour current bridge infrastructure and see maintenance efforts in action. As he settles in at SDOT, Spotts will tour Seattle's vibrant neighborhoods by riding transit, cycling, and walking with neighbors and community groups. 
Mayor Harrell's search process included a search committee of local transportation experts including former and current SDOT employees, government partners, advocates, and economic development and community leaders. Committee members were selected for their technical expertise and vision, lived experiences with the transportation system, and ability to leverage networks to market the position, collect feedback, and provide information to support the process and selection. The search committee played an integral role in the hiring process, both identifying and evaluating candidates. 
"I'm grateful our search committee elevated Greg's candidacy, I'm thrilled to welcome him to our One Seattle team, and I'm excited about what this means for people of Seattle and the future of our city," said Mayor Harrell. "Community input has been integral to our search process, and, as a result, we are bringing on board a director who understands local priorities and recognizes how community voices can enhance and improve our transportation system." 
SDOT is responsible for maintaining and operating Seattle's transportation network including about 1,700 miles of roads, over 100 bridges, 2,300 miles of sidewalk, 200 miles of bike facilities and trails, 500 public stairways, and 640,000 street trees. SDOT is currently planning, designing, and building over 60 major capital projects while also actively managing a variety of ongoing programs to keep people and goods moving safely. SDOT's infrastructure is estimated to be worth approximately $28 billion, and the department's 2022 budget includes $422 million for capital projects and $308 million for operations and other programs. With approximately 1,200 dedicated staff, SDOT maintains an operational presence 24 hours a day, 7 days a week, in all weather conditions to serve and ensure Seattle's public mobility.