Holy Rosary Westfest is back after a three year hiatus
Holy Rosary Westfest is back after a three year hiatus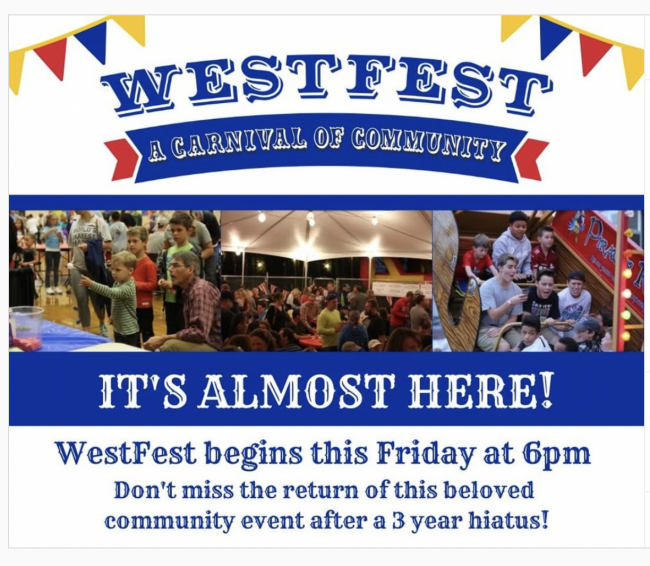 Thu, 09/22/2022
After a three year hiatus, people in West Seattle and across the area  are invited to be part of Holy Rosary West Seattle's "Carnival of Community" weekend in September.
Admission is free.
You'll find rides, kids games, an entertainment stage, specialty food booths, BINGO, a raffle, and much more on the Holy Rosary School grounds.
WestFest is about community. It is an event run purely by parish and school volunteers. It embodies everything that community is all about. 
Dates & Location:
Friday, September 23 from 6PM - 10PM Saturday, September 24 from 10AM - 10PM
Holy Rosary School • 4142 42nd Ave. SW, Seattle, WA
RIDE WRISTBANDS
Purchase an unlimited ride wristband for either Friday or Saturday or both at the link below. For advance sales order by 9/21/2022 at 9AM.  
Ride Wristband Prices:
$20 Friday
$30 Saturday
$45 Both Days
$20 Toddler Time (children under 5, from 10-12pm)
Purchase early as prices increase by $5 if purchased at the event.
WestFest Wristbands – • Holy Rosary School (holyrosaryws.org)
TICKET PUNCH CARDS
New this year is the opportunity to purchase a TICKET PUNCH CARD. These punch cards will be available in $20 increments and available for pre-sale here. No cash will be accepted at game or food booths this year.  Everyone must either purchase a ticket punch card early or onsite before proceeding to play and eat. Purchase by 9/21/2022 at 9AM.
CAKE WALK
Donate desserts for hours (up to 4 hours max, 1 dessert = 1 hour)!
Important Details:
Holy Rosary does not have the ability to refrigerate the items so they should be room temp stable. In addition, they are asking that you label things that are Gluten-Free, Nut-Free, Dairy-Free or Sugar-Free to make it easy for volunteers to sort and separate those things for  participants. 
Questions, contact:
Tori Anderson  torataylor@gmail.com
IMPORTANT NEWS
NEW this year...ticket punch cards, sold in increments of $20. Purchase along with ride wristbands here.
Remember AVOID THE LINES by purchasing a ride wristband and ticket punch card early. Two options to receive, delivered to your oldest child's teacher or pick up Friday between 11:30-12:30.  All food, ride, game booths will use the ticket punch card.  
NO CASH ACCEPTED AT ANY RIDE, GAME OR FOOD BOOTH.