Inside West Seattle: Conversations with notable West Seattleites on new YouTube Channel
Inside West Seattle: Conversations with notable West Seattleites on new YouTube Channel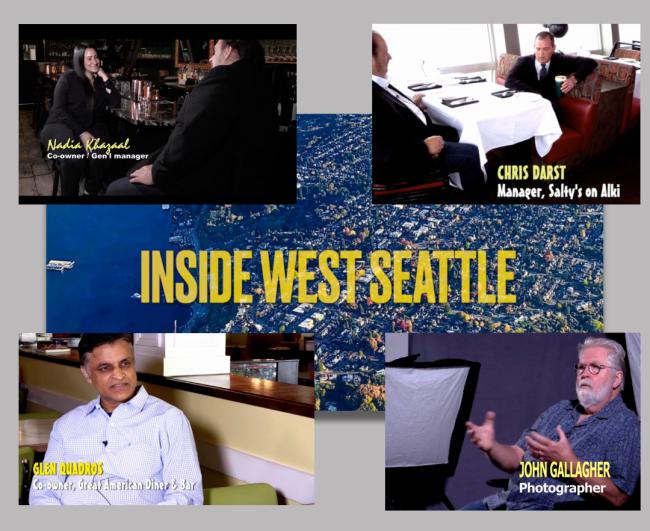 Tue, 10/04/2022
By WestsideSeattle.com staff
The stories of a place like West Seattle are often told in quick hits, but don't provide a deeper understanding. A new YouTube channel that is a cooperative effort between WestsideSeattle.com and Jaroslaw Media aims to bring more. Inside West Seattle is a collection of interviews with notable West Seattle residents, some business owners, and others whose stories are worth telling.
"In reading stories about West Seattle, since I live here, I felt as if the back story for so many of the fascinating people here was not being told", said Mark Jaroslaw, "so I approached Editor/Photographer Patrick Robinson with the idea." 
Each interview and feature piece includes still photos that complement the interviews. The videos range in length from 4 minutes to 20 minutes.
So far on the channel they've interviewed Nadia and Sonya Khazaal of the Phoenecia Restaurant, Chris Darst, General Manager of Salty's on Alki, Glen Quadros of the Great American Diner and Bar and commercial photographer John Gallagher. "The interviews usually include something about their history, how they overcame hardships, or questions about how they do what they do," said Robinson.
Not yet up on the channel are interviews with Paul Ritums of The Westy Sports and Spirits, Dan Austin of Peel and Press, Jacques Nawar of Credo Pizzeria and former Mayor Greg Nickels. 
"We love this neighborhood and it's been said that everybody has a story," said Jaroslaw, " So focusing on the most interesting people here gives us a wide selection."
"I really enjoy asking people about their lives and I'm always looking for the wisdom people have gained and are willing to share," said Robinson.
You can see, and subscribe to the channel here.