First restaurant robot in West Seattle now serving at Pizzeria Credo; Meant to save waitstaff time
First restaurant robot in West Seattle now serving at Pizzeria Credo; Meant to save waitstaff time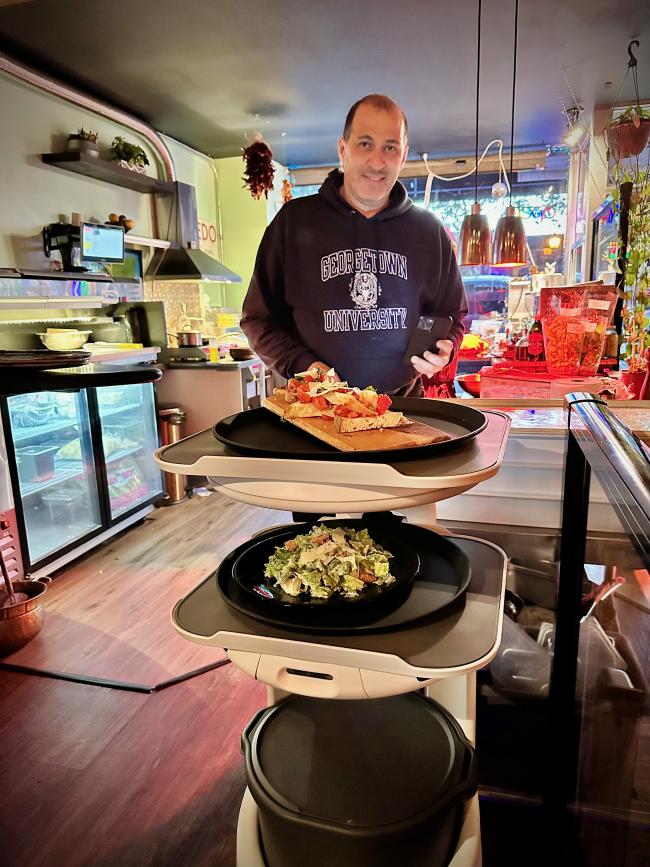 Thu, 11/10/2022
The first food delivery robot in a West Seattle restaurant, is now operating nightly at Pizzeria Credo in the West Seattle junction. Servi, made by BearRobotics is more than a novelty, and as John Senaga of BearRobotics explained, it's meant to supplement, not replace wait staff. "All it does is deliver food, using a predetermined map, to the location specified," he explained. But that function can save an enormous number of steps for servers, saving time and ultimately money. Senaga said it currently works out to around 4.33 per hour of operation and it can run 8 to 12 hours on a single charge.
The robot has been in development since 2017 and is already in use in Senior living facilities where it's being well received according to Senaga. It's also in use at the John Howie outlet on the Microsoft campus, in part due to the partnership between Microsoft and BearRobotics.
It's not the first robot used in this kind of service. Others have been operating since at least 2021.
Servi, has three cameras, and uses what is called LIDAR technology for collision avoidance and proximity detection. A food item or two are placed on the built in shelves and it's sent on its way to the diner's table. Once there it announces, "Please take your food", and then pivots and says, "Enjoy" but all announcements are customizable. It can sign Happy Birthday, or carry branding messages if needed. it weighs 72 pounds and can carry up to 66 pounds. Its speed can customized.
Servi can be vinyl wrapped to represent a brand identity too.
It can't be hacked or controlled from outside due to its proprietary software.
Nawar said,, "It's innovation and people are loving it. It's going to help the waitstaff. If something is wrong I don't think people will get upset with it. Overall we see the future in it and try to imagine what the next generation is going to be doing business. It's not taking the place of human beings, it's just helping them."
Pizzeria Credo, rated one the top 31 restaurants on Yelp in the nation is located at 4520 California Ave SW in the West Seattle Junction. Call to order out or for reservations 206-402-3784.