HERBOLD: SDOT shared a presentation on the Spokane Street swing bridge
HERBOLD: SDOT shared a presentation on the Spokane Street swing bridge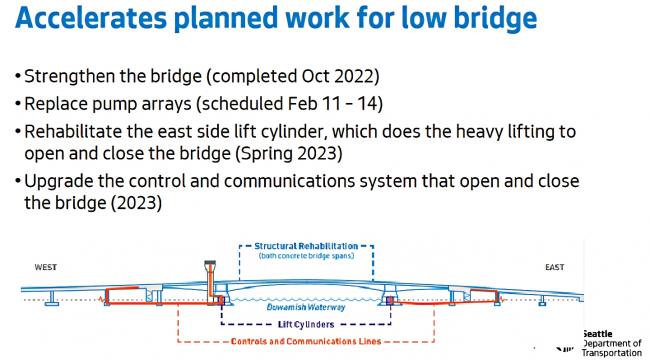 Fri, 01/20/2023
The Transportation and Seattle Public Utilities Committee hosted a presentation on the Spokane Street (Low) Bridge on Tuesday, January 17th.
__________________________________________
__________________________________________
__________________________________________
Though the bridge is reopened, only one hydraulic turn cylinder is operational.  This increases the amount of time that the bridge is up and waiting time.  During the discussion, Councilmember Hebold asked about the timeline for the refurbishment of the cylinders, which had been planned for 2023, before the closure.
SDOT said they need time to determine root causes of what failed on the cylinder, and that technology upgrades are part of the cylinders' refurbishment, to attain the longest life, so they need time to determine best methods for rehabilitation and time necessary to complete it.
She also asked about plans for public notice of duration of openings because one constituent wrote to me to say:
"If you add that to the 10-15 min current time when open, that could mean as much as a half hour, in which case it would definitely be quicker for bicyclists to take the 1st Ave bridge detour. Seems important for people to know that info, because if you're leaving West Seattle for work, a meeting, or any other timebound event, a half hour is a pretty significant delay.  Having updated times would also benefit Harbor Island freight traffic, allowing trucks to decide whether or not to detour."
The traffic operations division is considering how best to communicate to people about bridge opening wait times and noted they have asked the Coast Guard to notify mariners about the additional length of bridge openings by 10-15 minutes.