Update: Winds knock out power for 3500 in West Seattle; Now restored
Update: Winds knock out power for 3500 in West Seattle; Now restored
Three Tree Point in Burien now restored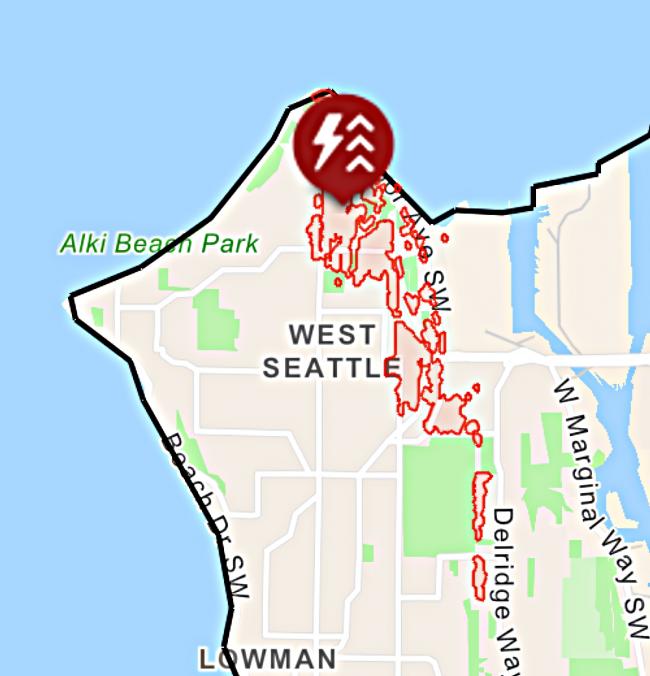 Fri, 02/03/2023
Update 6:10pm
Power for Three Tree Point in Burien is now restored. Only 11 customers are still out in North Admiral.
Update 5:20
The outage in West Seattle that affected more than 3500 customers of City Light in North Admiral has been resolved but high winds, as often happens have affected Three Tree Point in Burien with 224 now in the dark. 6pm is again the forecast restoration time
Update 3:52pm
Power is back on for more than half that lost it earlier. It is now down to 1534 customers primarily in northeast West Seattle. 6pm is still the forecast time for full restoration
Original post 3:15pm
High winds knocked out the power for more than 3500 City Light customers in West Seattle on Friday, starting at 2:46pm. Restoration was expected around 6pm.
The outage extended from Duwamish Head along the east side of California Ave SW down along 35th SW to Genesee Street SW.
You can track the status of power outages by visiting the Seattle City Light System Status page here https://www.seattle.gov/city-light/outages