West Seattle collision investigation leads to DUI, firearms arrest
West Seattle collision investigation leads to DUI, firearms arrest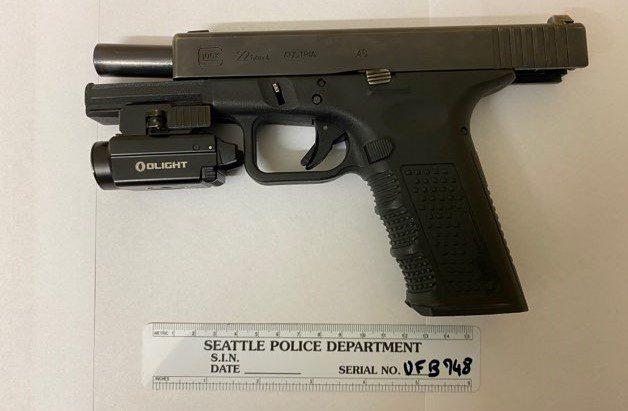 Wed, 03/22/2023
Information from Seattle Police Blotter
A single-car collision investigation Tuesday night led to the arrest of a 23-year-old man suspected of impaired driving and carrying a concealed firearm without a permit.
Just after 11:30 p.m., officers from the Southwest Precinct responded to a report of a collision in the 4500 block of West Marginal Way SW. The first arriving officer found a heavily damaged pickup truck which struck and bounced off a utility pole, then came to rest on nearby railroad tracks. Officers contacted a man outside the vehicle who was identified as the driver.
The man told officers he fell asleep at the wheel while driving and had not consumed any alcohol prior to the collision. However, the officer observed signs of impairment while talking to the driver, and another officer saw an empty can of beer on the floorboard of the pickup truck.
Officers performed field sobriety tests on the driver, then took him into custody based on their observations. While searching the suspect, officers found a loaded and concealed full-size handgun in the rear pocket of his pants. The man admitted to officers he did not have a permit to carry the gun concealed.
Due to his involvement in the collision, the man was transported and released to Harborview Medical Center for further evaluation. SPD will request the suspect be charged with driving under the influence of intoxicants and unlawful possession of a firearm.