SYML will appear at Easy Street Records April 5
SYML will appear at Easy Street Records April 5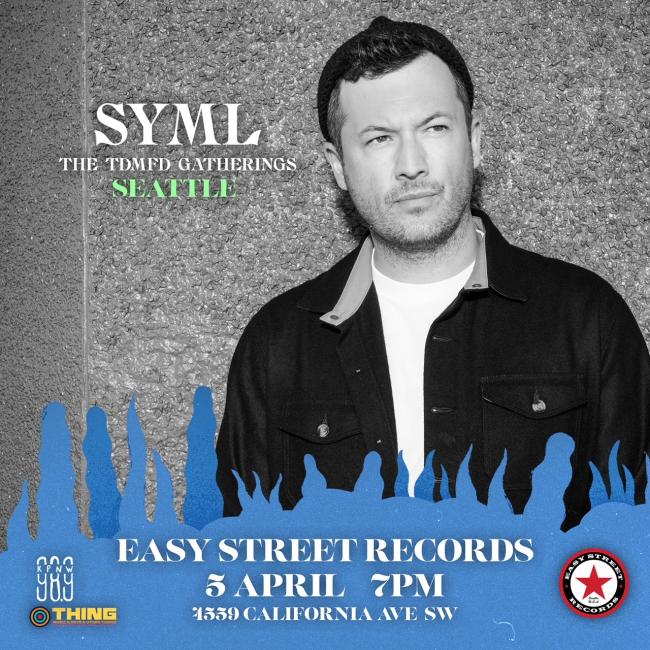 Sat, 03/25/2023
Gathering announcement • Wed April 5th 7p Easy Street Records https://ffm.link/symleasystreet
Support your local record shop
Wednesday April 5, at 7pm | ALL AGES
To gain access to this intimate acoustic performance:
You must purchase a copy of "The Day My Father Died", or any SYML record, through https://ffm.link/symleasystreet
·Select "In-Store Pickup". Your order will be available for pick-up the day of the show, you will receive a wristband which will act as your ticket to this event.
SYML is the solo project by Seattle area artist Brian Fennel.
Matt Vaughan owner of Easy Street Records had this to say about SYML.
"Brian Fennell is one of Seattle's great songwriters and one of our best kept secrets. "The Day My Father Died" will be one of the most significant releases out of the NW this year. ⁠
SYML offers a profound exploration of the ways in which our lives intertwine. This record will be your best friend and it might take you awhile to want to share it with anyone. It's hard to share your best friend. Enjoy! The record opens with the mesmerizing song "Howling", featuring Easy Street faves Lucius. You are also in for an unexpected treat with his song "Lost Myself" featuring Guy Garvey from Elbow. ***** 5 stars"⁠
⁠
Fennell was born on January 16, 1983, in Issaquah, Washington, to his adopted parents. From a young age, he began studying classical piano, often playing in his grandmother's retirement home. He began writing his own music when he was 18 years old, his first song being used as a coping mechanism after the death of a schoolmate. After high school, he attended Seattle Pacific University and graduated with a Degree in Music Education with an emphasis in percussion. After years of living in and around Seattle, he returned to his hometown and resides there where he writes and produces out of a home studio.
Fennell performs under the solo project SYML, Welsh for "simple" and pronounced "sim-muhl", inspired by his own personal heritage from his biological parents, who are Welsh.His experience grappling with his adoption and heritage are influences in his songwriting.