Art Hop and Shop offers tons of art and fun May 6
Art Hop and Shop offers tons of art and fun May 6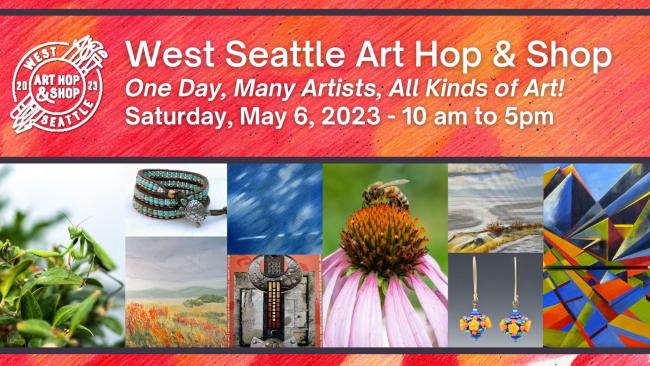 Wed, 05/03/2023
Information from West Seattle Art Hop & Shop
The West Seattle Art Hop & Shop, West Seattle's community arts tour is back and has moved to the spring! 
This year's tour will be Saturday, May 6th, 10am-5pm. Art will be on display and available for purchase at studios, yards and outdoor spaces throughout the West Seattle peninsula. The tour features art of all kinds, at a wide variety of price points from emerging to established artists. Art lovers are sure to enjoy the day as they hop their way across West Seattle.
While artist participation is unlimited, this year's event will have a limit of 30 sites, with a minimum of three artists per site. Site hosts will complete an easy, free registration to secure their spot on the tour and then coordinate with artists to fill their location. Site registration will close when 30 sites have registered. 
The West Seattle Art Hop & Shop offers an artist and host matching tool to help those offering space with those looking for a location to show their work. 
Tour maps are available using the QR code below, both as an online interactive map and a print-at-home map to plot your route.