Reminder: The Battle for West Seattle softball game is bound to be a fun fundraiser this Sunday
Reminder: The Battle for West Seattle softball game is bound to be a fun fundraiser this Sunday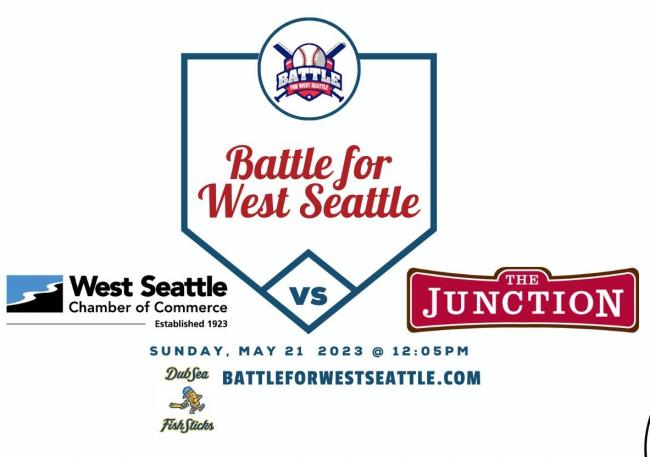 Thu, 05/18/2023
As part of the celebration of the West Seattle Chamber of Commerce's 100th Anniversary, the Chamber has challenged the West Seattle Junction Association to the first ever Battle for West Seattle—a charity softball game benefiting the West Seattle Food Bank and White Center Food Bank. The game is set for Sunday May 21.
This charity softball game is being hosted by The DubSea Fish Sticks at The Fryer.
Tom Hutyler, the public address announcer for the Seattle Mariners and West Seattle Local, will be announcing the game. The softball teams are made up of amateur players from local West Seattle businesses. It's sure to be a home run, so come out to cheer on your favorite nonprofit or business.
All Ages General Admission Tickets are $12/person and ages 3 & under are free. Things are heating up with the competition, so get your tickets now at http://battleforwestseattle.com!
Sponsorships are also available for businesses wishing to support this community event. 
Game Day Details:
Battle for West Seattle
Sunday, May 21st, 2023 at 12:05pm
Mel Olson Stadium - Inside of King County's Steve Cox Memorial Park 
1321 SW 102nd St, Seattle, WA 98146