Aroy Mak Thai celebrates a year in business
Aroy Mak Thai celebrates a year in business
Fri, 05/19/2023
When Patty Alcorn, (who despite her American sounding name really is from Kanchanaburi, Thailand) decided to open some kind of restaurant in West Seattle, she didn't know where to go or what to do.
That was more than a year ago.
Her mother had more than 40 years of experience in Thailand with two different cafes. They come from southwestern Thailand where, just as in many countries there are regional differences. She knew she wanted to serve authentic Thai street food. They wanted to create a place called Aroy Mak Thai. In Thai "Aroy" means "delicious" or "tasty." "Mak" means "very." You get the idea.
Thai cuisine encompasses dishes from four distinct regions: the Central Plains, the North, Northeast and the South. The unifying factor is the way each uses spicy, sour, sweet and salty flavors to create a unique blend.
Then she found Claiborne Bell, owner of Distinguished Foods in the West Seattle triangle. He showed her about everything from invoices to how to set up a take out only restaurant that has grown with amazing speed. It has filled her with gratitude since the community has embraced her efforts.
She said, "We are so thankful for the West Seattle community supporting our business. Our most popular item is the Khao Man Gai Yang (Thai-Northeast style grilled chicken) with Ginger rice, Spring Rolls, and Mango Sticky Rice.  Everyone really loves the mango sticky rice here. We are a small family business that serves our own recipes based on food from our hometown. Every age enjoys our food, many customers describe it as comfort food that can be enjoyed by everyone in their family, from the grandparents to the small children. People are happy to eat it every day. Our dishes are family dishes that are not the typical Thai dishes available in the USA."
That means you won't find Phad Thai or Bathing Rama or other commonly found items on the menu.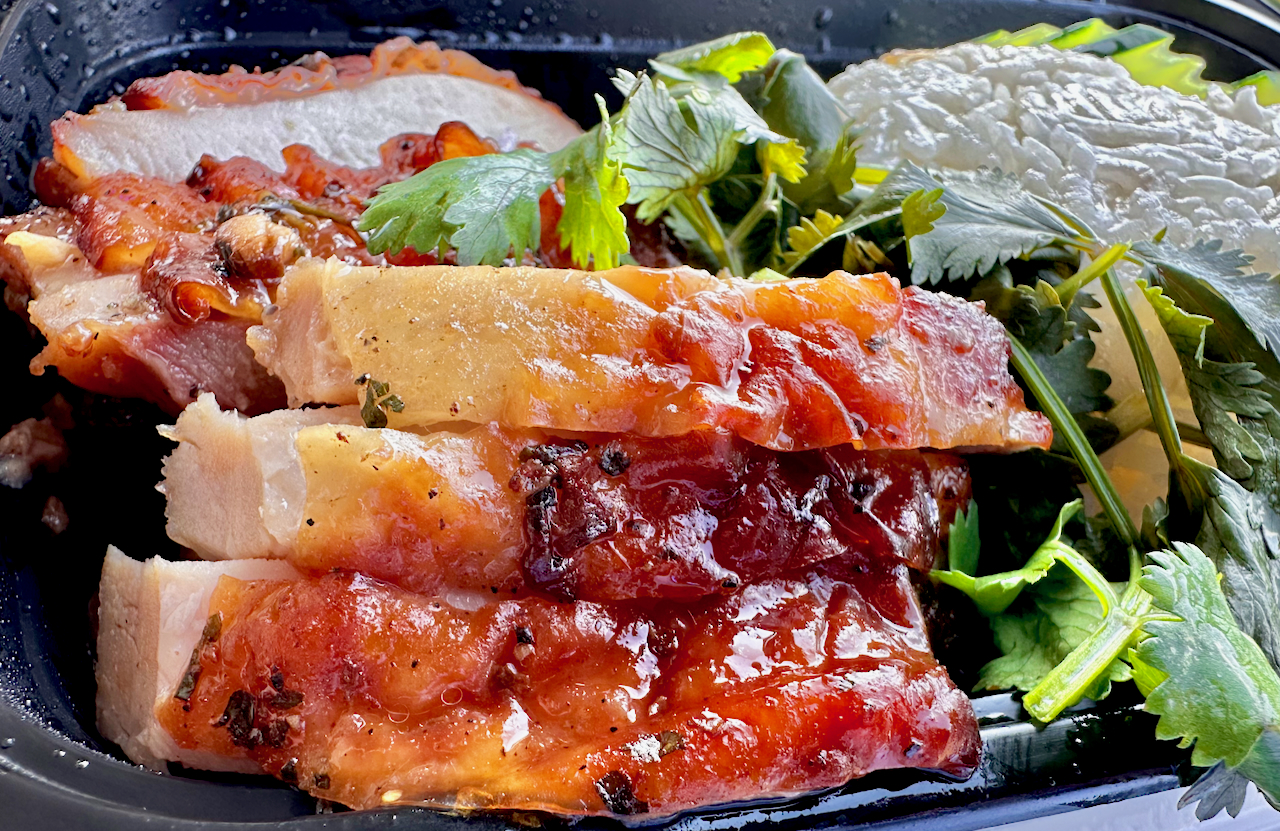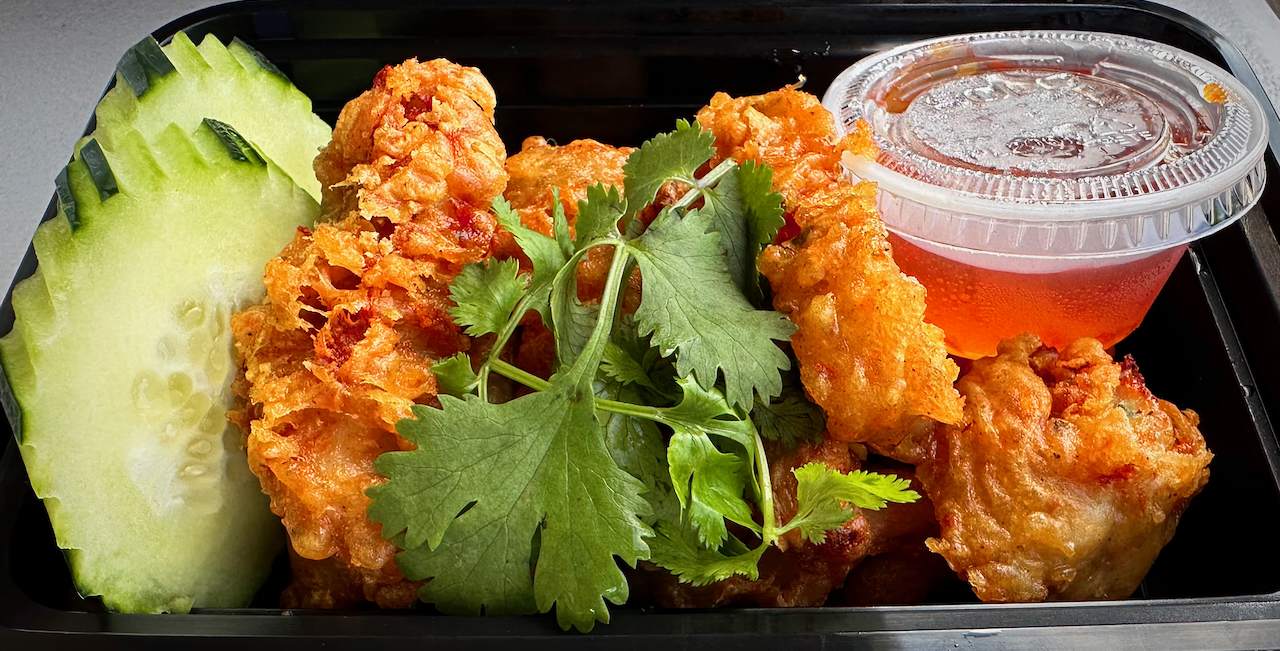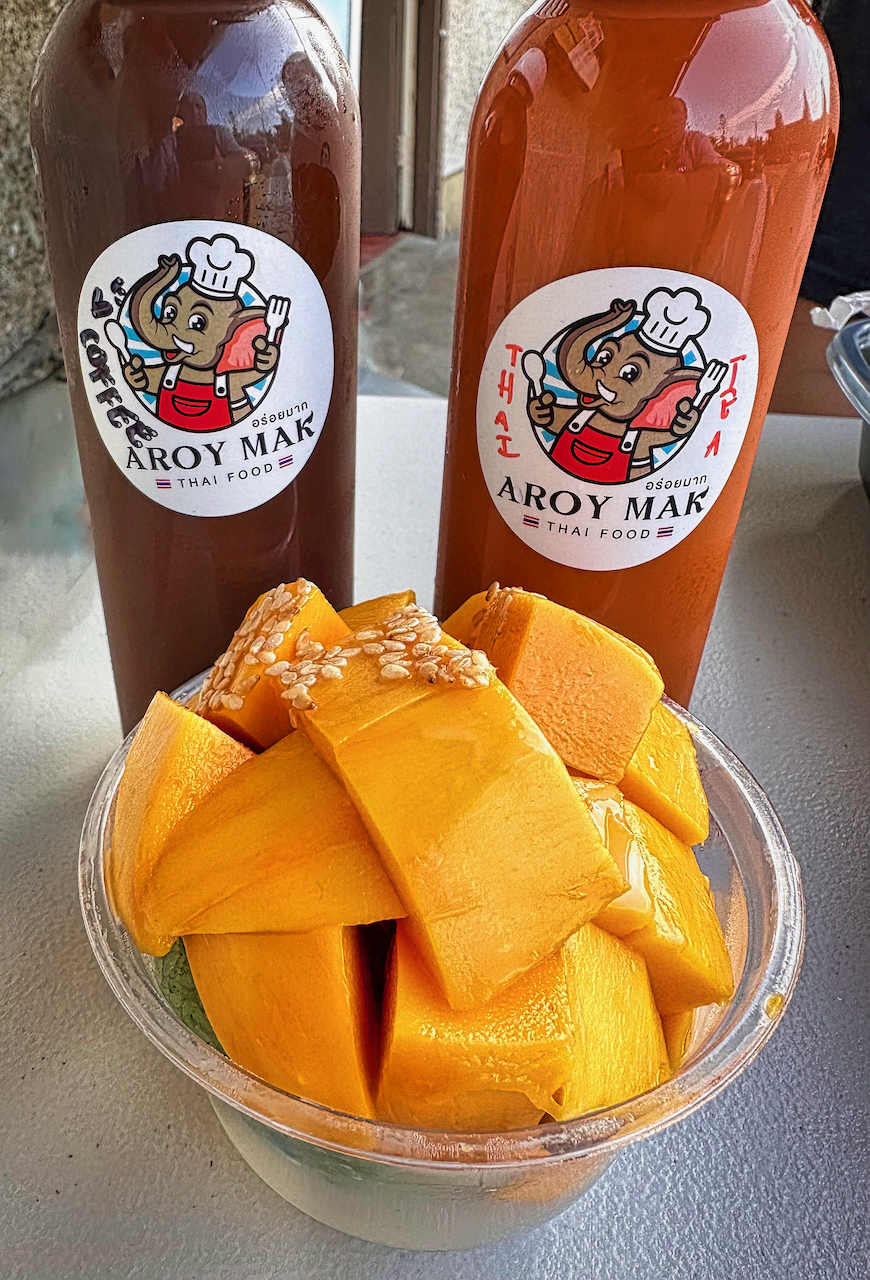 What you will find are items that reflect her mother's experience and Patty's memories of home. Dishes such as
Khao Man Gai (Hainan Chicken)
Simmered chicken with ginger rice served with signature soybean ginger sauce, cucumber and soup.
"AROY MAK" Thai Chicken
Stir fried crispy chicken with garlic in pineapple sweet chili paste with pineapple, fried bell pepper and crispy basil. Served with jasmine rice and soup.
Also on the menu is an assortment of house made Thai teas and coffees. They now serve hundreds of meals a week and provide catering for dozens of special events. You can find them online at https://www.aroymakthaifood.com/
You can also find and order from them on Doordash, Uber Eats and Grubhub. 
If you are picking up, the entrance is across from the West Seattle YMCA between 35th and 36th SW on SW Snoqualmie Street.
Distinguished Foods is part of the formula
For his part Bell has been busy too. He has 15 food vendors as tenants in his commercial kitchen, Distinguished Foods Kitchen Rental and more on the way. See the list below. And he was recently named Westsider of the Year by the West Seattle Chamber of Commerce.
For Aroy Mak Thai and many of the others you can order online and then pick it up yourself in a hallway equipped with order buttons to alert them to your presence.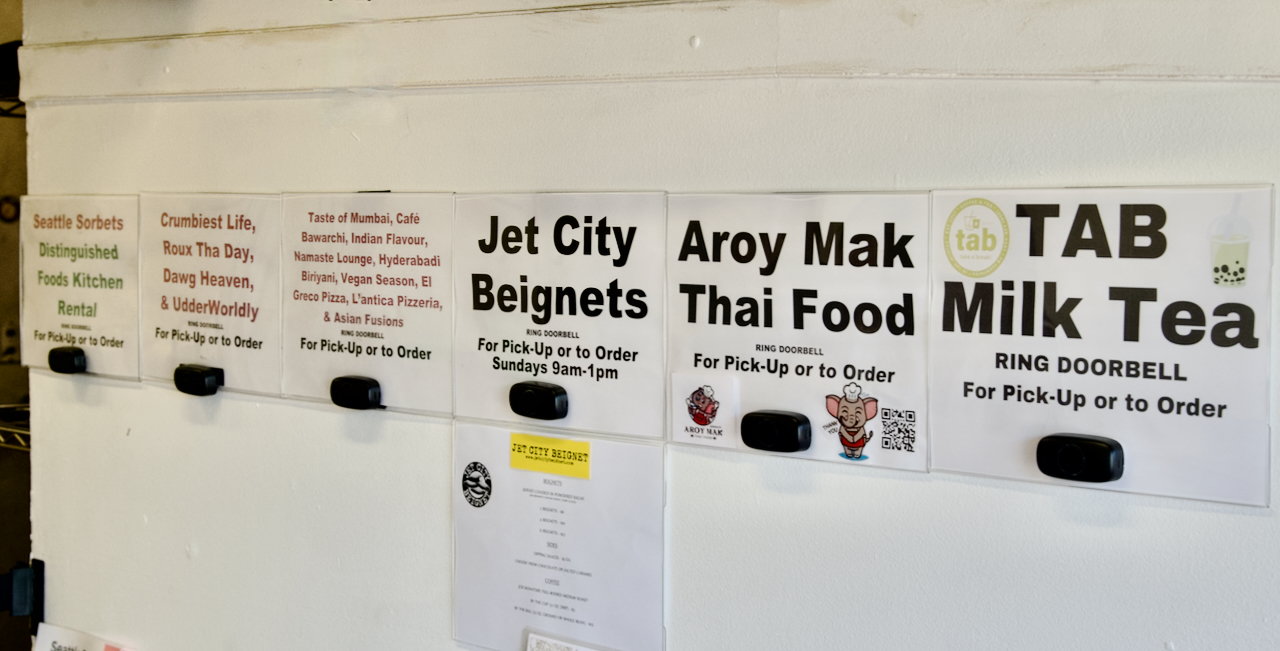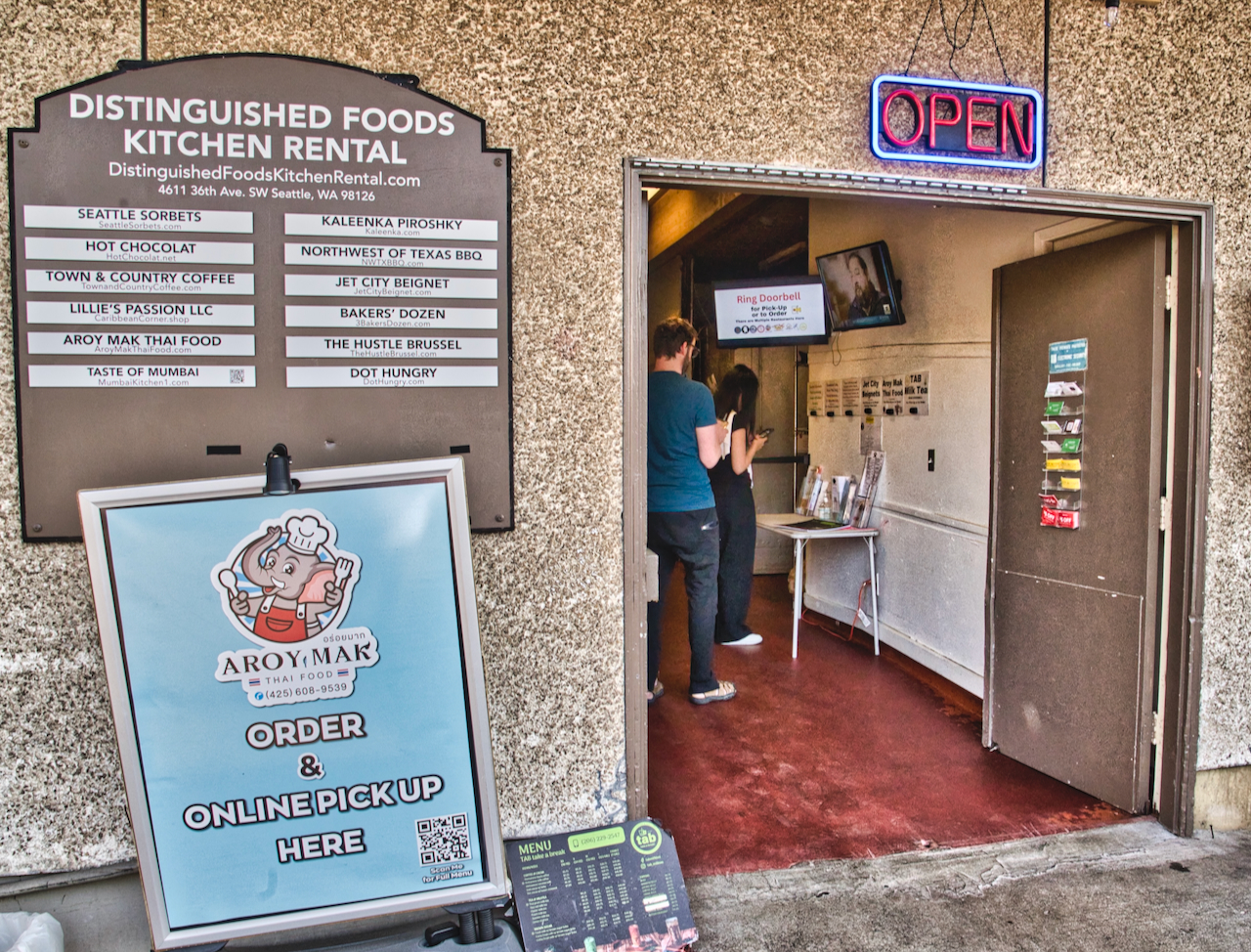 | | | | |
| --- | --- | --- | --- |
| Company | Website | Product | Owner |
| Hot Chocolat | | Chocolate & Macarons + classes  | Michael Poole |
| Panchitos Lunch Box | | Mexican Cuisine Food Truck | Gerardo Martinez |
| Northwest Texas BBQ | | BBQ Catering Company | Chris Burris |
| Seattle Sorbets | | Sorbet & Ice Cream Company | Claiborne Bell |
| Aroy Mak Thai | | Street Thai Food | Patty Alcorn |
| Taste of Mumbai | | Indian Food | Prasad Devi |
| The Hustle Brussel | | Vegan Meal Delivery | Kayla Board |
| Crumbiest Life | | Cookies and Baked Goods | Quinn Carr |
| Jet City Beignets | | Fresh and Frozen Beignets | Tiffany Silver |
| Bakers Dozen Catering | | Catering | Raquel Baker |
| Kaleenka Piroshky | | Piroshky | Brayton Barrett |
| TAB Milk Tea | | Milk Tea | Nhu Lee |
| Brown Girl Charcuterie | | Charcuterie Boards | Whitney Williams |
| Papa Tony's Hot Sauce | | Hot Sauce | Tony Wilson |
| Lillie's Passion | | Haitian Foods | Claire Charles |