Sidewalk closed on Highland Park Way SW between SW Holden St & SW Portland St
Sidewalk closed on Highland Park Way SW between SW Holden St & SW Portland St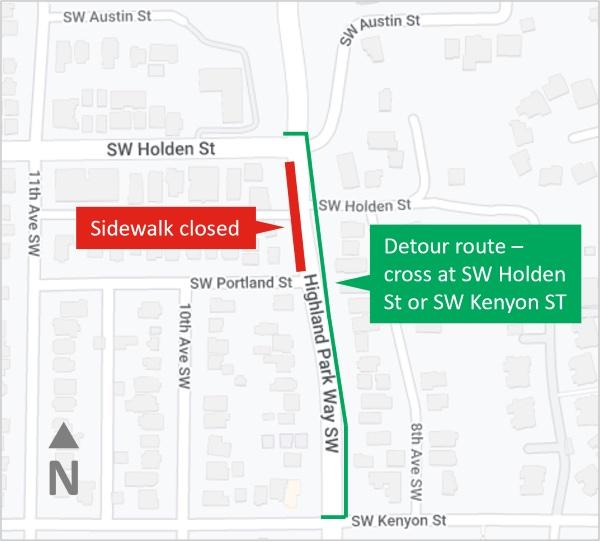 Tue, 08/29/2023
Information from SDOT
To increase safety and accessibility, we are rebuilding the sidewalk on the west side of Highland Park Way SW between SW Holden St and SW Portland St. The sidewalk will be closed from August 28 - September 8. If you are walking or rolling in the area, please use the sidewalk on the east side of Highland Park Way SW. There are crossings at SW Holden St and SW Kenyon St. 
This new sidewalk is part of the Highland Park Way SW and SW Holden St Safety Project. It will feature upgraded ADA accessible concrete curb ramps and a curb bulb to increase safety for people who are walking and rolling. 
Curb bulbs extend the sidewalk into the street, reducing the time and distance it takes a pedestrian to cross. Curb bulbs also improve visibility between drivers and pedestrians because pedestrians are brought farther out into the street, making crossing locations more recognizable. Below is an example.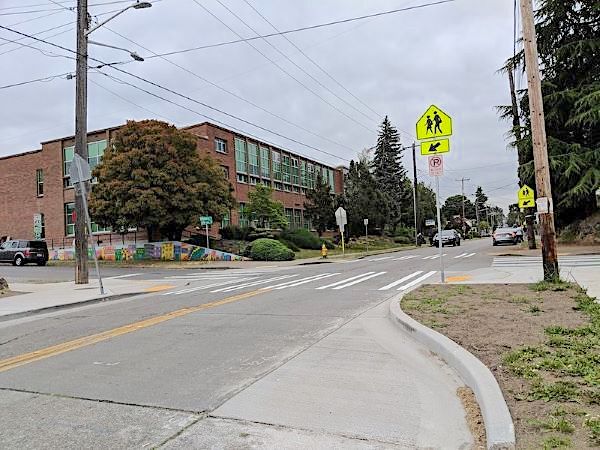 Learn about these improvements and more on the Highland Park Way SW and SW Holden St Safety Project webpage. 
Construction Noise 
If you live near the project area, you may have heard especially noisy work as our crews demolished the existing sidewalk. They have to use a chipping hammer to break up the concrete and it is very loud and generates vibrations. The majority of that work is done, but there is a small section remaining, which will be demolished later this week. Thank you for your continued patience as we build a safer and more accessible intersection for all.