UPDATE: Hotel now part of the plan for seven story project in the West Seattle Junction; More details now added
UPDATE: Hotel now part of the plan for seven story project in the West Seattle Junction; More details now added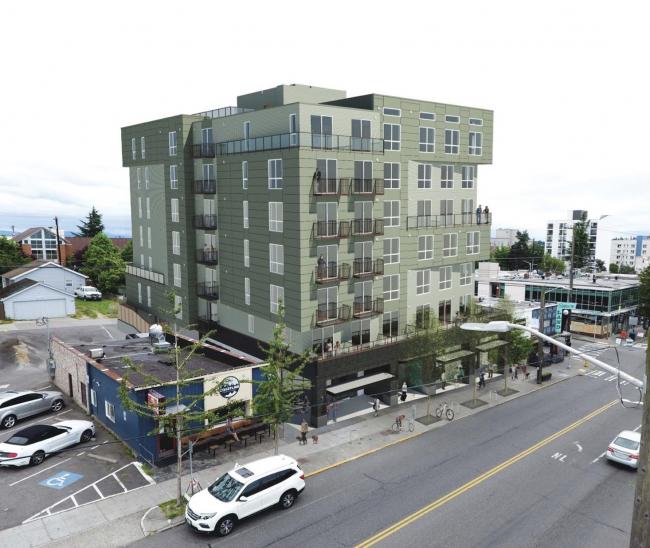 Fri, 09/15/2023
UPDATE 9/15
The President of STS Construction Craig Haveson provided more details on the hotel/apartment/retail project aimed at 4448 California Ave SW. It must go through another round of Design Review of course but following that the project can proceed. 
"We've reached the final stages of signing two retail clients for the first floor spaces. One is a national company and the other is a locally owned franchise," Haveson said.
Regarding the lack of parking for the building Haveson said, "Our vision for it is that its in a highly walkable area where you don't need a vehicle. If you are staying there you can go out and food and drinks and then come back. It's centrally located so that it's really accessible."
Haveson pointed to the fact that "Bringing parking to a project like this would mean that you wouldn't get the hotel," largely because of the huge added expense.
"I am hoping and expecting this will really be embraced by the community. I know people are always sensitive about parking and I do appreciate that, however I felt that people have also been sensitive about wanting to have a hotel and that there would be enough positivity in that that people would focus on."
STS is currently seeking a contract with a hotel operator. "It won't be a super high end hotel," he explained," but really nice. Not a grandiose lobby but done really well. I think this will be a place that is an amenity for the West Seattle community as a whole."
His company is currently working on an online comment form that will welcome "Positive and constructive feedback as to how we can make the hotel better for the community. I think the positive comments lends to a better project." That comment form should be available soon.
The design as it stood in 2021 is evolving but the bigger changes are coming to the interior.
A revised visual should be available as well within the next 60 days Haveson said.
Haveson founded his company 23 years ago as of August 7, still based in West Seattle with offices on 20th Ave SW in South Delridge and it has grown to the point that Haveson manages well over $100 million worth of projects annually, and has built several thousand apartment homes both here and in their Los Angeles division. STS is building a 115 unit apartment building on Harbor Ave SW and has five projects in Los Angeles underway.
Haveson said, "We need housing more than ever. Seattle is such a popular area and people are still coming here. I'm very concerned about what the next few years holds for our housing market here in the sense that it's going to almost too hot I think."
He also expressed pride in the White Center area where hopes to "focus a lot of energy in the next ten years." The company headquarters are in a building called the Livingstone on 20th Ave SW. They built the Bluestone next to it, "And very shortly we will start Keystone which is kitty corner. It's really exciting to me to see a whole block be impacted that had drug houses, and vacant houses. Now we have daycare and a coffee shop with our company in there as well. I'm pretty keen on White Center these days."
Original Post 9/14/23
A seven story apartment building planned for the West Seattle Junction at 4448 California Ave SW had been another mixed use apartment and retail project but now thare are plans for it to incorporate a 45 room boutique hotel.
Westside Seattle first reported on the project in 2021 and those plans called for a seven story  mixed use 96 unit apartment building with retail. There was an earlier revision to 88 units. The new application has been revised again (you can download and use the form to comment here) to only 43 apartment units on the upper floors.
 A principal for architectural firm Atlier Drome LLP Michelle Linden said in the revision to the Master Use Permit in July "We have revised the Master-Use Permit submittal for 4448 California Ave SW. The project now includes lodging use at the lower floors with 45 lodging units. Our resubmittal includes an Administrative Conditional Use (ACU) application as required for this use. Additionally, as per David Sachs' correction cycle 3 notice, we understand that the Land Use review has been reopened for this resubmittal."
Westside Seattle has asked for more information from  West Seattle based STS Construction who will handle the project and will update this story.