Fifty years of success has been all about relationships for Menashe and Sons Jewelers
Fifty years of success has been all about relationships for Menashe and Sons Jewelers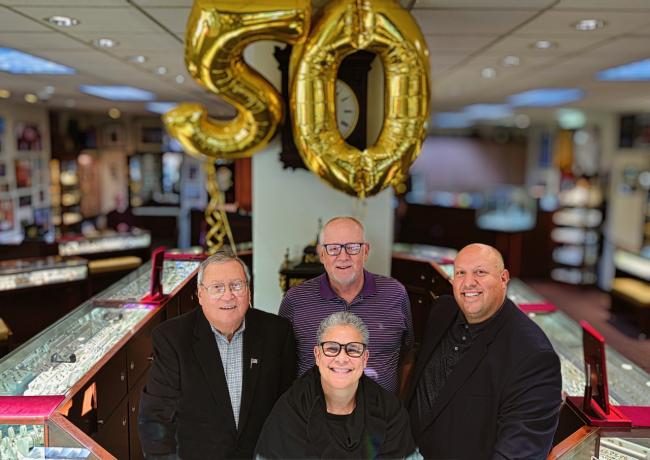 Wed, 11/15/2023
At the age of 25 Jack Menashe, with his wife Linda and three month old son Josh chose to buy Teague's Jewelers and open his own store, It was 1973. He changed the name to Menashe Jewelers and thus began a 50 year journey of community service. 
Jack had previously spent several years working for Weisfield's Jewelers. Brothers Leo and Sam Weisfield and their brother-in-law Ralph Goldberg had a small watch-repair business in Seattle, started in 1917. They had stores in Seattle, Tacoma, Aberdeen, Bellingham and Mount Vernon and Spokane. Jack was the "swing man" filling in for managers who went on vacation. The experience proved to be invaluable.
"It taught me the value of treating everyone the same. The diversity of people who would come in showed me that everyone deserves respect and that it didn't matter if they came to buy a $10 battery or spend thousands on a beautiful piece of jewelry," Jack said.
That attitude propelled his business and made it successful. In the early 80's on a handshake deal he got a loan and bought his building, securing his family's future. 
Over the years the Menashe family has become part of the bedrock of West Seattle sponsoring sports teams, donating to countless community causes and fundraisers and even gaining national attention for their stunning Christmas light display at their home on Beach Drive SW.
Jewelry is very personal, holds significance even across generations, and even carries secret messages. It marks the timeline of our lives, evoking love, joy, surprise, and remembrance. Each piece of jewelry has a story attached to it and Menashe & Sons Jewelers has been the storyteller for 50 years.
"Being successful in a community is really about relationships," Jack said, "because jewelry is so personal, people want to see and touch, try on pieces, get advice, and know who they are buying from. I think that's part how we've lasted so long."
Jack also said that West Seattle is special community. "I think it's in part due to the geographic nature of it. People here even wanted to secede from the city at one time. So West Seattle has its own identity. It's changing of course but for a long time we really had everything we needed here and that contributed to how West Seattleites think of themselves."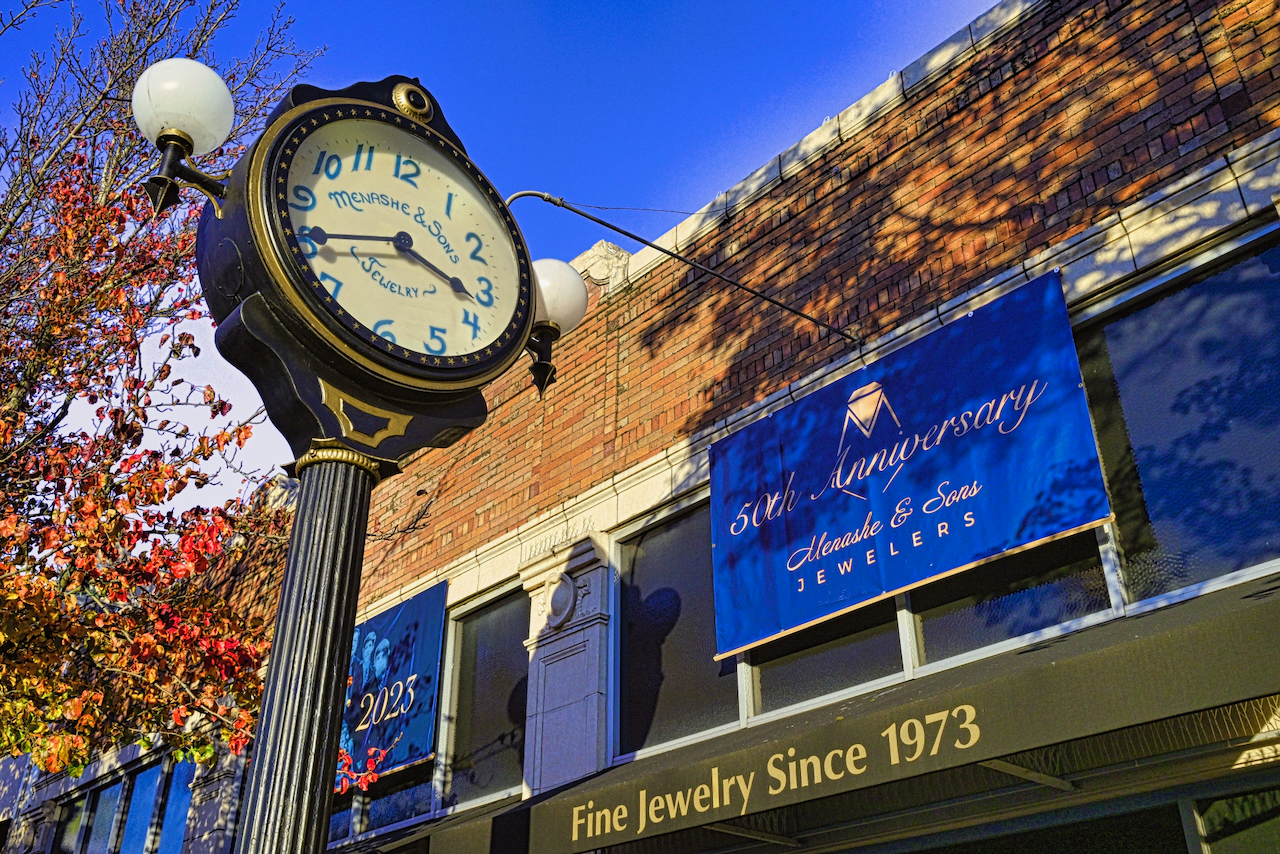 As a thank you to customers and kick off to the holiday season, Menashe & Sons is now engaged in a 50th Anniversary Sale, featuring savings unlike anything in their history:
30-50% Off the Entire Store, including custom and estate pieces (excludes Rolex)! Sale runs until  Feb 2024.

The Vault Sale: loose gemstones for custom and finished pieces at special prices. Save on: Precious Stones (Ruby, Emerald, Sapphire); Semi Precious Stones (Amethyst, Blue Topaz, Garnet, Peridot, Aquamarine, Tourmaline, Opal); and Unique, Semi Precious stones (Jade, Coral, Amber, Turquoise, Onyx, Moonstone). Vault Sale runs until - Dec 24th. 

60% Off the Collectors' Edit: a curated selection of jewelry at enticing prices. The Collectors' Edit Wall is featured in-store (sale ongoing) with new pieces added daily. 
Menashe & Sons will also be giving away (3) pairs of diamond stud earrings* during the 50th Anniversary Sale! Come in to enter.

Jack expressed his deep gratitude for this milestone, "This has been a greater experience than I ever expected and I am overwhelmed by the support of our community. They are the reason Menashe & Sons is celebrating 50 Years and is the oldest brick and mortar retailer in West Seattle.We work as hard as possible to serve our customers in an honest fashion. We do our best to offer something for everyone, always meeting our customers' needs despite the ever-changing nature of the jewelry industry. Thank you for 50 wonderful years of Menashe & Sons Jewelers!"
West Seattle residents Steve and Terri Saxlund expressed the feelings of thousands of West Seattle residents and beyond. 
"The year was 1972 I had met my wife to be Terri and by that summer we made our first trip to Menashes jewelry store, at that time it was still Teagues's and Jack was likely making plans to buy it in the very near future. Terri had spotted the ring in the window that would be hers, we spoke with Jack several times before we actually made the purchase. Jack had removed the ring from the window to secure our future purchase and placed it in his special tray in the safe.
This was the beginning of a life long friendship with Jack, always a kind gentle man.
We made many trips to the Menashe jewelry store through the years, Jack added diamonds for each of our two children as they were born and a few anniversaries. We loved the experience of watching Jack unfold his treasures carefully wrapped in velvet cloth to select our next diamond as he would pick up each diamond and peer through his scope then describe the qualities in each stone making sure we selected just the right one for us. Jack took great pride in his personal connection to all his customers and always made sure we left happy with our purchase. Jack could sense if the price seemed it might be out of our comfort zone and would do his best to find an alternative or discount an amount to fit our budget.
Fifty one years of marriage and many necklaces and earrings later Jack has been there for us always greeting us with a smile.
Jack's children also became integrated into our children's sports through the years and we can't say enough about his wonderful family……we love you Jack Menashe."