Seahawks "takeover" Nacho Mama's Fry Bread Cafe in White Center
Seahawks "takeover" Nacho Mama's Fry Bread Cafe in White Center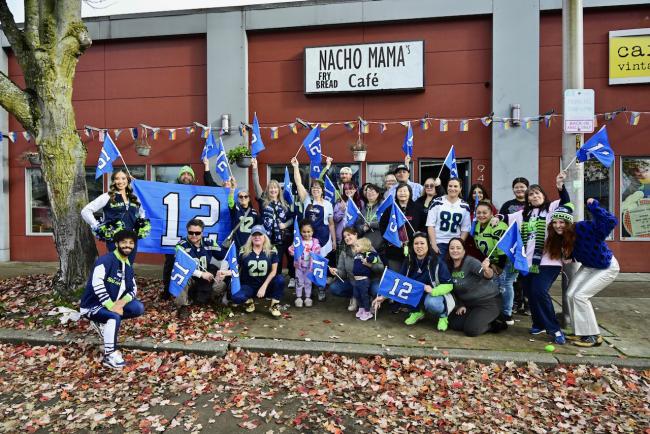 Wed, 11/15/2023
A crowd gathered and many more kept coming as the Seattle Seahawks did a community outreach effort by taking over Nacho Mama's Fry Bread Cafe at 9418 Delridge Way SW on Nov. 15. 
Nacho Mama's was chosen as emblematic of a Native American and woman owned business. Westside Seattle profiled the restaurant and owner Debra LeComb last year when they opened.
Using the Intentionalist, an online platform that aims to enhance inclusivity, The Seattle Seahawks brought the mascot Blitz and at least one Seagal cheerleader to the restaurant, buying lunch for everyone who bought a beverage. Unfortunately no players were able to attend, it was the players day off.
The Diversity Equity and Inclusion and Community Engagement departments of the team work collaboratively. "It's about comilng togther over food, the ultimate thing that brings us together," said Kyle Dougherty Seahawks Community Engagement Manager.