Seattle Parks will hold a project updates public zoom meeting Nov. 27
Seattle Parks will hold a project updates public zoom meeting Nov. 27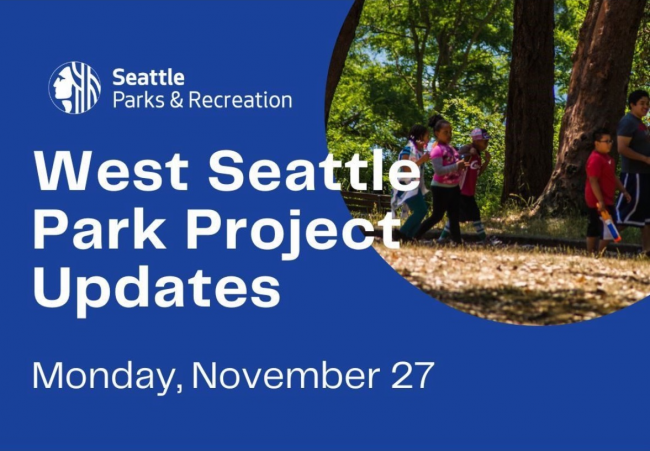 Mon, 11/20/2023
Seattle Parks and Recreation is staging a Zoom meeting, which the public can join regarding updates on a variety of local park projects on November 27.
The agenda for the one hour presentation is extensive ranging from resurfacing a materials storage area in Lincoln Park to the South Park Community Center site improvements. 
The resurfacing project, intended to be used for pickleball courts is opposed by people objecting to the noise, disruption of wildlife habitat and other environmental impacts is now on hold. It had been on a fast track by Seattle Parks and Recreation but was the scene of public protests over the last few weeks which caused parks to delay further work on the site.
West Seattle Park Project Updates Virtual Meeting 

Monday, November 27 6:00PM – 7:00PM 
During the meeting Parks said the public will  
"Learn about courts being resurfaced for pickleball at Lincoln Park, the Hiawatha Community Center Stabilization Work, West Seattle's off leash area update, the new park coming to West Seattle Junction, South Park Community Center and site improvements, the playground at Lincoln Park and other projects."
That's a lot of ground to cover in one hour and public questions must be submitted in advance here: PKS_info@seattle.gov
This means the meeting will be primarily informational.
Kersti Muul,Urban Conservation & Wildlife Biologist/Specialist noted that, "The zoom meeting will have breakout rooms for individual topics that people can join to hear Parks information and answers to the pre-submitted and approved questions."