Pet of the week: Oskar is a non alpha male
Pet of the week: Oskar is a non alpha male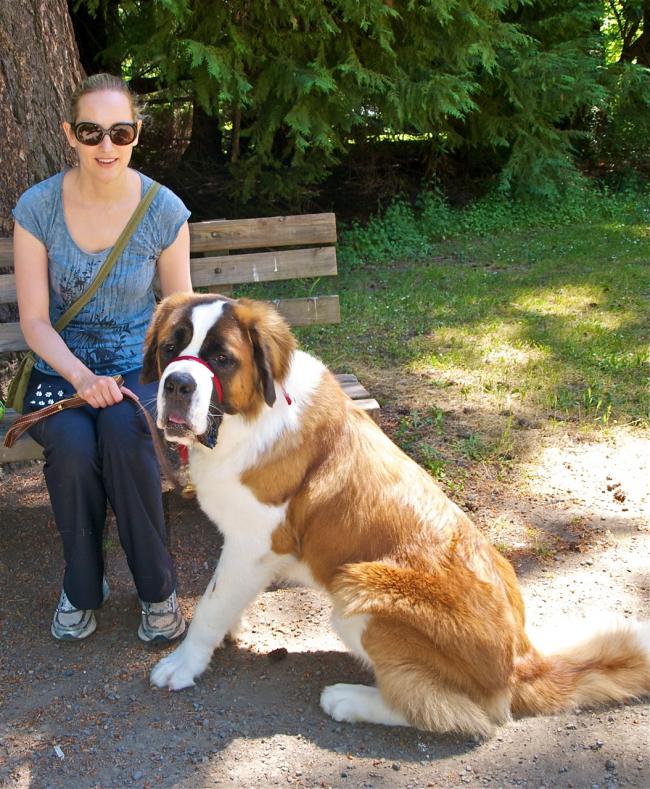 Kimberly Robinson
Tue, 06/28/2011
Bianca Knitter got her dog Oskar a pure bred Saint Bernard as a rescue dog and he came to live with her when he was just over 7 months old from Saint Bernard Rescue. "He's actually from Oregon. I drove down to Tillamook to pick him up there."
They spend a lot of time walking in Lincoln Park because it's close by.
"He's very playful and he loves squeaky toys, and he slobbers a lot, which you get used to after a while. But he's an awesome dog."
Oskar also makes it to the WestCrest, or SandPoint dog park "like four times a week" where he meets up with a lot of his canine friends said Knitter.
He really is a gentle giant preferring play to confrontation. "when a small dog barks at him he lays down," Knitter said, "He's not very Alpha."
He does not have a special diet, and isn't fussy about his appearance. "I take him to the WashDog once a month because he gets dirty because he's outside so much."
Oskar enjoys walking with a large size tennis ball in his mouth and he loves to fetch and he loves "anything that moves," including squirrels.
What about the classic battle between cats and dogs? "I don't think he knows the difference between a dog and a cat. He just wants to play with them."
How to nominate your pet for Pet of the Week:

Want to nominate your pet for Pet of the Week? Stop by the VCA West Seattle Animal Hospital at 5261 California Ave. S.W. and just ask for a form. A nomination is not a guarantee of appearance and your name and photo may appear in our newspaper and online.
Photos may or may not be used and our "Pet Reporter" may be in touch with you to arrange to take a photo. Pets nominated will be chosen on the basis of uniqueness of the pet and the quality of the story and information submitted.