SLIDESHOW: Boxing, the amateur way
SLIDESHOW: Boxing, the amateur way
Shakedown at Evergreen hosts local boxers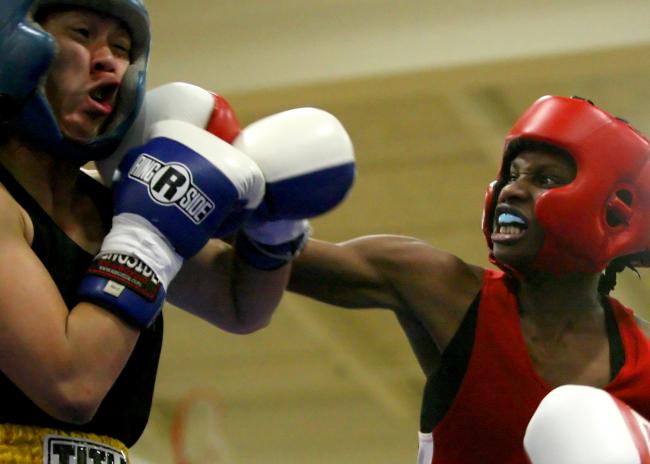 Kurt Howard
Mon, 08/15/2011
On Saturday, August 13th I had my first look at amateur boxing. The event "Shakedown" was held at Evergreen High School in White Center at 2 in the afternoon.
I actually arrived late due to the fact I had a previous engagement, my other job. When I entered the gym the first thing I noticed was a great looking boxing ring right in the middle of the floor, just like I've seen a the Emerald Queen Casino when I was photographing a local boxer.
CLICK THE IMAGE ABOVE TO SEE MORE
I brought my floor chair just in case they did not have an elevated ring, I'm so glad I did not have to use it. Next were the spectators in the bleachers and sitting in chairs on the floors, you knew they were really into this.
I grabbed a chair and put it next next to the ring. Well maybe a little too close to the ring because later I was sprayed with one boxers blood as did the judge sitting next to me. Well I am an up close and in your face kind of photographer so it comes with the territory as they say.
I started talking to the scoring judge sitting next to me. If I had a question he had an answer but only between fights or rounds of course. As I observed the boxers warming up I noticed each and every one wearing headgear. The judge told me it was mandatory and safety was always number one, always.
After each fight I would hear the ring announcer tell each and every boxer "don't forget to see the doctor." The boxers would get checked out in plain view of the spectators. With a penlight the doctors looked in their eyes and then in their mouth. Now that's protecting the hands that may sometime feed you.
The first fight I saw was between two female boxers, Sofia Haddux and Rory Santos.
They were after each other from the start, neither would back down, always looking to score with a barrage of punches. They were both very aggressive. People were using their cell phones to record video of many of the fights, not sure when they will show up on YouTube though. I take it they were probably friends or family members.
I also watched a mom circle the ring as she held up her phone and took video of her sons bout.
During some of the matches I noticed a fast and furious attack of punches with few reaching their intended target. By the time the third round came they looked all punched out. It was like they had a total of so many punches they could use and used them all up, fatigue had taken its tole. Others would take their time, planning their attach.
They would wait for their opponent to punch first before they would retaliate, trying to catch them off balance. I would hear their coaches yelling out instructions, not so sure if they actually hear them.
One thing I did like was the boxing ring referee was always in control. If they said "BREAK" they would stop fighting till further instruction. I wish I could have that kind of control over situations in my life.
Scoring was different in amateur boxing from the pros. Amateurs use the point system, pros count the rounds won. The amateurs combined total of landed punches in all three 1 1/2 minute rounds determines the winner.
The scoring judge told me he had one fighter ahead after the second round. After the third round the other fighter actually won the fight due to his onslaught of punches landed.
As they say it isn't over till it's over!
All the fighters had spunk. All wanted to win but as in real life that is not possible. I must say the sportsman ship of these athletes was amazing. After the fight is over you would not know that seconds earlier they were trying to knock the others block off. They would give a hug to their opponent and go to the opposite corner to recognize the coaches. Isn't that the way sports should be, if only it could really happen that way.
One last major thing I notice between amateurs and professional boxing is there were no ring girls in bikinis walking about holding up boxing round cards.
Guess I'll just have to get over that difference.