SLIDESHOW: Both previously unbeaten; West Seattle defeats Chief Sealth in 3 games on volleyball court
SLIDESHOW: Both previously unbeaten; West Seattle defeats Chief Sealth in 3 games on volleyball court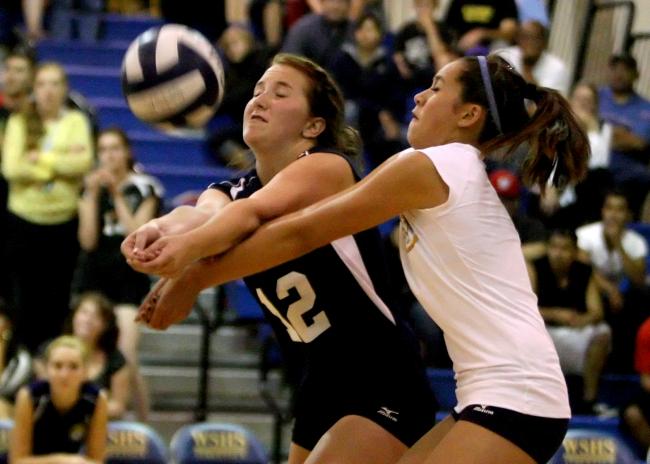 Kurt Howard
Wed, 09/14/2011
It was the clash of the volleyball unbeaten! OK, so they are only 2 games into the season, but they were both unbeaten and neither had lost a single game this season. Of course that would have to change, only one would come out on top. Chief Sealth would be banking on its youth and enthusiasm and West Seattle, on its experience. West Seattle additionally has a target on its back this year due to last year's strong finish and becoming Metro League Sound Division champions; they are now the team to beat.
CLICK THE PHOTO ABOVE TO SEE MORE
Playing on their home court, on Sept. 12, West Seattle would take control early but Chief Sealth, being the confident team they are, wouldn't go away. Chief Sealth would string together some points before West Seattle would take a time out, regroup, and try and stop Chief Sealth's momentum. Chief Sealth would keep the pressure on but West Seattle's experience would prevail.
Both teams also had some miraculous plays. Just when you thought there was no way anyone would get to the ball someone did, and returned it back over the net. The effervescent crowd would go crazy, it was very impressive. But when all was said and done West Seattle was the victor. They won all 3 games over Chief Sealth 25-15, 25-14, with the last game being the closest at 25-19. The enthusiasm, confidence and sportsmanship each team played with was certainly enjoyable to watch.
Chief Sealth's Coach Lorna Considine, just in her second year said, "We are a young team, it was a good test for them and they played very well and they played to my expectations. We need to work on blocking, defense and being consistent on serves." When she says young she means young, they start 3 freshman and 3 juniors. Coach Lorna gave praise to two of her junior players, Katherine Kirk and Madeline Twobley, saying, "They are great positive team leaders." She also mentioned there is a great group of seniors that are not eligible to play yet, but will be returning soon. That can only reinforce an already good team.
West Seattle's Coach Joe Baleto, last year's Metro Sound Division Coach of Year, was pleased with the game. "We controlled the tempo and played good technical defense but we still need to work on transitional play, offense to defense and defense to offense. The girls have matured mentally and have gotten stronger." He also complimented several of the girls as well. "Emmie Riley, last year's Metro Sound Division first team player had a good game. Hannah Burden had an exceptional game blocking and hitting. Easton Baleto (the coaches' daughter) was great at setting the ball tonight and Maddie Collins is the quarterback of the team. There is a great group of girls at West Seattle."
From the caliber of play displayed during the games it will be very interested how each team finishes the season. West Seattle is the proven team while Chief Sealth is in a rebuilding phase. Good luck to both of you.