Sealth falls short of Cleveland by a single point
Sealth falls short of Cleveland by a single point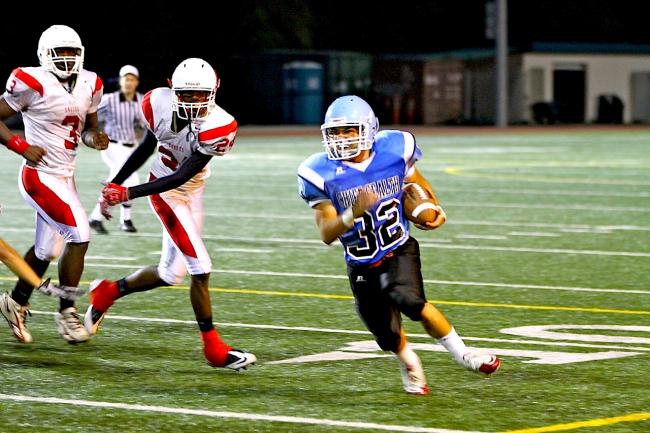 David Rosen
Fri, 09/16/2011
The Chief Sealth Seahawks fell one point short in their battle with the Cleveland Eagles on Friday Sept. 16 at the Southwest Athletic Complex
The two teams were evenly matched coming into the contest with matching records.
The scoring breakdown by quarter:

End of the first quarter, Chief Sealth 7, Cleveland 6
End of the second quarter, Chief Sealth 7, Cleveland 6
End of the third quarter, Chief Sealth 13, Cleveland 12
Final score Chief Sealth 19, Cleveland 20
Sealth rushed for a total of 112 yards on 34 attempts, with the longest run being 13 yards by Vinny Chase.
The passing game saw 66 yards gained on 7 receptions with the longest being a 30 yard strike from quarterback Max Sarver to Isaac Trefzfeger.
Sealth scored as follows:
Isaac Trefzfeger with a PAT for 1
Trevor Forsell with a TD for 6
Maxwell Sarver with a TD for 6
Vinny Chase with a TD for 6
Sealth committed one fumble.
On the defensive side, Sealth tacklers were led by Jake Tofilau and DeShawn Aitkens both with 3, followed by Motu Tupuola with 2 and Aiden Behar with 2. Motu Tupuola also made 5 assisted tackles.
Cleveland's stats have not yet been made available.
A more extensive story on the game will be added in an update.
In other West Seattle football news, the West Seattle High School Wildcats were beaten 52-8 by the O'Dea Fighting Irish.