SLIDESHOW: Sealth overpowers Rainier Beach 34 to 19
SLIDESHOW: Sealth overpowers Rainier Beach 34 to 19
Sealth's defense finds success in the second half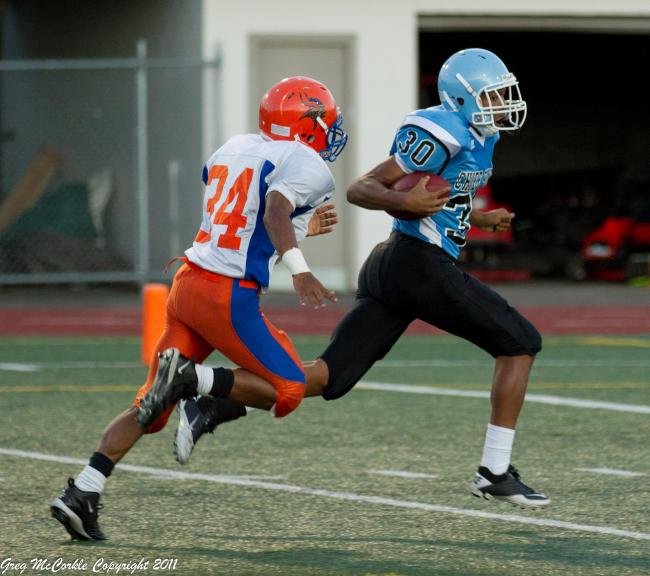 Greg McCorkle
Fri, 09/23/2011
Sealth toppled Rainer Beach 34 to 19 at the Southwest Athletic Complex in West Seattle, Sept. 23.
Coming into the Friday night contest Rainier Beach High School had a 1-1 record and Sealth was 0 and 3 but that apparently didn't mean much as the Seahawks overpowered the Vikings, especially on defense in the second half.
With 10:17 left in the first quarter Sealth scored on a punt return to go up 7 to nothing.

CLICK THE PHOTO ABOVE TO SEE MORE
Then, with just over 3 minutes left in the first quarter the Vikings intercepted a Sealth pass and returned it for a touchdown on a 70 yard scamper, tying the score at 7 -7.
With 8:38 left in the second quarter. Rainer Beach scored on six yard running play but missed the point after touchdown but taking the lead 13 to 7,
On the ensuring kickoff Sealth had an outstanding return all the way down to the Viking 20 yard line. Two plays later they scored but also missed the extra point by tying the score again, this time at 13-13.
On the next kickoff return Rainier Beach took it all the way for a touchdown but their kicker again missed the extra point bringing the score to 19-13 in their favor with 5:35 left in the half.
After a couple of 3 and outs Sealth scores again with only 12 seconds left and the score goes to 20 to 19.
The third quarter was a more defensive dominated affair with both teams chewing up the middle of the field until Sealth finally mounted a decent drive, scoring with 1 minute remaining taking the score to 27 to 19.
The 3 and outs continued in the fourth quarter until Sealth again managed to get things in gear and with a 7 yard run with 6:18 left in the game and that's how things finished with Sealth winning 34 to 19.