The most common crimes and criminal hotspots for unincorporated North Highline and Burien
The most common crimes and criminal hotspots for unincorporated North Highline and Burien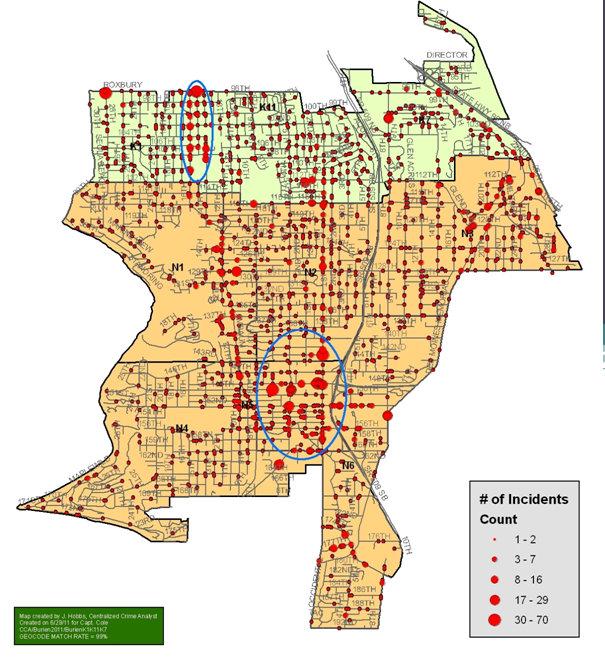 Courtesy of Burien Police Department
Thu, 11/03/2011
Whether or not Burien should annex the remainder of unincorporated North Highline, including White Center, has been a hot topic in our area for many months. In October two major stories rocked the discussion:
First, on Oct. 20, a multi-agency raid of 16th Ave S.W. in White Center headed by the ATF yielded over 50 arrests and the seizure of over 60 guns and over 60 pounds of drugs including meth, cocaine and heroin. For those opposed to annexation, the raid was fuel for the argument that taking on White Center would invite more crime into Burien.
The crime conversation may all be for not, however, since on Oct. 27 Gov. Chris Gregoire proposed scrapping the sales tax credit for cities that annex unincorporated areas. If the cut goes through, Burien city officials have said annexation is likely off the table.
On Aug. 22 Burien's City Council held a special session on annexation where Burien Police Captain Carl Cole presented a crime comparison between the two areas. He found between April 1, 2010 and March 31, 2011 that crime rates were "pretty similar," with 49.9 crimes per thousand people in Burien versus 56.76 crimes per thousand in North Highline. That report did not take into account the major undercover investigation starting right around that time in White Center (the ATF said it was a 90-day operation – placing the start date of "Operation Center of Attention" right around Aug. 20).
What follows is a breakdown of specific crimes in both areas for 2010 to help paint a clearer picture of what kinds of crime are most common and where they occur most often. The numbers were provided by the King County Sheriff's Office.
From the onset, it is worth noting Burien has a population of 48,072, or 2.7 times larger than unincorporated North Highline (referred to as UNH from here on out) at an estimated 17,600. According to KCSO's stat department that estimate has a plus or minus error of 2,000 people.
General observations
-Highway robbery, defined as robbing citizens on or near public roadways, is the most common category of robbery for both UHN and Burien.
-Assaults most often involve fists instead of weapons
-Burglars prefer to hit homes (usually during the day on weekdays while people are at work) over businesses. The total tally for both areas is 264 commercial burglaries compared to 653 residential burglaries in 2010.
Hotspots for crime
Most crime occurs in the business centers of both areas (except for residential burglaries and a good portion of auto thefts). In North Highline, the action is mostly found along 16th Ave S.W.
In Burien the hot spots are along Ambaum Blvd S.W., 152nd St and 1st Ave S. with the highest density found from 146th to 152nd between Ambaum and 1st Ave S.
At the top of this story a link to two maps is provided. The Part 1 Crime Density Map includes homicide, rape, robbery, assault, burglary, theft and arson. The Part 2 Crime Density Map includes forgery, vandalism, weapon violations, drug violations, DUI, kidnapping, hate crimes, gambling and liquor violations. These maps were used in Capt. Carl Cole's presentation to the Burien City Council in August and reprinted with his permission. They show crime density from April 1, 2010 to March 31, 2011.
Serious offenses – the actual numbers in 2010
Murder
UNH – 1
Burien - 0
Rape
UNH – 10
Burien – 27
Child rape
UNH – 9
Burien – 22
Highway robbery (defined as a robbery occurring on or near a public roadway)
UNH – 20
Burien – 63
Commercial robbery
UNH – 2
Burien – 0
Gas station robbery
UNH – 4
Burien – 0
Chain store robbery
UNH – 7
Burien – 13
Residential robbery
UNH – 3
Burien – 4
Miscellaneous robbery (anything that doesn't fit into the above criteria)
UNH – 6
Burien – 9
Carjacks
UHN – 6
Burien – 4
Assault with a firearm
UNH – 6
Burien – 11
Assault with a knife
UNH – 11
Burien - 13
Assault with other deadly weapons (using anything besides hands)
UNH – 2
Burien – 9
Assault with hands
UNH – 23
Burien – 50
Commercial burglary
UNH – 94
Burien – 170
Residential burglary
UNH – 251
Burien – 402
Auto theft
UNH – 226
Burien – 383
Arson
UNH – 10
Burien – 14
Theft, vandalism, liquor violations and juvenile crime – the actual numbers in 2010
Theft over $250
UNH – 205
Burien – 528
Theft under $250
UNH – 289
Burien – 701
*It's worth noting Burien has many more stores, meaning many more opportunities for shoplifters
Vandalism
UNH – 283
Burien – 476
Juvenile arrests
UNH – 181
Burien - 683
* Capt. Carl Cole said the inordinate amount of juvenile arrests in Burien is due in large part to a Burien Police Department emphasis on cracking down on juvenile crime.
Liquor violations
UNH – 33
Burien - 35