Global Diving & Salvage on a mission coast to coast, and beyond
Global Diving & Salvage on a mission coast to coast, and beyond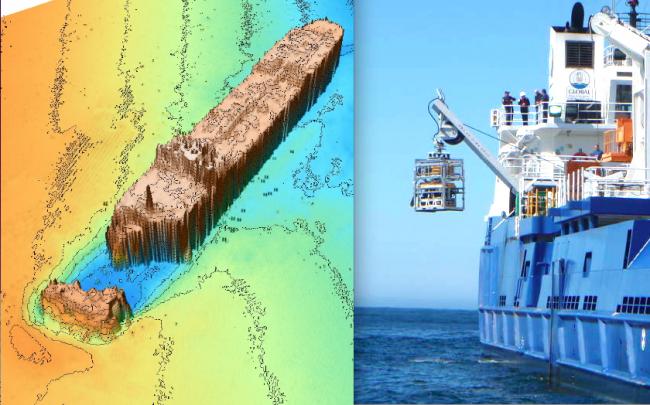 Image and photo courtesy Global Diving & Salvage
Sat, 11/05/2011
Unlike some homeowners, when West Seattle-based Global Diving & Salvage is underwater, that means business is good. With 300 employees the company casts a wide net with locations in Richmond and Rio Vista, Ca., Houston, Tx., Anchorage, Ak., and 3840 West Marginal Way, in West Seattle, in addition to project sites spanning from New York State to the Gulf of Mexico to Honolulu.
"We're fortunate to be insulated from the (struggling) economy in that we do a lot of infrastructure work," explained Global Diving Marketing Manager Frank Immel. "You can put off maintenance, but only for so long."
Employees belong to the Carpenters Union. Their West Seattle facilities include their core office, warehouse, fabrication facility, storage yard, and environmental division.
Global sent a team to the Deepwater Horizon oil spill in the Gulf with response gear. They were also part of the ASARCO Smelter remediation project in Tacoma last year,and dug contaminated dirt out of yards, put in clean dirt, and are doing a similar project now in Saipan.
Immel completed the Highline Community College two-year diving program they offered in the early 1980's, but does not dive for the company.
"Our guys can do pretty much anything under water that can be done on the surface," he said with pride. "I like to think our guys wear a different hard hat and different coveralls to work. But they are still construction workers. We pour concrete, install rebar, build forms, do demolition. We put people in very inhospitable environments every day. We're not 'supposed to be there'. But we can go there safely because of training, technology, and because of our safety program. We are experts at deep water diving, and saturation diving is our niche."
"Underwater, you can't always see," he emphasized. "The water can be turbid. In the Cook Inlet you can't see your hand in front of your face because of all the silt, sand, fine particles. It's black water. A dam we are building on the Ohio River in Illinois, you can't see anything beyond a foot and a half. Underwater lights just bounce off particles."
Owned by lifelong West Seattle residents Tim Beaver and John Graham, Global Diving garnered national attention in October by making waves six and a half miles off the coast of Cambria, California, about half way between San Francisco and Los Angeles, and 900 feet below the surface of the Pacific to explore the S.S. Montebello. The large oil tanker sank after it was hit by a Japanese submarine torpedo December 23, 1941, 16 days after the attack on Pearl Harbor. The vessel broke apart landing upright with her bow separated from the majority of the wreckage. Those on board abandoned ship and nobody died.
Global Diving's mission, under the eye of the United States Coast Guard, was to safely penetrate the skin of the vessel to find oil, if any remained, to prevent a leak into the ocean. To date, no signs of leakage were detected. The complex, high-tech $2.3 million operation utilized Global's Cougar XT ROV- Remotely Operated Underwater Vehicle, an unmanned submarine with robotic arms, performed 3D modeling of the wreck, and utilized a neutron backscatter tool, a non-invasive sensing device, something like an x-ray, which helped determine the presence of oil without puncturing the vessel. No oil was found and so the vessel imposes no pollution threat to the California Coast.
While the company has its own fleet, the specially-equipped ship on the surface is termed a "vessel of opportunity" as Global Diving subcontracted it for the operation.
Global Diving's Eric Crumpton was on the ship used to stage the ROV and project. He helped control the ROV and collect data from his office, a modified shipping container, equipped with multiple computer screens and a control box with a joystick and switches, staged on the ship.
"The ROV can go down to 3,000 feet, has four cameras, six thrusters, and two-five-function manipulator (robotic) arms to hold tools," said Crumpton. " It has underwater LED lighting, color and black & white zoom cameras, and additional tool packages that bolt to the bottom of the ROV. We receive the data it collects from our office. There's a lot hanging on the other end of the umbilical."
He refers to the expensive technology used in the office above the surface. While the ROV explores the wreck, the ship above stays on position via GPS and remains above.
"It was exciting," said Crumpton. " We're a part of history. exploring one of the first ships torpedoed by Japanese sub off the West Coast."