UPDATE: Native visual & musical art grace the Duwamish Longhouse Saturday
UPDATE: Native visual & musical art grace the Duwamish Longhouse Saturday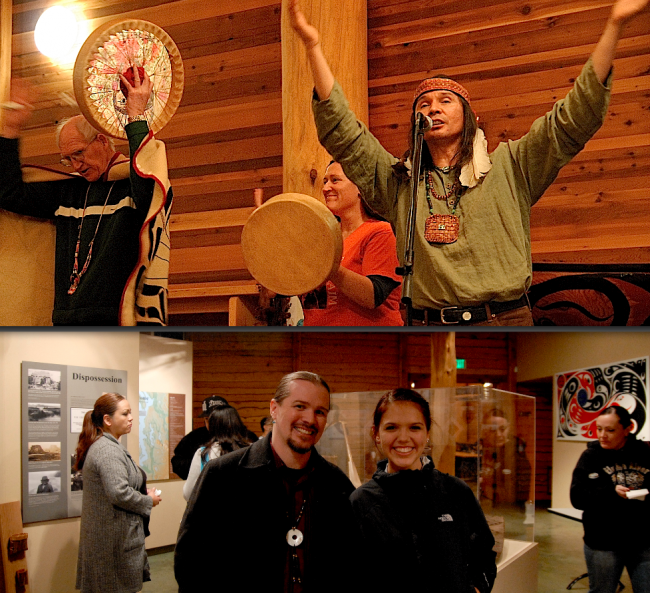 Photos by Steve Shay
Fri, 02/10/2012
UPDATE, Sat. night, Feb. 11:
Two events took place Saturday, Feb. 11, at the Duwamish Longhouse & Cultural Center, one beginning at 4:00PM, the other at 6:00PM.
4:00 PM: Duwamish Longhouse Art Gallery Opening for "Peter Boome: Salish Connections"
The gallery show features the paintings and prints of the nationally acclaimed Upper Skagit artist. Through June 16th.

Then Paul "Che oke ten" Wagner told Native American stories and performed on a drum and his flutes, selections from his new album, "TIME OF PARADISE".
Award winning Coast Salish artist Peter Boome is a member of the Upper Skagit Tribe of Washington State. He works in a variety of mediums with a primary focus on printmaking and graphic work. Peter earned his AA from Northwest Indian College, his BA from the Evergreen State College and his JD from the University of Washington School Of Law.
Peter's work has been aggressively sought after by collectors throughout the world. His art pieces span the continents in various European countries as well as New Zealand, Australia, Asia and Africa. Peter is a regular attendee of many prestigious juried art markets and events throughout the country, such as the Santa Fe Indian Market.
His work has shown at institutions such as the National Museum of the American Indian both in New York and Washington DC. Some other places Peter has also shown include the Heard Museum in Phoenix, the Eiteljorg Museum in Indianapolis, the Autry Museum in Los Angeles, Indian Art Market in Santa Fe, and the Washington State History Museum where his work is part of the permanent collection. Peter's work is carried by many galleries and art distributors throughout the world.
"I've been here to the Longhouse for several events and it seems to keep getting better and they keep adding to it," said Peter, during the busy reception.
"I grew up with the Utes as a teen in the Northeast corner of Utah," he said. "I picked this Salish style up 15 or 20 years ago. I spent a lot of time on Quinault with my family there. I just picked it up. It seemed to work for me. I was in the Northwest as a child and was sort of an Army brat."
His website: http://www.araquin.com/
-------------------------------------------------------------
Native Ameican flute player Paul "Che oke ten" Wagner presents selections from his new album "TIME OF PARADISE", dedicated to all the wonders and beauties of mother earth past and present, lost and preserved. To encourage people to remember the glorious world that was here only a few generations ago. To become inspired by the humpback whales that once flourished in the Salish Sea and to know that we can make things better from here forward.
He is an internationally-performing ambassador of the traditional songs and stories of his Coast Salish tribal ancestors.
He told this story:
"During the Depression my mom said we were poor people but we were rich with love. We didn't have any money but we knew how to take care of each other. We knew how to love each other. They would go out and gather berries and my grandfather would go out and get lots of deer meat and give it to everybody. It didn't matter who they were. People really respected him for that sharing so we have to remember to share with each other and to love one another and that's the reason I created this CD, so that we can remember. And it was not that long ago when there were humpback whales in the waters here, and in the Salish Sea.
"Some people don't know that. Where we were here was a paradise. It was very much like Alaska (...) but it was warmer. I believe that we can bring some of that beauty back. The elders said there is nothing we cannot do. I have faith in everybody, and all of our people. It doesn't matter what color you are or where you came from I believe in each and everybody and the young people of the next generation..."
Che oke ten's debut Native flute CD "Journey of the Spirit" won the 2009 JPF Award for "Best Native American Album ". Other available recordings include "Prophecy Teachings of the First Peoples of the Northwest Coast" (a collaboration with his cousin, Johnny Moses), & a limited-edition solo storytelling CD entitled, "Creation Stories."
His website: http://www.sacredbreath.cc/