After a lifetime of injuries, West Seattle runner finds her stride
After a lifetime of injuries, West Seattle runner finds her stride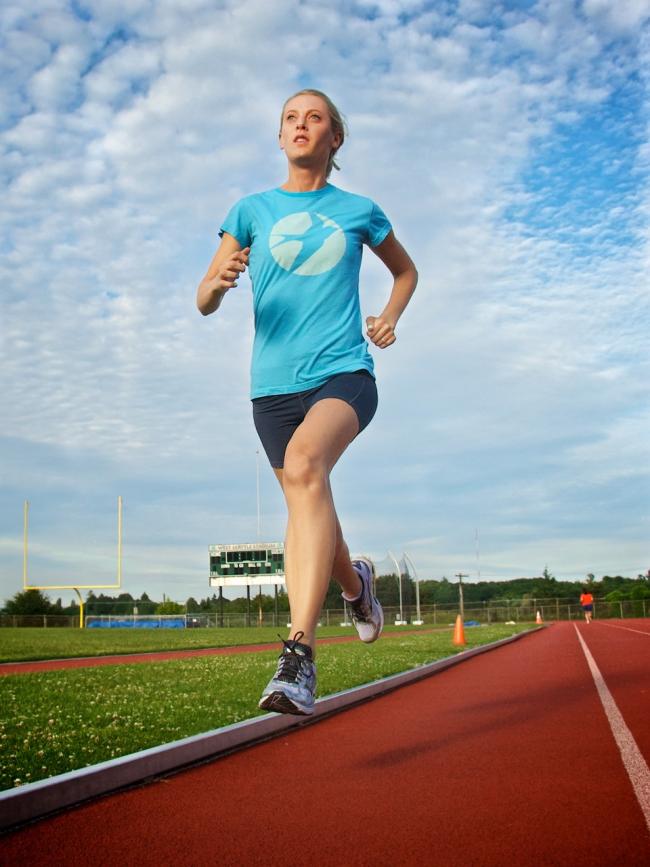 Photo by Patrick Robinson
Wed, 06/27/2012
Competitive runner and West Seattle resident Sarah MacKay draws her inspiration from a non-traditional source. It's not a cheetah, a puma or a gazelle, but a starfish … a species not exactly known for its running prowess.
"I just think starfish are very fragile and beautiful, and they can lose a whole leg and grow it back," Mackay said.
MacKay, 28, is a runner by blood with a recent knack for placing well in half marathons and aspirations to reach times (around 1 hour, 15 minutes) that could give her a shot at running in the next round of Olympic trials, four years away. On June 10, she stepped out of her 13 mile jaunts to run the Sound to Narrows 12k in Tacoma. She blew away the competition and finished two minutes ahead of second place with a time of 46:06. Within the last year she won the Columbia Gorge half marathon (1:21:43) and placed third at the Eugene race (1:19:11).

Tons of talent, but a body that wouldn't cooperate
To understand the starfish, it requires looking back on the running career of MacKay. It started at the Boston Marathon where her parents, both avid runners, met and started dating.
For Sarah, it started in the 5th grade track meet when she beat everyone, including the boys … in a skirt. Living in Massachusetts at the time, she showed an instant talent for cross country and made the high school varsity team in the 7th grade. She was on a roll, winning statewide and making the Nike Nationals in Charlotte. Universities started sending her letters, suggesting they would be the perfect place for her to continue running beyond high school.
But then trouble hit. MacKay said she has a "flippy" right leg, meaning it likes to make an awkward sweep as it comes forward. Landing in that awkward state is hard on the knees, and in 10th grade something gave and she tore her meniscus. Undeterred, MacKay got out of surgery and scrawled out her plan for recovery in a notebook.
11th grade came and she was back on the track, but it happened again. Same knee, same injury, same surgery.
Her senior year arrived and MacKay was once again ready to run and secure a college scholarship. But then the other knee decided to go. Same problem, different knee, another surgery.
As for that stack of letters from colleges across the nation, "As I came to my senior year, they were dwindling," MacKay said.
Three knee surgeries later, MacKay simply wouldn't give up. She was a runner. "Every time I got injured I made a plan: here's how I'm getting back; here's when I'm getting back."
She was accepted to Colorado State University with a minimal scholarship, showed up injured, and just kept on rehabbing. Finally, during her freshman year, she was feeling good and her coaches took notice. They told her to get ready for next week, because she'd be running in the meet. That very afternoon she got into a car with some friends.
"We were going to watch a sledding race and we get in a car accident," she said. MacKay broke three vertebrae in her back and was put in a back brace for seven weeks.
Once again, she worked feverishly to get back and paid little attention to her doctors asking, "Why don't you just quit?" She tattooed three starfish over her once broken vertebras and mustered some success in the latter years of her collegiate career, including a team trip to the NCAA Nationals.
After college she moved to Seattle and tried to keep running competitively, but nagging injuries just kept creeping in, and MacKay finally did something she'd been unable to do throughout her running life.
She finally said, "OK, I'm OK with just jogging three times a week." No competitions, no training for marathons, just running "for sanity."
Resurgence
MacKay moved on with life, meeting her husband to be and landing a marketing job at Oiselle (a women's running apparel company in Seattle). She was a "closeted competitive runner" during that time, not even mentioning to her fiancée or boss that she used to be a runner, and a damn good one at that.
She sheepishly joined her coworkers in their Tuesday morning runs and her boss saw something, prompting her to ask if MacKay had ran in her past. She admitted as much, and finally, in June of 2011, signed up for the Fremont 5k. She didn't win the race, but something far more important occurred.
"I got to my 'pain place'," she said. "I really pushed myself in that race and it's that immediate gratifying experience of laying your guts on the line."
One year later: the accolades are starting to roll in and the body is doing well.
"I have found a good balance in my life," MacKay said, now able to distinguish between the "good pain" of pushing yourself in a hard run and the "bad pain" of simply going too far and risking injury.
"I've found a way to say, 'You can still be tough and not fear pain, and also be respectful of pain.'
"You can get knocked so down, but I think humans are so capable of whatever they want," MacKay said. "Don't let (injuries) run your life. I've had three knee repairs, I've broken my back, I've had stress fractures in my foot. At what point do you decide, 'I totally own this body and I'm going to see where it takes me?'"
The answer to that question isn't exactly clear, MacKay said. From having children with her new husband to making a run at the Olympic Trials in four years, she's just glad to be lacing those running shoes back up.
"You are having a hard day at work and you don't even want to go for a run, but within three miles my whole perception of life has changed," she said. "In a world of all these false things it is a very primal thing to just go and run. I think you tap into something that feels very youthful and free and so unhinged from the rest of your day that is tied down to checking email, pushing the gas pedal on your car. You feel like a cog in the wheel and when you're running you are released … it is your own thing; your own space."
Sometimes, humans are like starfish.
"As humans we also have the power to regrow, or grow," MacKay wrote on her runner's blog. "If we lost the ability to run like a child, free and light, we can regain that."