Pet of the week: Nikita is a wonderful 'Grand Dog'
Pet of the week: Nikita is a wonderful 'Grand Dog'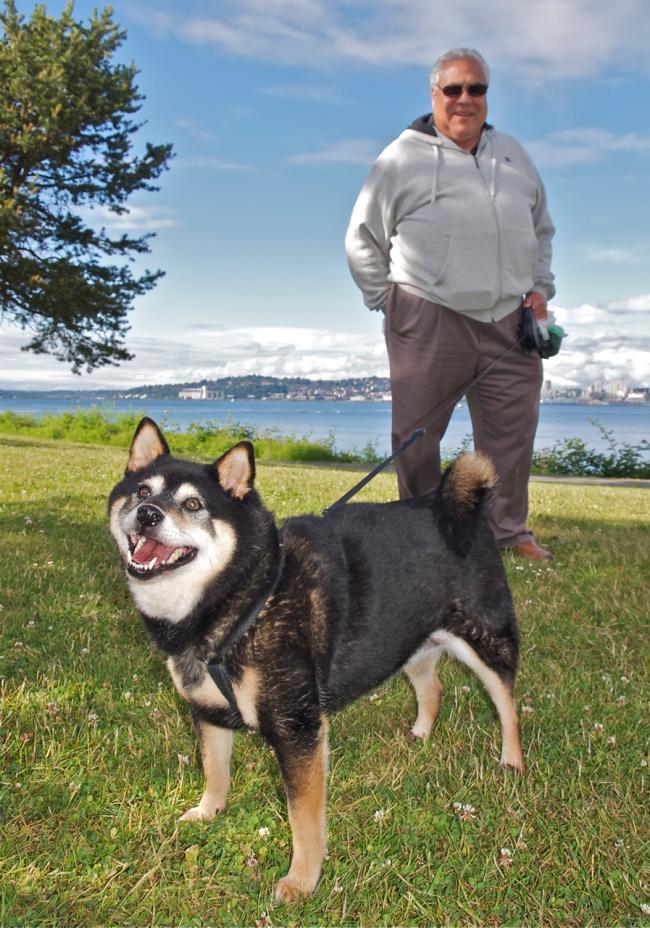 Kimberly Robinson
Wed, 06/27/2012
Nikita is a Shiba Inu whose, "origin is Japan", explained Al Mizrahi, "where they were bred as small hunters for royalty," and has a very calm demeanor. Mizrahi is not Nikita's actual owner however. His son Anthony is but Mizrahi and his wife Nancy have taken Nikita on as a "grand dog."
She came from a breeder in Wisconsin and she is now almost 10 years old.
As a North Admiral resident, that's their favored walking zone but they also come down to Alki and Harbor Avenue from time to time.

"Shibas are real picky eaters," explained Mizrahi about her diet, " and we usually have to try various types of foods and keep an eye out for her allergies. They are very allergic to certain foods."
She loves peanut butter and mozzarella cheese sticks and, "We'll play a little game together where she'll have a piece and I'll have a piece," he said chuckling.
Nikita can do tricks and loves to play with a small red soccer ball. "She actually kicks it with her paws," Mizrahi said.
Though she will fetch and enjoys the dog park, she's not as agile as she used to be due to her age but, "she still will run once in awhile."
Mizrahi said, "She definitely knows who to go to for certain things. My wife is known for feeding her and she's also the caregiver whenever she's sick. I'm there for the fun times and the treats. And my son is the Alpha. When she sees him it's great for her."
Nikita has a "box full of toys," with her favorites being, "anything that squeaks or any kind of tug of war type thing," said Mizrahi. "She loves her toy that you put peanut butter inside of and you can freeze things and put it in there."
They get Nikita the, "smoke type bones you get at Next to Nature," and Mizrahi said that she is admittedly spoiled but, "she's a really good dog. She's good with people and she tends to be not super affectionate but is a good protector. They don't bark much and that breed very rarely does a lot of barking."
She may not bark but, "It sounds like she is talking sometimes," Mizrahi explained.
How to nominate your pet for Pet of the Week:

Want to nominate your pet for Pet of the Week? Stop by the VCA West Seattle Animal Hospital at 5261 California Ave. S.W. and just ask for a form. A nomination is not a guarantee of appearance and your name and photo may appear in our newspaper and online.
Photos may or may not be used and our "Pet Reporter" may be in touch with you to arrange to take a photo. Pets nominated will be chosen on the basis of uniqueness of the pet and the quality of the story and information submitted.