Retired actor, Ivan Rado, got a boost from Jimmy Stewart, & Casablanca's "Major Strasser"
Retired actor, Ivan Rado, got a boost from Jimmy Stewart, & Casablanca's "Major Strasser"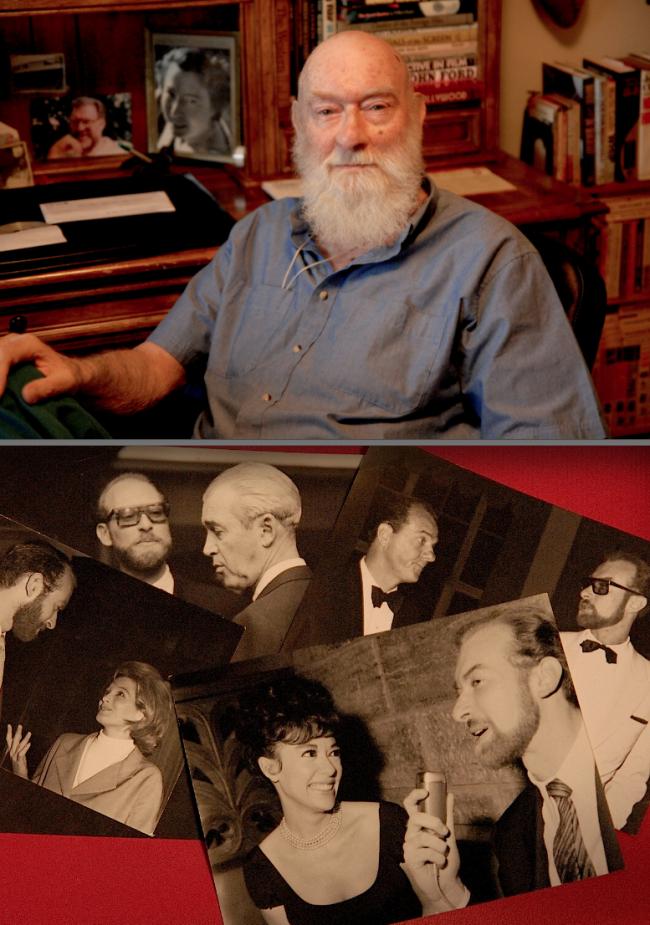 Color photo, top, of Ivan Rado by Steve Shay
Fri, 09/21/2012
Retired actor Ivan Rado, 81, also known in the Mexican cinema as "Jorge" Rado, was 6' 7" at his height, shall we say. He's still up there, and while some may say he resembles George Bernard Shaw, or perhaps the iconic director, John Huston, Rado dismisses such comparisons and said with a toothy grin, "I'd like to think I look just like Mickey Rooney." For you youngsters out there, Rooney is 5' 2", a foot and a half shorter.
Rado loves Brazillian and Cuban music, and American jazz, and plays the "guiro", a Latin American percussion instrument, and another, called the "quijada", a jawbone of a donkey, which he painted with loud patterns. They hang prominently in his office among shelves crowded with books on the cinema, from the mainstream- "Cary Grant: A Celebration of Style" to the edgier Briton, "Dirk Bogart, Snakes and Ladders".
The Hungarian-born actor portrayed the European Dr. Rudinsky in the Cher movie, "Mask". He was cast as a German in Sam Peckinpah's 1969 film, "Wild Bunch", under the name "Jorge Rado". He hung out with fellow cast members William Holden, Ernest Borgnine, Ben Johnson, and Warren Oates for two months on the set. He appeared in a Desi Arnez film about the same time with actor, Sonny Tufts, in "Land's End", also as Jorge Rado. He was in a very successful Mexican film, "Por Mis Pistolas" starring Mexican icon Cantinflas.

He said that Jimmy Stewart "was instrumental in my getting a great (acting) job," and that Drew Barrymore's father, John, was one of his best friends.
"John and I had met in Rome," he said of Barrymore. "He was great. I know. He did drugs. He drank. Whatever. That was his bag, I chose mine. It was his business. I didn't interfere.
"Errol Flynn was just a nice, gentle, terrific guy, very friendly, courteous and generous," he said, adding that the famed British stage and film star, Trevor Howard, "was a mean nasty drunk, and I mean really nasty."
Rado's family moved from Hungary to Vienna, to Paris, then Nice. In 1941, his uncle helped his mother, grandmother, and Ivan leave Europe for Cuba as the war began. His uncle was the famous German actor, Conrad "Connie" Veidt, who was married to his aunt, Lily. Many recognize Veidt in his portrayal as the Gestapo villain, Major Strasser, who tangled with Humphrey Bogart in "Casablanca".
Ironically, in that film it was Major Strasser who stood in the way of the heroes getting exit visas, while "Uncle Connie" was able to help Ivan and his family vacate Europe. According to IMDB.com, Lily was Jewish, Ivan a Berliner and not Jewish, and they fled Germany in 1933 after the rise to power of Adolf Hitler. He became a British citizen in 1939.
"When we went to Cuba it was like coming out of the night into the day," Rado recalled with wonder in his eyes. "The lights, the sun, the music, the people, it was a whole new shebang for me, a whole new world."
His divorced mother remarried. His stepfather said, "''Let's go to Mexico. That's where the future is,'" Rado remembered. He loved it.
"The clarity of the air," he said of Mexico in the early 1940's, "The colors rushed out and grabbed you. So here I am in Mexico City, a very tall, red-headed kid speaking Spanish with a Cuban accent, plus German, French, and English. I was a curiosity, and a loner. We moved to a little place owned by a cinematographer with a movie studio four blocks from there. His son and I were about the same age and we bonded. We just hung out, and met some big (movie) people.
"In '54 the 'Ninos Bien,' the 'children of privilege' who I always hated, said, 'Let's organize an international film festival' (in Mexico City.) And someone said, 'Does anyone here speak English? Any other languages?' Someone else said, 'Get Rado!' That's how I got into it. That came in '56. There I met the director of the Berlin Film Festival who invited me to Berlin the following year.
"At the Berlin Film Festival they introduced me as Connie's nephew," he said. "I got a standing ovation. I cried, and got through that." As a "loner" he was not comfortable around more than two or three people. "When I go into the wings (of the theater) I see 'Robinhood' coming at me. Jesus! With a big smile, hand outstretched, Errol Flynn, who was the guest of honor of course. He said, 'Hey man, we've got to get together.' He was there with his wife Pat Wymore."
Rado also appreciates modern film, and stars, including George Clooney, Demi Moore, Brad & Angelina, Bruce Willis, and R. Lee Ermey as the memorable Gunnery Sergeant Hartmanin in Kubrick's "Full Metal Jacket".
"If you watch a movie, turn off the sound and just see the body," he suggested. "You know more or less what's being said but can see how they really work. You also hear more when you close your eyes. You hear more when you are not looking at someone. Just listen."