JC's Deli sees the return of a familar face (and sandwich)
JC's Deli sees the return of a familar face (and sandwich)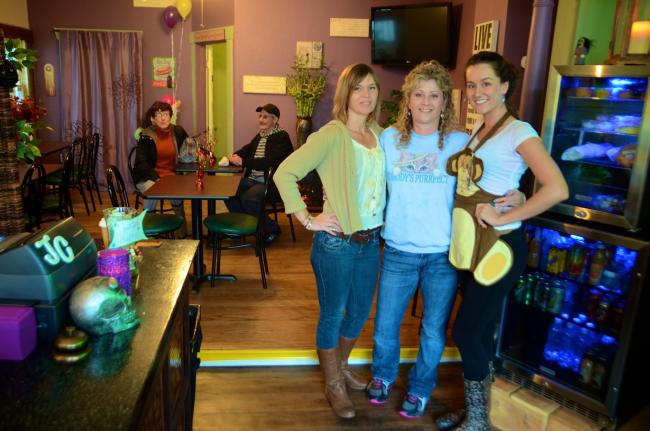 Patrick Robinson
Tue, 10/23/2012
When you walk into the new JC's Deli at 9007 35th SW you might be surprised. Not by the warm decor, and friendly greeting but by a face that has grown familar to West Seattle sandwich lovers for more than two decades. Jeanette Cummings has opened her new deli after a long history of hoagy making first with Hoagy's Corner (at the corner of 35th and Barton (now the Super Deli Mart) for 18 years then later with Gasco across from the Seattle Public Library on 35th SW for 3 and a half years.
The name isn't for her initials. It's for Jeanette and Cynthia her daughter who will be on hand to work the counter too.
"I've always wanted my own deli" Cummings said, "so I can make them how I want to, make them as big as I want. I believe in quality of the food and freshness. I make my sandwiches with love."

Cummings gets her fresh deli meats from Cash and Carry and her baked goods from Franz bakery.
The deli will offer a few differences from her previous sandwich shop experiences. "I've added a few breads like 9 grain, and a gluten free option, dark rye, sourdough, honey wheat, light rye and the famous hoagy roll." The deli will have two different soups to warm you up on a cold day. There's even a Lil Tykes menu offering sandwiches that are smaller, at a much lower price of course and in varieties kids like.
Fans of the former Hoagy's Deli may recall something called the "Special Mamu Sauce" (whose recipe is secret of course) but Cummings will offer that again plus a version with a little kick to it. She's added horseradish.
They will serve coffee (but not espresso, since Bird on a Wire is right around the corner) tea, lemonade.
JC's Deli will be open from Tuesday through Saturday from 10am to 8pm and Sunday from 11 to 7pm. But if it's busy after those times she will stay open a bit longer.
Platters can be ordered for the holidays coming up. The restaurant can seat approximately 14 people.
Cummings said she's worked hard on creating a friendly neighborhood atmosphere. "People will come here and be standing around talking and enjoying themselves." But her daughter Cynthia summed up their goal by saying. " We want it to be like a neighborhood Cheers without the alcohol."
You can call in orders to 300-0261.