Metropolitan Market's Andrew Borracchini wins 'Best Bagger' for the 2nd time!
Metropolitan Market's Andrew Borracchini wins 'Best Bagger' for the 2nd time!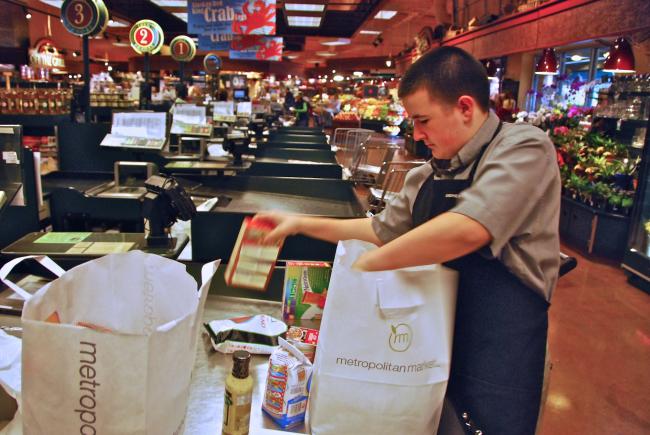 Patrick Robinson
Fri, 10/26/2012
He's done it again! Andrew Borracchini, an 18 year old grocery bagger from West Seattle's Metropolitan Markets just bagged the championship in the Washington State Best Bagger competition for the second year in a row. As the West Seattle Herald reported last year when he took the title, Borracchini beat 11 other contestants from across the state for the $1500 cash prize and an all-expense paid trip to compete at the national Best Bagger taking place in Las Vegas in February 2013.
In a press release about the event more details were offered:
"The national Best Bagger contest, sponsored by the National Grocer's Association (NGA), is a year-long, nation-wide program and an exciting competitive event that honors the best grocery baggers in the country. Contestants are judged on speed, proper bagging techniques, and great customer service. The State Championship which was hosted by the Washington Food Industry Association and emceed by John Keister of Almost Live! proved as lively as ever as the annual event was held at the Tacoma Convention Center yesterday, October 25th, 2012. The annual State Finals gather the Washington's top baggers who have qualified to compete after multi-round competitions within their own stores among employees. The carefully selected baggers who compete at the Best Bagger State Championship get a taste of the pressure the winner of the high-speed event will face at nationals. Since Andrew will be returning to represent his home state of Washington he says he is extremely excited for the chance at a rematch."
Metropolitan Market Store Manager Glen Hasstedt who previously trained Andrew's brother and sister urged Borracchini to "stay grounded and do your work, do not get overwhelmed." He adds that this year Borracchini has "a great shot, and is supported by his great family."
The Borracchini family, longtime members of Seattle's grocery industry own Borracchini Bakery.
Other prizes awarded went to 1st Runner Up, Erik Behrens of Rosauers in Spokane, and Third Place winner, Kelli Little of Haggen Northwest Fresh of Bellingham.