Taco Time and community groups feed the homeless in White Center
Taco Time and community groups feed the homeless in White Center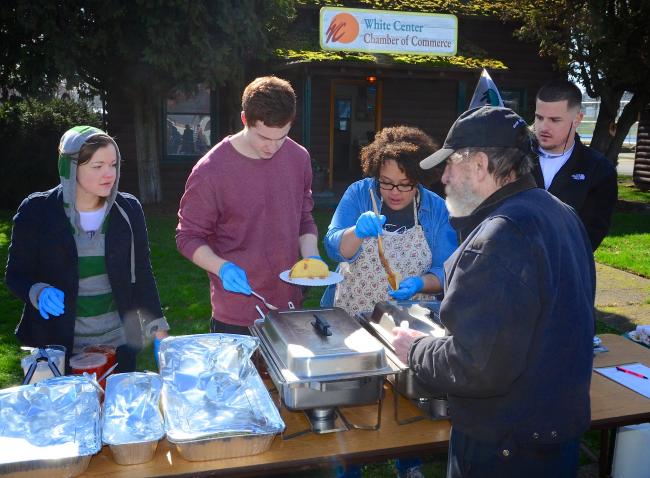 Patrick Robinson
Fri, 03/08/2013
Taco Time NW in cooperation with the White Center Homeless Summit (WCHS) and community groups fed more than 46 homeless people in White Center on Friday March, 8 in what will become a monthly event according to the organizers.
Volunteers from Union Gospel Mission, Evergreen High School, White Center Chamber of Commerce and Grace Church were on hand out in front of Steve Cox Memorial Park to serve up fresh tacos with salsa, sour cream, peppers, cheese, lettuce and hot sauce.
Alex Campbell, a senior at Evergreen was there as part of a class project. He's reached out to younger classmates to help address the problem of homelessness in the community. Alex helped with the homeless count this year, handed out over 200 flyers to local residents and businesses, and will be organizing and serving during the lunches this spring.

Mark Ufkes, Past President of the White Center Chamber of Commerce reached out to the owners of Taco Time NW. " I sent a letter to Mr. Tonkin and told him our history, what we wanted to do and how this had worked in other communities. He talked to his family and they generously gave us enough food for fifty people. We are going to do this once a month for six months and if they like it we will do another six months. If we show them that we are reaching the population, keeping the food safe and maintaining the quality we will continue the program."
Ufkes said that Joe Edgars, the regional facilities manager for Taco Time NW/Accord NW Inc. got all the food prepared and actually put Ufkes through a mini training program to ensure that the food would stay hot (or cold as needed). "He said, 'we want to help you but we want to make sure that the quality of our food is the quality that we serve in our restaurant.' "
Jun Tay, from Grace Church was there and was part of the original discussion during the homeless summit. He acknowledged that the idea grew out of discussions with Nancy Woodland, Executive Director of WestSide Baby and that this was patterned after a successful program in Kent, WA where free lunch is provided to that community's homeless. That program also puts those people in touch with others, and programs that might help them recover or leave homelessness.
Chris Gough from Union Gospel Mission, said, "What's a small thing we can do to start building relationships with the community and fill a need. The concept behind the lunch was to have local businesses and others have a meal together and fill a need."
The organizers have extended their gratitude to Frank Tonkin and the entire Tonkin family, owners of Taco Time Northwest/Accord Inc.
Additional critical support was provided by Mac's Triangle Pub, Grace Church, Union Gospel Mission, Mt View Presbyterian Church, Westside Church, Holy Family School, with essential community facilitation from Westside Baby. White Center businesses Proletariat Pizza and Mikes BBQ have encouraged the discussions and provided positive direction and encouragement the organizers said.