Raisbeck Aviation High School opens at Museum of Flight campus
Raisbeck Aviation High School opens at Museum of Flight campus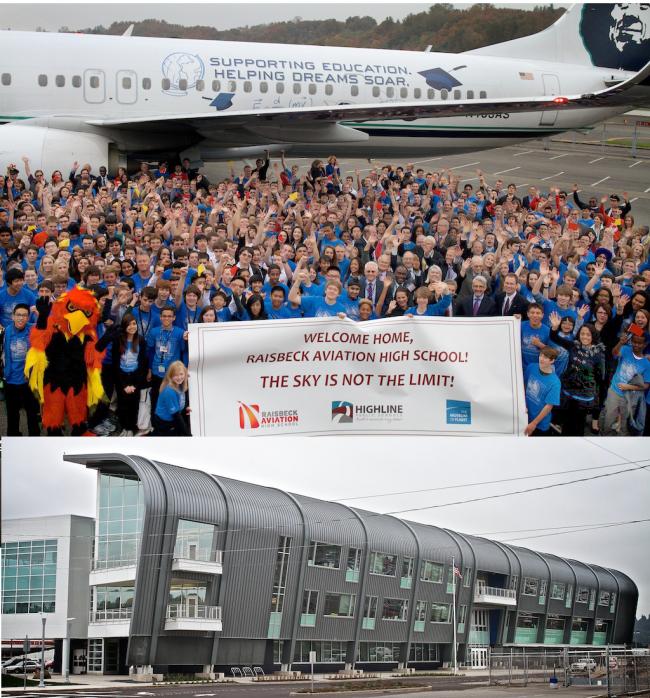 David Rosen
Thu, 10/17/2013
Raisbeck Aviation High School of the Highline School District celebrated the grand opening of their new $43.5 million campus on Oct. 17 in a high-profile event that included Washington Gov. Jay Inslee, Boeing CEO Ray Conner, Alaska Airlines CEO Brad Tilden and engineer James Raisbeck, for whom the school is named after.
"Having this school on the grounds of the Museum of Flight, so close to more than 200 aviation industry businesses like Boeing, gives our students something truly special – an unparalleled chance to be simultaneously immersed in learning and industry," Reba Gilman, CEO and Principal of Raisbeck Aviation High School, said is a press release.
RAHS is a STEM school that focuses on science, technology, engineering and math. According to the Highline School District, "with the opening of its new facility at The Museum of Flight, RAHS is now the only aviation-themed college preparatory school in the country to shared resource with an aerospace museum.

The day started with an Alaska Airlines 737-900ER delivering students and guests to the new campus.
"We are honored to have Aviation High School on our campus at The Museum of Flight," Museum of Flight President and CEO Doug King said in a press release. "We have always been committed to educating the next generation of great aviation and aerospace pioneers, serving over 150,000 students a year through our education programs. This unique partnership allows us to continue this great effort and inspire these STEM-focused professionals of the future."
The three-story, 72,000 square foot facility will accommodate 400 students. It was built with a budget of $43.5 million ($3.9 million from the WA State Legislature, $16 million from private individuals and foundations, $10 million from the Port of Seattle, $14 million from Highline Public Schools and $573,000 from federal funding).